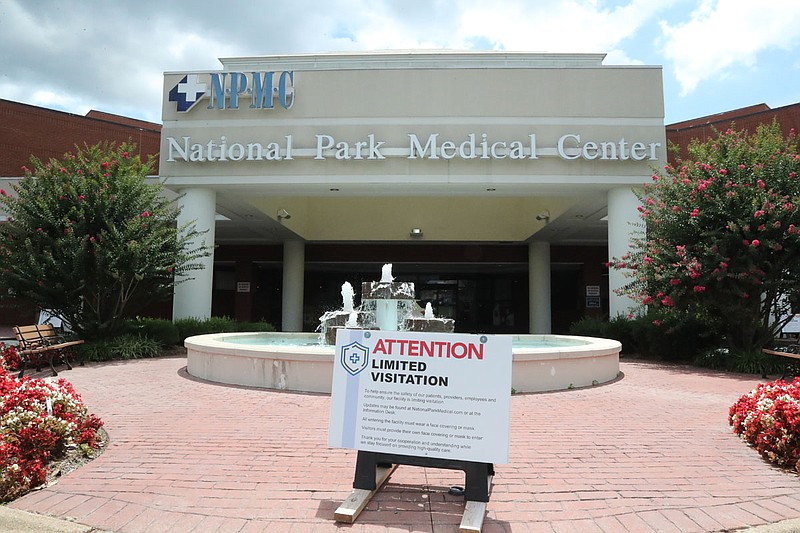 A sign at the main entrance to National Park Medical Center on Tuesday lets visitors know they will have limited access due to COVID-19. - Photo by Richard Rasmussen of The Sentinel-Record
With COVID-19 cases continuing to trend upward in the county, local hospitals are adjusting their visitation policies in an effort to protect patients, visitors and employees, even though they have experienced a decrease in COVID patients.
Dr. Gene Shelby, the county's health officer, reported at Monday's Hot Springs/Garland County COVID-19 task force virtual meeting that the county averaged 30 new COVID-19 cases reported daily from July 19-26, with a total of 210 new cases for the week.
Despite the increasing trend, National Park Medical Center and CHI St. Vincent Hot Springs have had a slight decrease in COVID-19 patients, said a news release from the task force.
"Both hospitals continue to provide a safe, sterile environment for all COVID and non-COVID patients, employees and visitors," the release said. "NPMC is updating its visitation policy to restrict access to the intensive care unit. CHI is amending its visitation policy for the emergency room waiting room in that if there are (too many) patients waiting in the lobby (and social distancing isn't possible), each visitor will be asked to wait in their vehicle or outside the facility for a phone call to join their loved one once the patient is in an examination room."
The release notes both hospitals reported having high volumes of critical care patients, but the increase is not necessarily related to the pandemic.
Mandy Golleher, NPMC director of communications and marketing, said as cases continue to increase in the community, and after consultation with their clinical experts, they made the "difficult decision" to return to a no-visitor policy for their ICU at this time.
"There will be exceptions made including for those patients who are near the end of life," Golleher said.
"The trust our community places in us is so important," she said. "This was a difficult decision that was made through the lens of our High Five Guiding Principles and with our mission of 'Making Communities Healthier' at the center."
Golleher said the hospital remains vigilant in its efforts to protect the community and its patients.
"With the types of procedures performed in the ICU, our clinical experts feel that closing the ICU for visitors provides the best level of protection for both the patients and the visitors," she said. "Our facility continues to adapt to meet the community health needs during the novel coronavirus pandemic, and through this, we remain committed to providing high-quality care and protecting the health and safety of our patients, employees, physicians and community at large."
There have been no similar changes announced to CHI St. Vincent's visitation policy.
"I can't tell you how much I appreciate all our health care facilities in Hot Springs," County Judge Darryl Mahoney said in the release. "They had enough to do before this pandemic hit. It's got to be very unnerving and emotionally draining. I certainly appreciate all they continue to do on the front line of this issue, and I know the people in our community do, too."
Sponsor Content
Comments