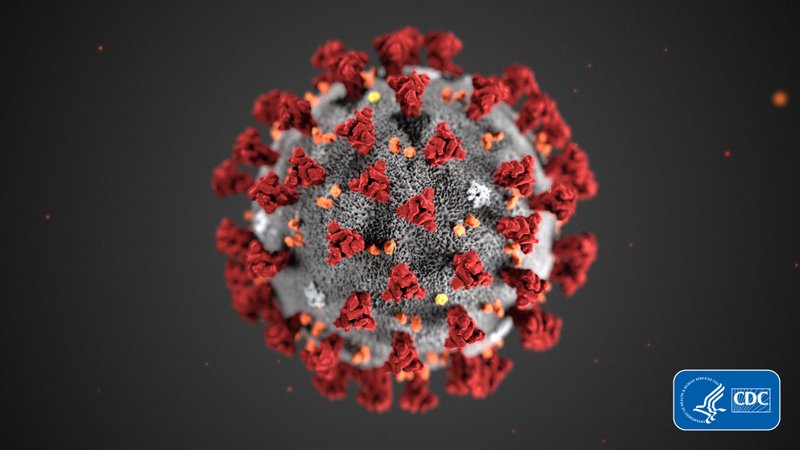 This illustration provided by the Centers for Disease Control and Prevention (CDC) in January 2020 shows the 2019 Novel Coronavirus (2019-nCoV). (CDC via AP, file photo)
EDITOR'S NOTE: As a service to our readers, The Sentinel-Record publishes updates released each weekday by the city of Hot Springs and the state of Arkansas.
The following stats were shared Wednesday at Gov. Asa Hutchinson's daily COVID-19 news conference in Russellville and posted on the Arkansas Department of Health's website:
• 40,968 cumulative cases, up 787 from Tuesday.
• 495,605 test reports, up 5,699 from Tuesday.
• 8.3% infection rate, up from 8.2% Tuesday.
• 6,596 active cases, up 31 from Tuesday.
• 33,938 recoveries, up 750 from Tuesday.
• 508 hospitalizations, up seven from Tuesday.
• 110 cases on a ventilator, no change from Tuesday.
• 1,194 cumulative nursing home residents infected, up 27 from Tuesday.
• 735 cumulative cases in Garland County, up 22 from Tuesday.
• 12,650 test reports from Garland county, up 159 from Tuesday.
• 5.8% infection rate, up from 5.7% Tuesday.
• 509 recoveries in Garland County, up 27 from Tuesday.
• Seven deaths in Garland County, no change from Tuesday.
Garland County's curve of new infections appeared to flatten Wednesday, with the 22 new cases reported by the Health Department lowering the rolling seven-day average of new cases for a second-straight day.
Wednesday's 26.57 average was 7% lower than Saturday's peak of 28.57. The average has fallen three out of the last four days after rising for 16-straight days.
The county's active case fell for a second day in a row, dropping to 219, or 6% lower than Monday's peak of 233. Active infections had risen 11 of the 12 days prior to Tuesday. The cumulative infection rate rose for the 14th time in 15 days. It's grown 61% over that time.
The 787 new cases reported statewide Wednesday raised the state's rolling seven-day average to a new peak for a third-straight day. Wednesday's 817.43 average was 3.5% higher than the previous peak of 789.43 Tuesday. Hospitalizations peaked for a second-straight day, reaching 508 after being at 501 Tuesday.
Wednesday's new cases included 170 from the Delta Regional Unit of the Arkansas Department of Correction in Dermott.
Hutchinson said cases reported Wednesday came from a lower number of test reports than usual. He said the roughly half dozen commercial labs used by providers across the country continue to face large backlogs of specimens from other states.
"They're being slammed by places all over the country," he said. "They're backed up. We're not getting as quick a turnaround time."
About 60% of the state's test reports come from commercial labs. Hutchinson said the White House told him Tuesday that turnaround times should improve by next month.
"I was informed in August it's going to get better," he said. "They're ramping up their commercial testing. I've been assured those labs will be increasing production. Hopefully that will impact us here in Arkansas in a positive way."
Hutchinson said it's possible wider use of point-of-care antigen testing could be causing fewer test reports from commercial labs, as providers may be opting for the quicker antigen test over the polymerase chain reaction test commercial labs use.
"That would actually be reassuring if in fact that were the case," he said. "It illustrates the importance of accounting for the antigen testing."
Stats the Health Department posts on its website are derived from PCR tests. Hutchinson said he's directed the Health Department to compile and release antigen testing stats.
The antigen test detects proteins from the virus while the PCR test detects its genetic material. The Health Department said the antigen test produces presumptive results, whereas the PCR produces a confirmed result.
Sponsor Content
Comments