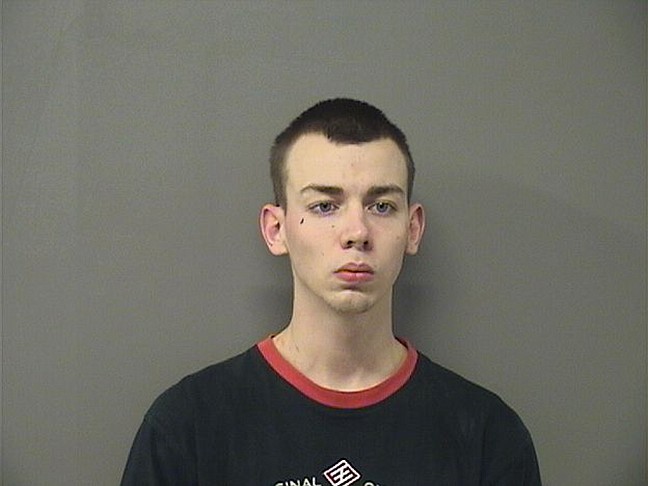 Caleb Preston Kain - Submitted photo
One of two felons arrested earlier this year on multiple charges after leading Arkansas State Police and other agencies on a lengthy high-speed pursuit was sentenced to prison Monday on a felony firearms charge.
Caleb Preston Kain, 21, of Hot Springs, pleaded guilty in Garland County Circuit Court to one count of possession of a firearm by certain persons and was sentenced to three years in prison, while additional felony charges including five counts of possession of drug paraphernalia and one count of unauthorized use of another person's property to facilitate a crime were withdrawn.
Prosecutors also withdrew 54 misdemeanor counts of possession of drug paraphernalia and two counts of possession of a controlled substance. Kain, who had remained in custody since his arrest and was set to stand trial Oct. 22, was also ordered to pay $190 in court costs upon his release.
Kain's alleged accomplice, Matthew Dunn Friesenhahn, 35, of Little Rock, who was reportedly driving the car, had been facing all the same charges as Kain as well as numerous additional traffic charges including felony fleeing. All the charges were later dismissed after his death on June 10, 2020.
According to the probable cause affidavit, on Jan. 20, shortly after 8 a.m., ASP Trooper Kyle Sheldon was on patrol on Malvern Road near Elmwood Drive when he clocked a Buick LeSabre doing 73 mph in a 45 mph zone.
The vehicle stopped at the gas pumps at the Winners Circle, 3741 Malvern, and Sheldon pulled behind it with his lights activated. At that point, the driver slammed his door shut and the vehicle sped away west on Malvern.
The Buick was passing other cars in the turn lane and veering into oncoming traffic before turning onto the King Expressway where the driver slammed on his brakes as he exited the on-ramp, causing Sheldon to almost pass him.
The driver accelerated again, slamming his brakes several times and driving on the shoulder, prompting Sheldon to bump the driver's side of the Buick at one point with his unit to attempt to stop him. The pursuit continued west on the expressway, reaching speeds in excess of 110 mph at one point.
The driver slammed on his brakes and took the exit onto Central Avenue at a high rate of speed, crossing all the traffic lanes and entering Warren Road where he turned into the parking lot of CVS Pharmacy, then through the lot of Simmons Bank, and back onto Warren.
After circling around the areas of Section Line Road, Central and Pakis Road, he turned into the Cornerstone Shopping Center and sped back behind the businesses, making multiple U-turns in the parking lot. At one point, a firearm was tossed from the passenger window in the 100 block of Cornerstone as the driver continued to flee between Lowe's and Office Depot headed toward Pakis again.
ASP Cpl. Michael Reed was waiting on Pakis forcing the driver to turn back into the parking lot of Cornerstone making "several abrupt maneuvers" and crossing into the parking lot of Petco and then toward On the Border.
Several other law enforcement officers were on scene blocking multiple exits. The driver attempted to exit between Cracker Barrel and Pakis and at that point Sheldon performed a pursuit intervention technique, or P.I.T. maneuver, causing the Buick to rotate and hit the back driver's side of Sheldon's unit.
The Buick continued to flee with Sgt. Kevin Steed taking over the pursuit onto the expressway. During the P.I.T. maneuver, both passenger side tires of the Buick were blown and Steed and Reed were finally able to get the vehicle stopped on the eastbound Central on-ramp of the expressway.
Troopers took the driver, identified as Friesenhahn, and passenger, identified as Kain, into custody without further incident. During a search of the vehicle, 4.4 grams of marijuana were reportedly located, along with 48 small baggies, a set of scales, three syringes, a smoking device and two Clonazepam pills.
Under the driver's seat, a loaded magazine to a pistol was found which matched a loaded .45-caliber pistol recovered on Cornerstone where it had been tossed earlier.
Sponsor Content
Comments