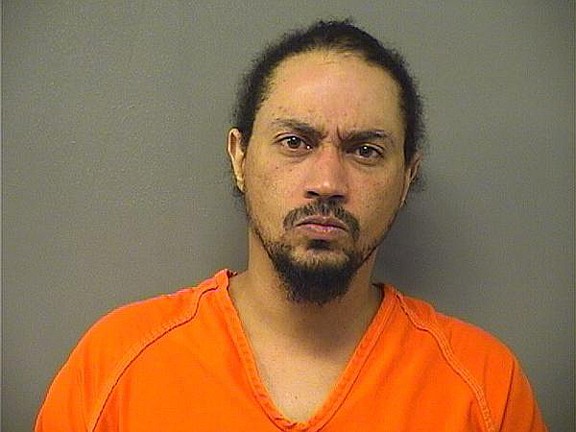 Matthew Phillip Hartman - Submitted photo
A resident of a local RV park was arrested on multiple felony charges early Wednesday after allegedly shooting at several people he claimed were "rocking his trailer" and then forcing his way into a neighbor's trailer.
Matthew Phillip Hartman, 37, who lives at Lake Hamilton RV Park, 3027 Albert Pike, was arrested at the scene shortly before 2:30 a.m. and charged with two counts of committing a terroristic act and one count of residential burglary, each punishable by up to 20 years in prison, felony and misdemeanor counts of first-degree criminal mischief, punishable by up to six years in prison and one year in jail. He also had warrants for failure to appear and failure to pay.
Hartman was being held on a $19,500 bond and the arrest report indicated he is set to appear Aug. 24 in Garland County District Court, but will likely be arraigned this week.
According to the probable cause affidavit, Garland County sheriff's Cpl. Jon Lane and Deputy Richard Garrett, who were dispatched to a report of shots fired at the RV park and upon arrival spotted a man, later identified as Hartman, who matched the description of the shooter, "dart into a motor home and close the door."
He opened the door again moments later and the deputies noted he had "a dark object" in his hand. Lane ordered him to drop the gun and come out. Hartman reportedly went back in for a moment and then came out.
At the other end of the motor home, deputies saw a second man, 48, holding a gun who was determined to be the owner of the motor home. They ordered him to drop the gun and he complied. They then ordered Hartman to show his hands and walk backward toward them, where he was taken into custody by Garrett.
Hartman reportedly made a spontaneous statement that "the gun is in the motor home on the counter" and that he "shot out of my trailer at the guys in the car outside my window because they've been shaking my trailer."
Deputies secured the crime scene and taped it off for investigators who arrived a short time later and took over the investigation.
Hartman was taken to the sheriff's department where he was questioned after being read his Miranda rights. He allegedly stated unknown individuals were outside of his camper trailer "taunting him and rocking his trailer."
He reportedly admitted he fired one shot through the floor of his bathroom and then moved to the front of his camper and fired three more shots out of his window striking a car. Then he said he exited his camper and fired three more shots outside "in the direction of his camper."
Hartman said he then ran to his neighbor's camper which he admitted he entered without permission. He said his neighbor drew his firearm and forced Hartman to drop his pistol shortly before deputies arrived.
Sponsor Content
Comments