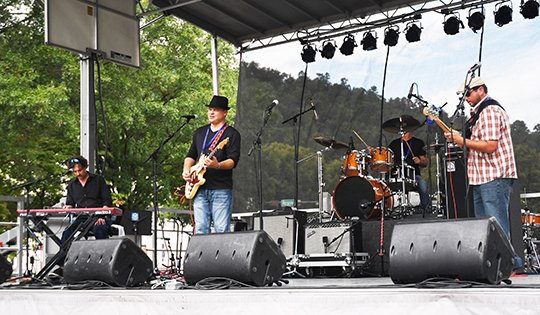 The Sentinel-Record/File photo BLUES FEST: The John Calvin Brewer Band performs during the Spa City Blues Festival at Hill Wheatley Plaza on Sept. 2.
The 24th annual Hot Springs Blues Festival has been canceled due to the ongoing COVID-19 pandemic, but a digital event is planned and the festival will return next year.
"Up until Saturday, we were still finalizing details," Bert Clevenger, president of Spa City Blues Society, said Thursday, noting that after watching several other community events get postponed or canceled, they also made the decision to cancel the festival, which was set for Sept. 5.
"We didn't want to put our patrons, our sponsors or our performers at risk," Clevenger said, noting they are already working on the 2021 festival and both of the headliners for this year's event have already signed on for next year.
Larry McCray and B.B. Queen, who were scheduled to co-headline the festival, will still headline the event next year, Clevenger said, noting he has been a fan of McCray for a while, calling him a "fantastic performer, and Queen is an "excellent performer."
Clevenger said they were anticipating this year's festival to be a hit. "This would have been an excellent year if COVID hadn't come along," he said, noting McCray is "well known," and would have attracted a large crowd.
While he couldn't go into specifics on what they are working on in place of the festival this year, Clevenger said it will be free and digital. "We are planning a very special online event," he said.
More information on the event will be made public on both the society's website and Facebook pages, he said.
The festival was not the first event the society was forced to cancel this year, having already canceled their annual gumbo festival and annual craft beer festival. Clevenger said holding such outdoor events would be hard to do with the Arkansas Department of Health's guidelines during the pandemic. He stressed he isn't saying the guidelines are wrong, just that they make holding these events "challenging."
Not being able to host the events "did present some financial challenges," he said, but the society believes next year will be a strong year. "I think 2021 will be a heck of a year," he said.
People are getting "cabin fever" during the pandemic, which will cause Hot Springs to "explode with festivals" next year, Clevenger said, noting they are trying to not get disappointed over the cancellations.
"We are trying (to not let) disappointment seep in," he said, "I know (the festival) will come back."
Clevenger said they wanted "to make sure to give a shout out to our sponsors, Hotel Hot Springs, The Waters, Mountain Valley Spring Water, Superior Bathhouse Brewery, and Visit Hot Springs.org. They've been with us for a number of years, and we look forward to all our future events with them."
Sponsor Content
Comments