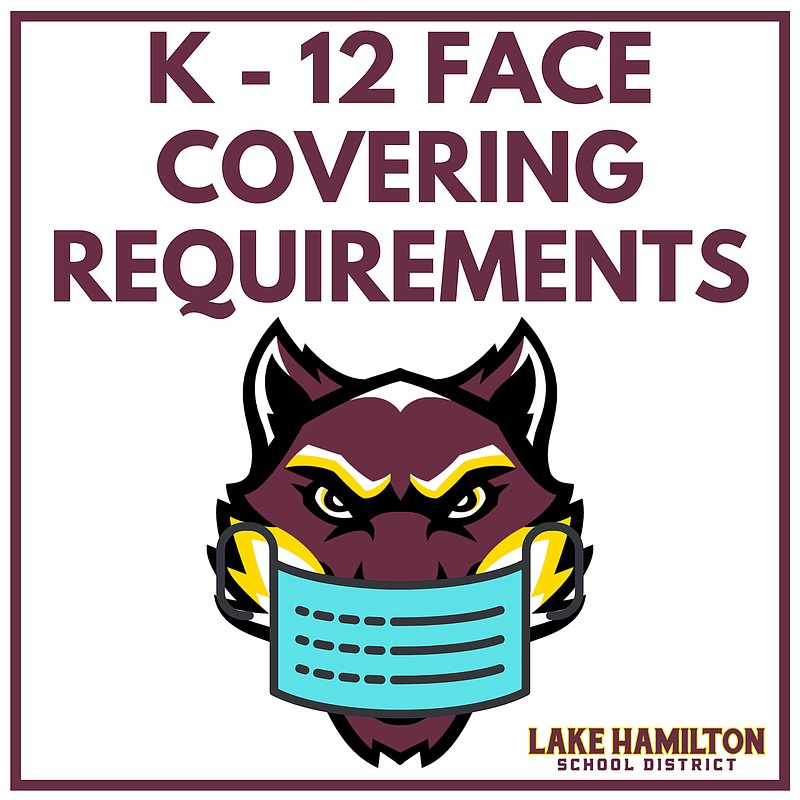 A graphic the Lake Hamilton School District posted on social media this week reminds students to wear masks. - Submitted photo
PEARCY -- The Lake Hamilton School District has released its building-level Ready for Learning plans, and this week announced a new face-covering requirement for kindergarten through 12th-grade for the 2020-21 school year.
"This pandemic presents a fluid situation, and we are reacting to changes as they frequently occur. We remain committed to providing the safest learning environment possible," Superintendent Shawn Higginbotham said.
He said the district's professional staff is convinced student participation in on-site learning is vital to children's social and emotional development, noting the district will continue to move forward and make adjustments and modifications to its plans and operations as necessary to maintain an appropriate level of safety for students and staff.
In the primary, elementary and intermediate buildings, breakfast will be served in the classrooms while the middle school and high school building will serve breakfast in the cafeteria. Lunches will be served in the cafeterias, according to the district's website. In the primary school, for example, each class will have its own table and there will be one seat in between each student. No lunch visitors will be allowed.
Brian Bridges, communications and public relations coordinator, said the decision to require face coverings for all students, kindergarten through 12th, when physical distancing isn't possible, was based on recent recommendations from health care professional organizations and the Lake Hamilton School District Ready for Learning Team.
"The Ready for Learning Team is composed of parents, community members, faculty, staff, and administrators. This decision on the face-covering requirement will provide consistency among all students at Lake Hamilton," he said.
"Since this change may be significant for some families, the district reopened the Lake Hamilton Virtual Academy enrollment for grades K-3 until (today). Parents who would like to enroll their K-3 students in the LHVA should email [email protected] for the registration form," Bridges said.
Parents are responsible for providing a water bottle for their children each day, labeled with their child's name, he said, noting, "Of course, the district will provide a way for students to remain hydrated during the school day if they forget their water bottle at home by utilizing a disposable drinking container."
Buses will begin dismissing at 3:05 p.m. Students will wait in their classrooms for each individual bus shift to dismiss. Face coverings will be required for bus drivers and the students while riding on any school bus due to the inability to properly distance from others.
Bridges said the buses would be sanitized before and after each use and hand sanitizer dispensers are installed on each bus, noting students and bus drivers should sanitize their hands when entering and exiting the bus.
He said there might be exceptions for students with health, sensory, or other conditions which will be addressed on a case-by-case basis. Over 2,200 parents submitted responses to the parent feedback survey this past June, with the majority of parents indicating they do not plan to send their child to school on the school bus.
Car riders will be dismissed at 2:30 p.m. at the Primary. All parents will drive through the car rider line and no parents will be allowed out of their vehicles. Each school has a slightly different pickup time.
"We expect there to be more car riders this year based on the parent feedback survey and are working on plans and procedures to ensure safe student drop-off and pickup," Bridges said.
He said students will physically distance in classrooms as space allows. Classrooms are being arranged to maximize the spacing between students and teachers to the extent possible with all nonessential furniture and equipment removed from the classroom.
"Parents are encouraged to visit our https://lhsd.info/LHSD-is-Here website to view the most up to date information pertaining to the 2020-2021 school year." To be added to the district announcements email Listserv, visit https://lhsd.info/WolfWeekNewsSubscribe, Bridges said.
Sponsor Content
Comments