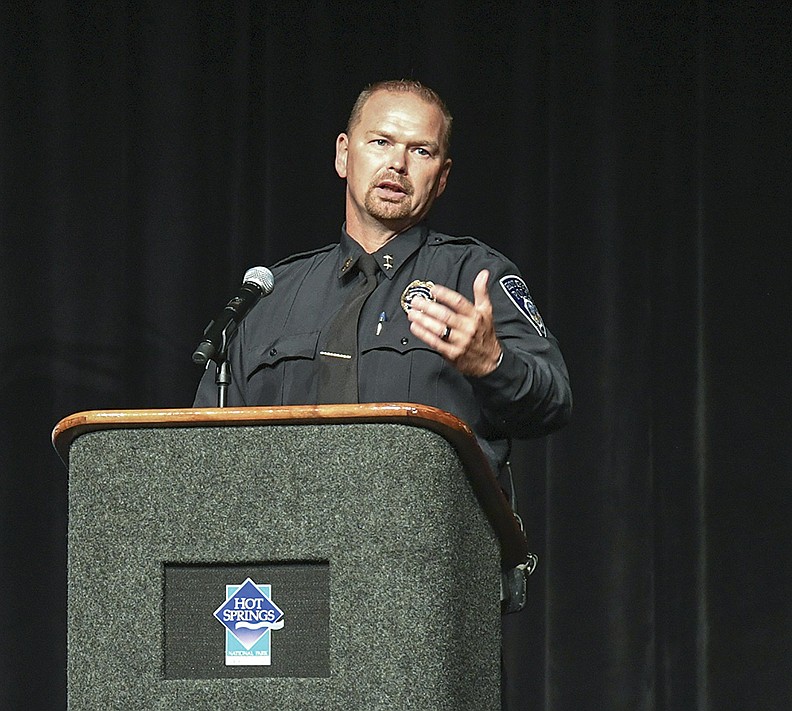 Hot Springs Police Chief Chris Chapmond speaks at his badge pinning ceremony in Horner Hall on July 2. Chapmond was the guest speaker at Wednesday's regular meeting of Hot Springs National Park Rotary Club, held virtually via Zoom, discussing his policing policy and strategies for the future. - Photo by Grace Brown of The Sentinel-Record
Hot Springs Police Chief Chris Chapmond, who officially took the helm of the department on July 2, said Wednesday that "building trust and legitimacy" and partnerships between the police and the community are the keys to success in the war on crime.
Speaking via Zoom to members of Hot Springs National Park Rotary Club during their regular weekly meeting, Chapmond, who served with the HSPD from 1996 until 2018 when he left to become police chief of Bluffton, S.C., only to return to Hot Springs to accept the position here, said he was "glad to be home. I can't stress that enough. I feel like I'm where I need to be at this point in time."
Discussing his philosophy of policing, he said the HSPD is committed to the community, "not only enforcing the law but doing so impartially, equally and equitably," and "the men and women of this department are a great organization." He noted the Hot Springs community supports law enforcement "in a tremendous way" and while "we've all seen the problems going on across our country, fortunately, knock on wood, we don't have those issues here."
Policing is "truly a partnership between citizens and the police department itself and you can't be successful without those partnerships," he said, noting the department is "focused on building and strengthening those partnerships we have in the community from all different venues."
Chapmond said he had the opportunity to sit on a panel Tuesday sponsored by The Difference Makers of Hot Springs to discuss bridging the gap between communities and law enforcement and noted, "We were all on the same page on a lot of things. Those partnerships and relationships were there."
He said the panel moderators were from Little Rock and at the end they commented how impressive it was to see so many different entities working toward common solutions through partnerships. He noted, "It was nice to see someone from outside our community recognize that and realize we are doing a lot of good things in Garland County and Hot Springs."
Chapmond said the HSPD is focused on community policing but "that doesn't mean we're soft on crime. Community policing is an enhancement to crime reduction. The better a relationship you have with the community, the easier it is to address those crime issues as you move forward."
As a "rookie cop" with less than a year on the force, he said he was working the Jones School area "in the heart of Hot Springs" and would stop and get out of his car to "spend time playing and talking with the kids in the park. To let them know there's a human behind the badge and gun."
He said he built relationships with the young men and women there and "one month ago, I got a text from one of those young men I had formed a friendship with 24 years ago on that playground who wanted to congratulate me on getting the job. Throughout my career, it's those type of relationships that have allowed me to police in an efficient manner."
Building those relationships can involve "the littlest things," he said, such as "officers rolling their windows down, being approachable, waving at people and talking to people." He said officers attend multiple events and "host a lot of events" and "all of that makes us a better agency. At the end of the day, it's about building trust and legitimacy."
He said building such trust was identified as the number one goal of the 21st Century Policing Model, developed by "a real think tank" of police chiefs "post Ferguson," and that it was just as important in Hot Springs as it was in Portland and Milwaukee and "areas like that." He said the goal of the HSPD is "to take care of each other, come home safely, but also to police in a professional manner and build that trust."
Chapmond said he wants to be proactive in crime reduction and "we've got to change some things. We've got to leverage technology and work smarter not harder. I'm seeing a push to use different technology platforms, but we've been preaching that here for 10 years. Now we're taking the steps to accomplish that. We've got to police intelligently and those patrol officers need to leave the building with a plan every single day, not go out haphazardly to do their jobs. We've got to collect data and mine data and determine trends to attack issues head-on."
He said they have been looking at three or four tech platforms "we can move toward soon" which will help overcome the department's manpower issue and other problems. He stressed that "it starts with hiring the right people. I am adamant that if you hire bad people, bad things will happen. We will not reduce our hiring standards to fill vacancies. I will work short before I hire someone I have questions about."
Chapmond said he was confident the HSPD has "some of the toughest standards in the state," and noted he took them with him to his last job and was told "it was tougher to get hired in Bluffton than anywhere else in South Carolina. I was proud of that."
He said the department has six or eight openings and will likely go through 60-75 applicants to fill those positions, averaging one recruit out of every six that apply. "We're doing good work in background checks and vetting officers, finding people of the highest integrity with a servant's heart," he said, noting they want the department to be "a mirror of our community" and were working to recruit minorities, spending "a lot of money, time and effort" in the Hispanic community and "working with Black pastors to get the word out."
Discussing the George Floyd homicide, Chapmond said, "We've all seen the video. It was a tragic, tragic event," and it brought up the issue of duty to intervene. "You get past the officer that committed a crime and you see three or four other officers standing there doing nothing. That's part of the police reform movement, ensuring officers have a duty to intervene policy and mandate."
He said he "felt comfortable" the HSPD already had that in its code of conduct, but noted it wasn't covered in their use of force report and "we didn't have a stand-alone duty to intervene policy so we put that into place last week. We are willing to change when we see areas where we are falling short. You always have to continue to improve."
Sponsor Content
Comments