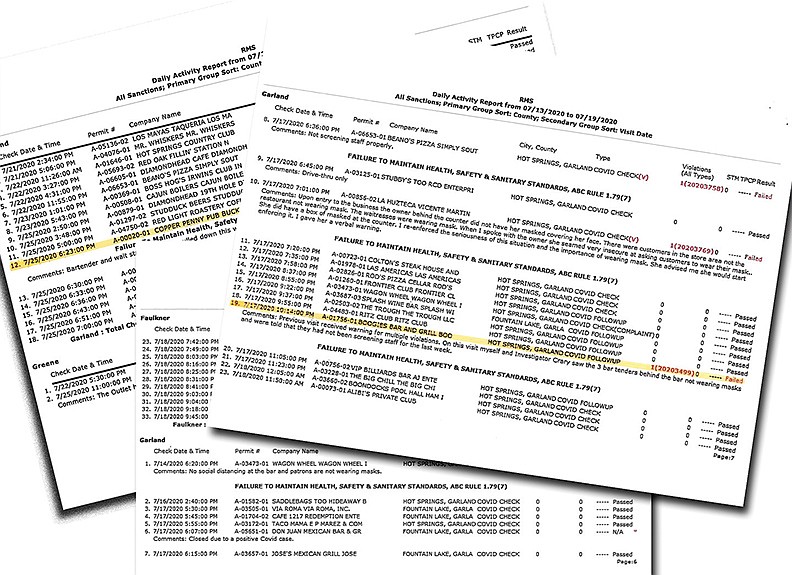 This illustration shows some of the COVID compliance reports from the state. - Photo illustration by The Sentinel-Record
More than a dozen Garland County bars and restaurants failed COVID-19 compliance checks the state Alcoholic Beverage Control Division conducted this month, according to information the agency provided Wednesday.
Boogies Bar & Grill, 1010 E. Grand Ave., and Copper Penny Pub, 711 Central Ave., failed multiple inspections.
The pass-fail list from inspections the week of July 13-19 said staff at Copper Penny Pub weren't wearing masks during a July 18 inspection. The list from inspections the week of July 20-26 said bartenders had their masks pulled down during a July 25 inspection.
The Arkansas Department of Health's June 15 directive on resuming bar or club operations requires staff who come into contact with patrons to wear masks that cover their mouth and nose. Patrons are also required to wear masks until their food or drink arrives.
Copper Penny co-owner Dean Jennings said Thursday his employees wear masks at all times.
"What he said is the bartender had their mask down under their nose," he said. "He said they might as well not have it on if that's the case, so we corrected that instantly and made sure that wasn't happening any longer.
"We're making sure everybody understands the importance behind this and they follow it 100%. The guests don't like it. We don't like it, but it doesn't matter. We have to make sure people understand they can come in here and be safe and it doesn't matter about their comfort at the moment. It matters about the safety of our people, my employees and the guests."
A note from the first inspection said staff wasn't being screened, and that screenings weren't documented. Jennings said the bar has been doing temperature checks of staff. The Health Department directive doesn't require the screenings be documented, but Jennings said staff began signing a log book after ABC told him documentation was required.
Jennings said having an agency that enforces alcoholic beverage laws enforce the directives of another agency is bound to cause confusion. The governor has said he enlisted ABC to enforce the public health directive because the statewide compliance checks required more manpower than could be mustered by the Health Department division that enforces rules for retail food establishments.
Document
COVID inspections
View
"At the end of the day what the ABC does is trying to make us better," he said. "I just wish the requirements were uniform across the board. There was confusion on the log, but now we're following it with a generic log to protect our employees and our guests."
Scott Hardin, spokesman for the Arkansas Department of Finance Administration, the cabinet-level department that oversees ABC, said a failed inspection doesn't automatically trigger a notice of violation, explaining that most of the establishments found deficient received verbal warnings.
"A 'failure' also doesn't mean an establishment is ignoring guidelines," he said. "In many cases, they are doing a great job with nine out of 10 guidelines and the 'failure' may be due to one customer not wearing a mask prior to ordering. Owners and managers have been extremely willing to quickly address these issues.
"We want to be sure restaurant and bar owners understand we will always start with education and encouragement to follow the guidelines. We are encouraged by the compliance rate's improvement over the last three weeks."
Hardin said the statewide 17% noncompliance rate during the first week of inspections fell to 10% during the second week and 6% in the third week. He said at least one violation will be issued formally in Garland County, but the name of the offending establishment wasn't available at presstime.
The pass-fail list from inspections done July 13-19 said Boogies Bar & Grill received a warning for multiple violations during a July 10 inspection. Three bartenders weren't wearing masks during the July 17 follow-up visit and staff had not been screened, according to the list.
An employee said Thursday that only two patrons were in the bar during the July 10 inspection, and both were playing pool. She said the bar has been screening staff and patrons for more than a month and keeping a log of the screenings. She said a Plexiglas partition separates bartenders from patrons.
Diamondhead's 19th Hole Bar & Grill failed a July 18 inspection, with the inspector noting staff and patrons weren't wearing masks or social distancing, staff wasn't being screened and tables weren't properly distanced. The bar passed a July 25 follow-up inspection.
Splash Wine Bar, The Ritz, Frontier Club, VIP Billiards & Bar and The Trough Bar and Grill failed inspections on July 10 and 11 but passed subsequent inspections. An employee at The Ritz said Thursday that ABC warned the Park Avenue bar about patrons being too close together and a bartender not wearing a mask.
An employee at Splash Wine Bar said Thursday that ABC hadn't informed the bar about the failed inspection from July 10.
The note from Boss Hogs' failed July 18 inspection said staff and patrons weren't wearing masks, patrons weren't properly distanced and staff wasn't being screened. A similar note was made for the failed July 18 inspection of StudDuck Beers in Lonsdale. Boss Hogs and StudDuck passed follow-up inspections on July 25.
The note from Wagon Wheel Club's failed July 14 inspection said patrons weren't wearing masks or properly distanced at the bar. The club passed a follow-up inspection on July 17.
Sponsor Content
Comments