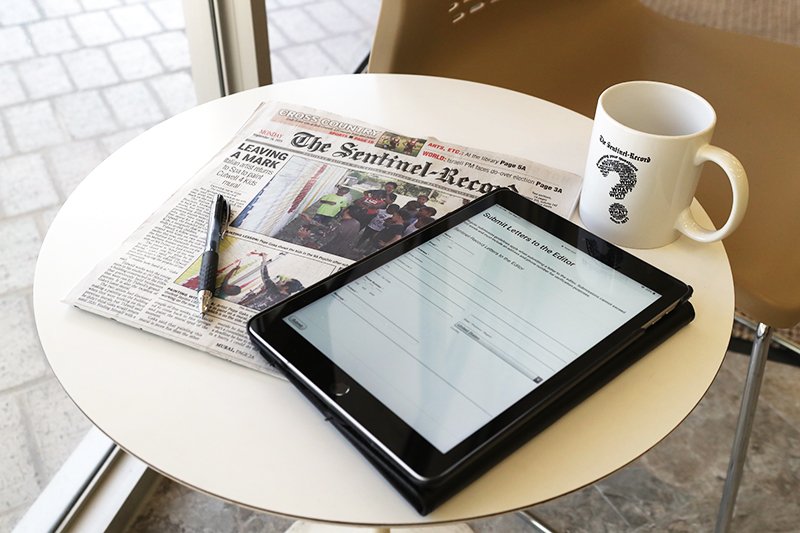 File photo
Charity tourney delayed
Dear editor:
Due to the COVID-19 pandemic and social distancing guidelines, we have had to postpone the 13th annual St John's School Charity Golf Tournament.
The tournament this year will now be played on Saturday, Oct. 31. It will take place at the Magellan Golf Course in Hot Springs Village with a shotgun start at 9 a.m. We will play a four-person scramble. Teams can be all male, all female or a combo of each. The cost this year is still $85 and that includes, green fees, range balls, cart, coffee and doughnuts for breakfast and a catered barbecue lunch after the round at the Balboa Pavilion. We will have flight prizes as well as several on-course games plus the chance to win a golf cart for a hole in one.
As we will soon resume contacting local businesses for sponsor donations we also accept individual donations for hole sponsors. Sponsorships begin for as little as $100. Information and entry forms are available on the Sacred Heart website at http://www.hsvsacredheart.com or the Knight's of Columbus website at http://www.hsvkofc.org.
If you have any questions about the tournament or available sponsorships please contact me at 512-626-7711 or [email protected]
Hope we can count on seeing you this year and maybe have your friends make up a team, as well. Looking forward to seeing everyone in October.
Scott Krantz, chairman
St. John's Charity
Golf Tournament
'Progressive' failure
Dear editor:
A while back, I stated that John Grillo was one of my favorite letter writers and his last letter, "An intentional crisis" on Thursday, May 28, was one of the best he has written recently! You really pointed out the real truth when you stated "Neither the liberal Democrats nor China are our friends and should be treated accordingly"!
It is so obvious that things usually don't go well whenever there are liberal Democrats in power. Their so-called "progressive" agendas hardly ever bring us the kind of real, helpful progress that's needed.
Gov. Andrew Cuomo is a perfect example of terrible liberal Democrat government, especially concerning how his policy to force the nursing homes to take COVID-19 patients resulted in huge numbers of deaths to the helpless elderly in those homes! He did exactly the opposite of what was needed and refused to take responsibility for it.
And those outlandishly high taxes by Gov. Cuomo and Mayor Deblasio are causing people to leave New York more and more! Obviously, people are very unhappy.
Look also at how these liberals are trying to seize power over the people by their very oppressive rules they have forced on everyone during the pandemic. Many of the Democrat leaders don't even want to allow the churches to reopen! Often, it seems that the liberal Democrats are not on God's side with their agenda!
There is also a lot of evidence that the present-day Democrat Party has been greatly infiltrated by the Communist Party as I had pointed out in my past letters. The president of the Democrat National Committee is Tom Perez who is an avowed Communist!
Just look how far left the Democrat party has gone. Socialism seems to be their main goal which is just one step away from communism!
China certainly was responsible for causing this COVID-19 pandemic! Their evil government is communist, of course, and the Democrat Party is infiltrated by Communists, so they are both from the left-wing side! As a Christian, I would like to remind everyone that where Communism is influencing the governments, there is also a lack of Christianity! The liberal and Communist agendas are usually against what God stands for, even though the liberals will deny that.
When all that rioting, burning and looting happened in Minneapolis following the apparent tragic and inexcusable murder of a black man by a policeman, I said to myself that it was likely that the Communists were infiltrating the angry mob to make it even worse. Sure enough, I heard on the news, later, that there is evidence that there were Antifa-like thugs who were bused in from out of state to join in the riots! I can't prove they are Communists, of course, but it is likely that they are doing everything they can to destroy America.
You may be sure that God's enemy, Satan, is behind it all!
Thanks, again, for such an excellent letter, Mr. Grillo!
Lloyd Hoffman
Hot Springs
Editorial on 06/02/2020
Print Headline: Tuesday's Letters to the editor
Sponsor Content
Comments