A traffic stop late Tuesday resulted in the arrest of two men on felony drug charges, including one who is on parole from his role in a 2017 homicide in Hot Springs.
James Allen Gatlin, 32, of Mabelvale and Jake Lynn Norwood, 31, of Malvern, were both taken into custody shortly before 10:30 p.m. in the 100 block of Sleepy Valley Road and charged with possession of a controlled substance, meth, with purpose to deliver and unauthorized use of another person's property to facilitate a crime, each punishable by up to 20 years in prison, and possession of drug paraphernalia, punishable by up to six years.
Norwood, who had a failure to pay warrant out of Hot Springs and an absconder warrant out of the parole board, was being held on zero bond. He pleaded guilty on July 23, 2018, in Garland County Circuit Court to tampering with physical evidence and was sentenced to six years in prison. The charge stemmed from his role in covering up the death of Cory Richardson, 31, of Hot Springs, whose body was found Oct. 23, 2017, dumped at Greenwood Cemetery, 701 Greenwood Ave.
Gatlin, who also had a warrant for failure to pay, was being held on $12,500 bond. Both Gatlin and Norwood were set to appear Wednesday in Garland County District Court.
According to the probable cause affidavits, around 10 p.m. Tuesday, Garland County sheriff's Deputy Matthew Cogburn was headed north on Gulpha Gorge Road when he saw a gold Toyota Camry in front of him with an expired license plate.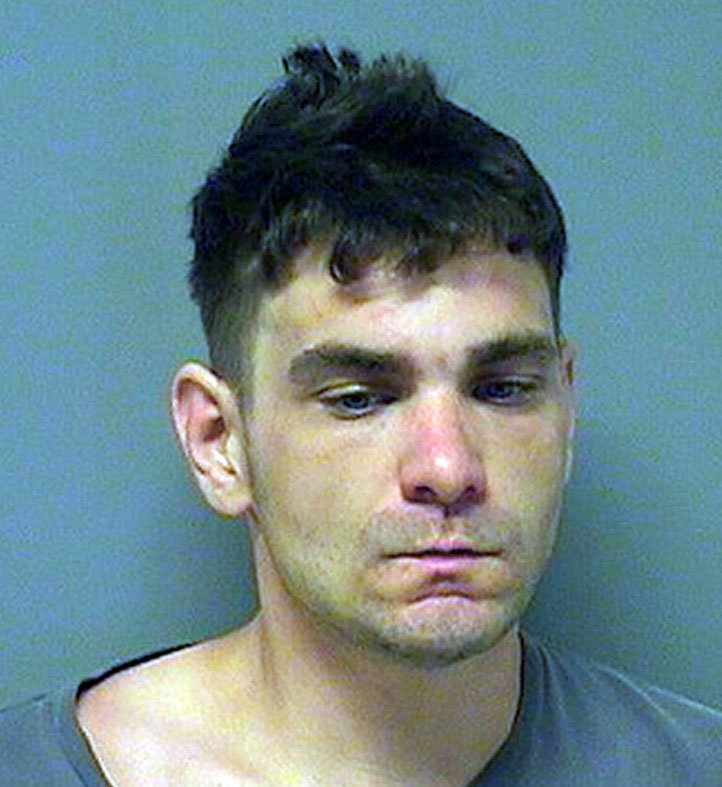 James Allen Gatlin - Submitted photo
He made a traffic stop on the vehicle on Sleepy Valley Road and made contact with the driver, identified as Gatlin, who admitted he didn't have a driver's license because it was suspended. The passenger, later identified as Norwood, initially claimed he didn't have any ID on him and gave Cogburn a fake name and date of birth.
A computer check revealed the warrant for Gatlin's arrest and that he was a probationer with a search waiver on file. Dispatchers could not find the passenger's name in their system and when Cogburn asked Norwood again he gave the same name but a different birth date.
At that point, the deputy asked Gatlin if there was anything illegal in the vehicle and he stated, "Not to my knowledge." Because of the search waiver, Cogburn conducted a search of the vehicle and located a black zip-up bag on the back floorboard that contained three baggies of what later tested positive for meth, a total of 1.2 grams, a glass pipe, seven syringes including one containing 0.5 gram of meth, and a wallet with Norwood's ID card in it.
Both men initially denied any knowledge of the bag, but then Norwood, still reportedly pretending to be someone else, stated that the bag had meth and "was left by a white male named Jake Norwood." At that point, both men were arrested.
While waiting on the tow truck to arrive, Norwood reportedly admitted his true identity and a computer check revealed the warrants for his arrest.
The owner of the vehicle, Norwood's mother, arrived on the scene and stated she had let her son take the vehicle but was unaware he had drugs and drug paraphernalia in it.
Local on 06/04/2020