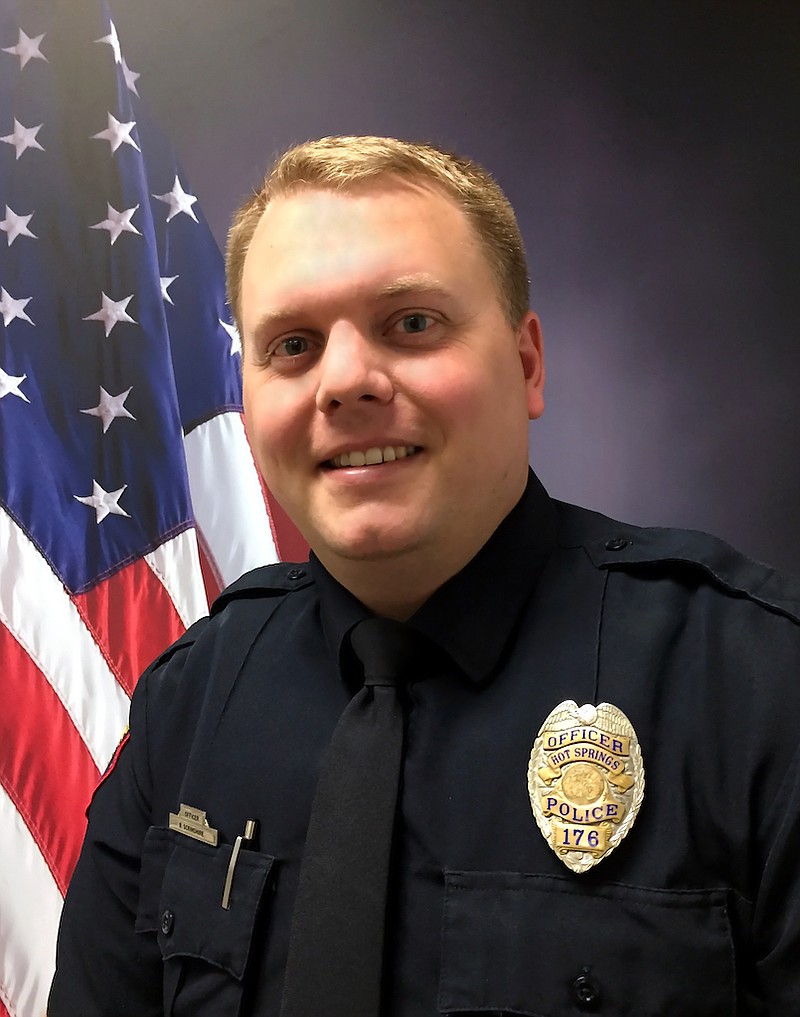 Officer 1st Class Brent Scrimshire - Submitted photo
MALVERN -- A memorial 5K set to honor fallen Hot Springs police Officer 1st Class Brent Scrimshire will be held Aug. 29 in Malvern.
The OFC Brent Scrimshire Memorial 5K Run will be held on the Brickfest 5K course to honor Scrimshire, who was killed in the line of duty on March 10.
All proceeds from the event will go towards the OFC Scrimshire Scholarship Fund, including the $25 entry fee for each race participant. Donations can also be directed to race director Tony Jenkins by emailing [email protected]
Inspiration for the race came from the desire of Scrimshire's wife Rachel to remember her husband in a unique way that will allow others to honor his memory and service to the Hot Springs community, as well as having the opportunity to help further bright futures for individuals in need of academic aid.
"Brent's wife worked with my wife at Healthy Connections and whenever he got shot, my wife called and told me that, and it brought me to my knees just about," Jenkins said. "It was terrible to think about somebody you know that got killed. ... All the proceeds that we make off the race is going to go to Rachel, and she's going to set up a scholarship with the money. She's going to take something tragic and turn tragedy into triumph."
With the help and support of Jenkins' non-profit, the Scrimshire family will finally be able to embrace her late husband's legacy in a new light.
"She (Rachel) said, 'You know, I really wish somebody would do something,'" Jenkins explained. "I told her, 'Why don't we do it?' ... I've got a non-profit called Arkansas Getting Everyone Outside, and I've put on adventure races, and the money I make off my races I give back to kids. I go into the fourth grades in Hot Spring County and talk to them about getting outside, getting off the electronic devices and stuff like that. I usually try to give out some stuff (like) camping equipment, hiking gear -- just trying to get them outside."
Jenkins said that the coronavirus pandemic ended up canceling many of the organization's scheduled events.
"I had a 10K and a 5K scheduled to run at Lake Catherine State Park on the trails in March; obviously it got canceled," he said. "But this race in August, we're going to have either live or virtual. We're going to have this race. I've already got 30 people signed up for it, and we're two months out, so it's looking pretty good. ... Everything's going to the non-profit, and I will write her a check for it. If somebody wants to donate, I can write them a receipt for the donation and anything like that."
Jenkins aims to involve the Scrimshire family as much as possible as the memorial event, which is why it is being hosted close to home.
"It's running the Brickfest route," he explained. "The race will start at 7 (a.m.), and we'll be out there obviously earlier than that getting everything set up. We'll have registration starting at about 6 o'clock -- hopefully a little earlier -- but we'll start the registration at 6. We'll hand out packages and stuff like that -- shirts and things for the racers.
"With it being here in Malvern, I'm familiar with everything," he said. "I'm on the Brickfest Committee over the 5K, so I know the route. It's easy for me to set it up to take off from here. ... Wyatt (Scrimshire), her son, is going to set everybody off. I think he's got a whistle or something like that that he's going to blow for the take-off. We're going to try to incorporate the whole family out there, and we're going to have a banner out there with Brent's picture on it, and we're going to put ink pens out where people can sign it or write a little note on it. Hopefully (we're) going to have some pictures and stuff of him and all that just to show what kind of guy he was."
Minor obstacles prevented Jenkins from being able to host this year's inaugural race in Hot Springs, but the non-profit event coordinator has plans to "put it on in Hot Springs" in 2021. For more information about the race, visit https://www.facebook.com/groups/954810757911017/permalink/3230153537043383/.
Sponsor Content
Comments