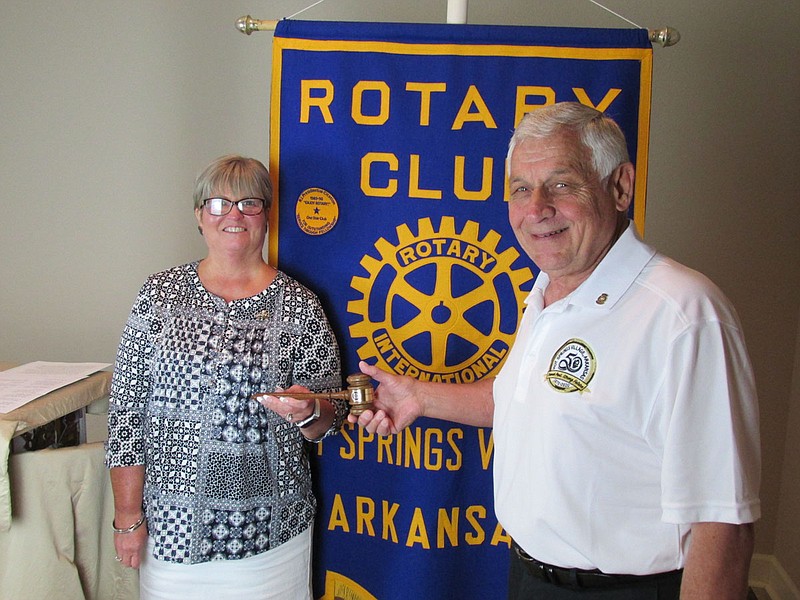 HSV Rotary President John Weidert, right, passes the club's official gavel to incoming President Susan Clark. - Submitted photo
At its June 19 virtual meeting, the Rotary Club of Hot Springs Village began the process of "passing the gavel" to incoming President Susan Clark, who will lead the club during the 2020-2021 Rotary year.
Clark and her husband, Danny, have been Village residents since 2011. She currently serves as executive director of the Cedar Mountain Boys & Girls Club on Highway 7 as well as Great Futures daycare in the Village. In addition to working in those positions and serving her upcoming term as HSV Rotary president, Clark is also the current chair of the Hot Springs Village Area Chamber of Commerce, a news release said.
"She has an extensive 26-year background in education, including many years as a first-grade teacher. After moving to the Village, Clark moved from education to serving as assistant manager at Walmart," it said.
Looking to her presidency, which begins Wednesday, Clark said, "Since joining HSV Rotary, I have had many wonderful people who give me strength and hope that we as a group and I as an individual can and will make a difference in our world."
For more information about HSV Rotary or to access the club bulletin, visit http://www.hsvrotary.org or on Facebook.com/hsvrotary.
Sponsor Content
Comments