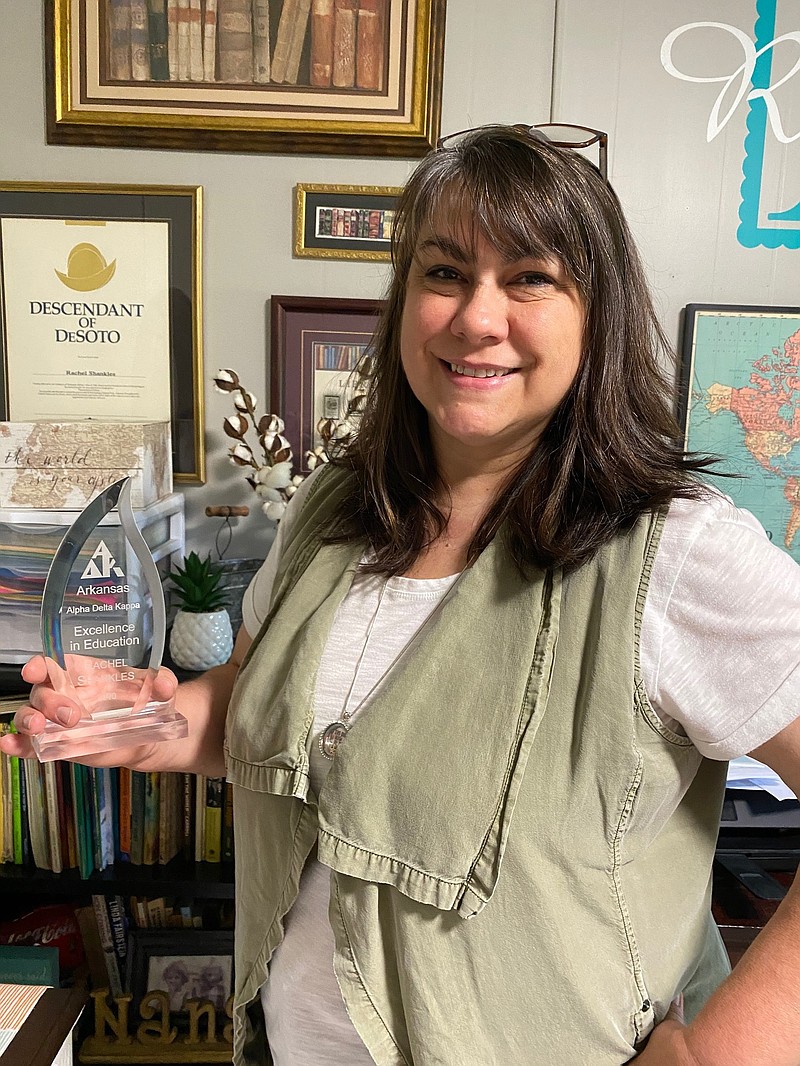 Ronda Hughes, Fountain Lake library media specialist, recently received the Excellence in Education Award. - Submitted photo
Ronda Hughes, Fountain Lake library media specialist, said she feels honored to receive the Excellence in Education Award from Alpha Delta Kappa.
According to Alpha Delta Kappa website, the Excellence in Education Award recognizes members for their "outstanding contributions to education."
To be eligible, the nominee must be an active member and be actively engaged in the education profession and be under contract in teaching, administration or some specialized field of education. Nominated by a colleague or parent, nominees' adjudication is based on "professional dedication, knowledge, skills, professional achievement and success, school/community collaboration, contributions to the educational process and active involvement in Alpha Delta Kappa," the website says.
Hughes said it is a "significant award" for Arkansas and for Alpha Delta Kappa, an organization with female educators and retired female educators, but to be recognized for what she does makes her feel good.
"A lot of times, especially as a library media specialist, everyone doesn't see all the things that you do behind the scenes. It encourages me to keep going and know that what I'm doing is making a difference," Hughes said.
Hughes has regular classes each week with students doing the traditional research skills, learning to evaluate online sources or any sources verifying information, she said.
"The librarian always is the one to help guide students to make good reading selections. I do a lot of technology teaching with students. Teaching them new technology tools and resources," Hughes said, noting she is constantly reading and finding out new ways and trends that are getting students' attention because students are changing.
"I've been doing this for 21 years and (the students) are a lot different today than they were 21 years ago and what they're interested in, somewhat still the same, but there were resources that they have available are so much different," she said.
She said she goes above and beyond to do what's best for the students and she feels that is a lot of what came out in her nomination.
"Some of the activities are above and beyond my job requirements," Hughes said.
The Excellence in Education Award recognizes teachers that are doing innovative and creative things with students that capture their attention and motivates them to learn new things, she said.
"I feel this is a recognition of going above and beyond. I think it goes to a lot of that because I don't know how many people are nominated for this award, but I know that whenever they sent me the email asking for some additional information, and it was flattering, but then once I started sitting down and wrote out all of the things that I do, or have done, that's when I realized, I do a lot," Hughes said.
She said no one goes into education to receive awards, but an award, especially this one, signifies to her that she is on the right track and doing good things for the students.
"Receiving this award means ultimately that I'm making a difference," Hughes said.
Hughes joined Alpha Delta Kappa because she wanted to find a place where she could network with others in the same field, she said.
ADK does a lot of altruism not just in events, but different types of things such as donating after school snacks to the Garland County Library once a month, taking out money for St. Jude's or volunteering at an organization, Hughes said.
"Those mean everything to me to give back and to learn from others," she said.
Sponsor Content
Comments