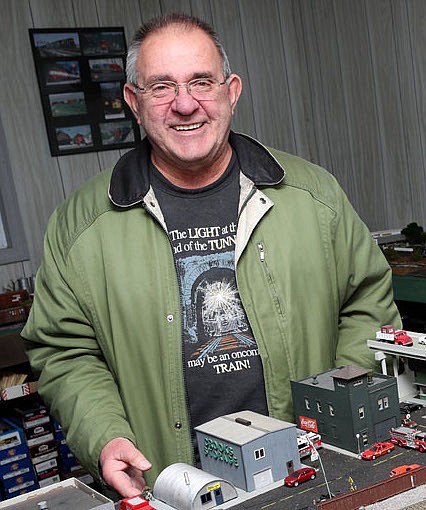 Hank Nowak, an amateur train enthusiast, with some of his trains. - File photo by Richard Rasmussen of The Sentinel-Record
After a lengthy and distinguished career in public service, Capt. Hank Nowak is standing down.
His last 13 years of service came at no charge to the public, volunteering for the sheriff's department's reserve unit. He was elevated to unit commander in 2014.
His reassuring presence at the entrance to the Garland County Court House was missed when the quorum court convened earlier this month for its first in-person meeting since March. He had stood sentinel over the entrance for many years as a reserve deputy for the Garland County Sheriff's Department, relieving the full-time deputies who secure the entrance during business hours.
He wasn't there to offer a kind word to justices of the peace on their way to the second-floor county courtroom, or to kibitz about his devotion to the Chicago White Sox and contempt for the crosstown National League team.
"Capt. Nowak decided it was time to take a well-deserved retirement," Sheriff Mike McCormick said in a statement issued by the department. "Capt. Nowak was well known by his colleagues for his infectious personality and his attention to detail. His laid-back personality and willingness to go the extra mile will be greatly missed."
Nowak began his volunteer law enforcement career on the Park Ridge Citizens Patrol in suburban Chicago. He helped the local police on weekends, but Monday through Friday he ferreted out waste, fraud and abuse as the inspector general for the Chicago Public Housing Authority.
His career in forensic accounting was preceded by his work in the private sector, where he served as Midwest Zone business administrator for a European multinational industrial conglomerate. Nowak honed his financial acumen at DePaul University, graduating with a master's degree in accounting prior to taking graduate-level courses at Northwestern University.
He served in the U.S. Army Reserves during college, reaching the rank of staff sergeant and serving as his unit's administrative noncommissioned officer.
He did his undergraduate work at Loyola University, which, Nowak is quick to point out, in addition to advancing to the Final Four in 2018 won the men's basketball national championship in 1963.
That same year his beloved Chicago Bears grounded the soaring Y.A. Tittle-led passing attack of the New York Giants in the NFL championship game at Wrigley Field. The newspaper article chronicling the victory hangs in Nowak's shop. Below the large font headline is a photograph of quarterback Bill Wade sneaking over the goal line for the score that secured George Halas' last championship as Bears coach.
Nowak indulged his devotion to model railroading after moving to Hot Springs in 2003, building a miniature metropolis for his HO-scale trains to traverse. He indulged his penchant for service by joining the reserve deputies in 2007. In addition to providing security for quorum court meetings, the reserves serve in a variety of capacities.
"Whatever a regular paid deputy does, most of us have done," Nowak said last year. "We don't identify ourselves as reserves. If we go out on a call, people don't know if we're reserves or not. All they see is the sheriff's logo. There's no markings to distinguish us from a paid deputy."
The sheriff's department said it has yet to name Nowak's replacement.
Sponsor Content
Comments