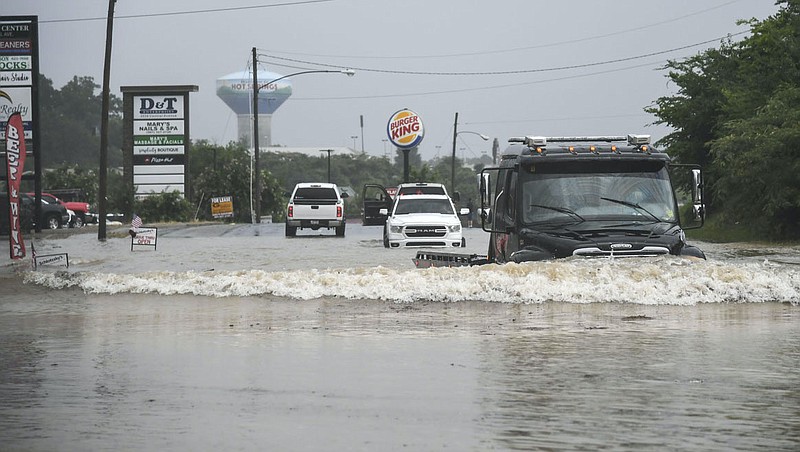 A tow truck drives through a flooded stretch of the 3500 block of Central Avenue following heavy rains on Monday. - Photo by Grace Brown of The Sentinel-Record
UPDATE
J. Paul Brewster, customer service manager for Entergy Arkansas, says 3,500 customers were without service at the height of Monday's severe weather.
That number had been reduced to 1,700, but "we just lost a circuit that feeds a large number of customers around Lake Hamilton," Brewster said around 4:30 p.m. Monday. He said he didn't know the cause of that outage, "but hopefully it will be something we can address in a timely manner."
Depending on the repairs to the lake circuit, Brewster said Entergy hoped to have around 80% of its customers restored by 11 p.m. Monday, with the remainder on by mid-afternoon Tuesday.
"We have outside contractors working now and will have three more crews here tomorrow to assist. We have found some wire down and a couple broken poles but most outages seem to be lightning-related. We haven't looked at all impacted areas yet but if the trend continues in terms of lightning-related damages this should help decrease restoration times. Due to the protective devices we have on our infrastructure lightning typically blows fuses and other protective devices and limits physical damages. In a lot of lightning-related outages refusing is typically what's required to restore services. Please keep in mind that the impacted infrastructure must be inspected to ensure no additional damages which obviously takes time and resources," Brewster said.
ORIGINAL ARTICLE
Around 2,100 Entergy Arkansas customers are without service, multiple structures fires were being reported possibly due to lightning, and some local roadways have been closed due to high water, following a round of severe weather Monday.
Garland County remains under a flash flood warning until 3:45 p.m. According to the National Weather Service, at 12:58 p.m., Doppler radar and automated gauges indicated thunderstorms producing heavy rain across southeastern Garland County. An automated gauge in Hot Springs indicated 3.11 inches of rain has already fallen, and 2.40 inches have fallen in the past 30 minutes, said in the warning, which was issued at 12:59 p.m.
The Hot Springs Fire Department was at the scene of a fully involved structure fire on Cypress Street, one of several reported as heavy lightning moved through the area, although none have been confirmed as being weather-related.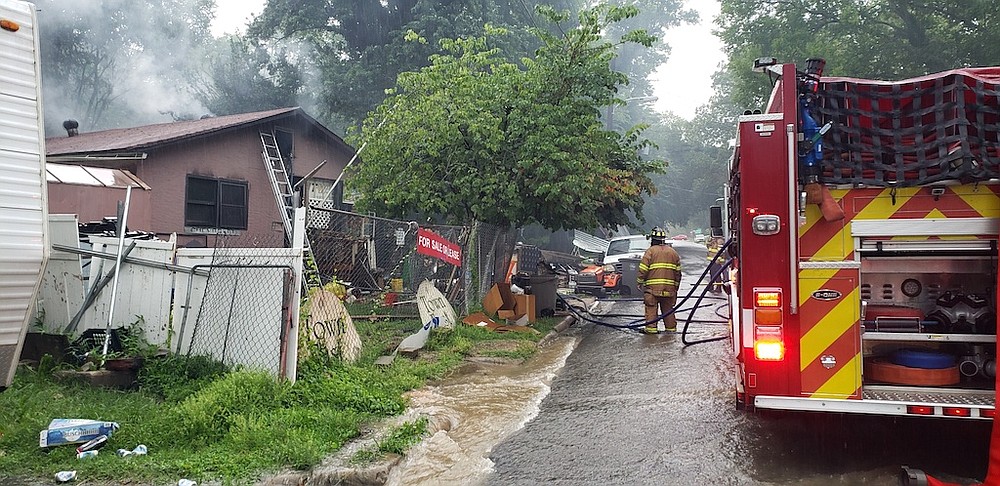 The Hot Springs Fire Department works a structure fire on Cypress Street Monday afternoon. - Photo by Grace Brown of The Sentinel-Record
Some of the heaviest rainfall occurred in the Mountain Pine area, where Blakely Mountain Road was partially closed at one point.
Areas of Spring Street were closed due to high water, along with bridge crossings along Hot Springs Creek in the city limits of Hot Springs.
Sponsor Content
Comments