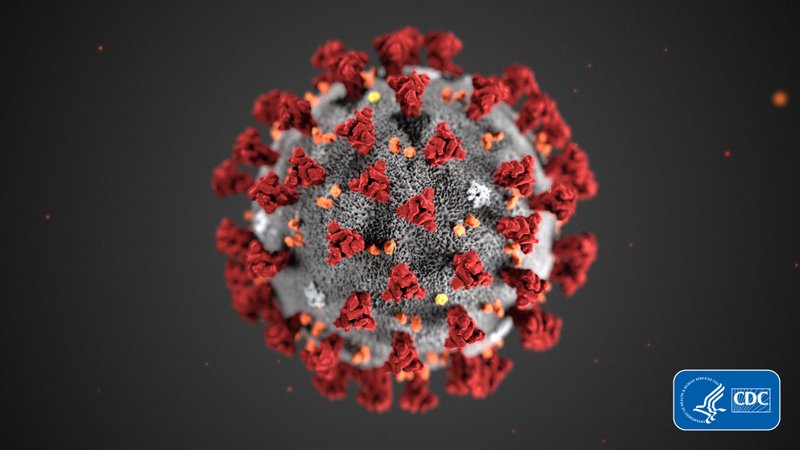 This illustration provided by the Centers for Disease Control and Prevention (CDC) in January 2020 shows the 2019 Novel Coronavirus (2019-nCoV). (CDC via AP, file photo)
EDITOR'S NOTE: As a service to our readers, The Sentinel-Record will publish updates released each weekday by the city of Hot Springs and the state of Arkansas.
The following stats were shared Monday at Gov. Asa Hutchinson's daily COVID-19 news conference in Little Rock and posted on the Arkansas Department of Health's website:
• 20,257 cumulative cases, up 439 from Sunday.
• 302,536 tests reported, up 5,432 from Sunday.
• 6.7% rate of infection, no change from Sunday.
• 5,926 active cases, down 55 from Sunday.
• 14,066 recoveries, up 430 from Sunday.
• 300 hospitalizations, up 17 from Sunday.
• 265 deaths, up one from Sunday.
• 63 cases on a ventilator, down three from Sunday.
• 240 cumulative cases in Garland County, up three from Sunday.
• 6,566 tests reported for Garland County, up 178 from Sunday.
• 3.7% infection rate, no change from Sunday.
• 67 active cases in Garland County, down two from Sunday.
• 172 recoveries in Garland County, up five from Sunday.
• One death in Garland County, no change from Sunday.
New cases declined for a fifth straight day Monday, welcome news the state hopes is a trend and not a blip on the epidemiological curve.
"The question mark for Arkansas is whether we're going to be able to keep up the good work and see a consistent decline, or whether there is going to be a variation from that," Hutchinson said.
The 439 new cases reported Monday were the fewest since June 21. They lowered the seven-day rolling average of new cases to 596.29, a 2% drop from Sunday's peak of 608.14. The state has noted a trend of high case numbers reported on Fridays, an indication that infections are occurring at a higher frequency on weekends. People get infected during the weekend, and the infections are diagnosed five or six days later.
"I will caution you that we don't know what this last weekend will bring," Hutchinson said. "Not everyone behaved well over the weekend, so it will take a few days to see if there was a result from that. We hope not."
The net increase of 17 COVID-19 patients in hospitals Monday raised hospitalizations to 300, the highest number since the pandemic began. Hospitalizations have increased more than 400% in seven weeks.
The number of active cases reported Monday were lower than Sunday, the first 24-hour decline in almost two weeks.
"Our active cases are plateauing out as we have almost as many recoveries as we have new cases," Dr. Nate Smith, Health Department secretary, said. "That's a good sign."
Three new cases reported Monday in Garland County held its rolling seven-day average of new cases at 8.57 for a second straight day. The 23 new cases reported Sunday were the most in a single day in more than two months, raising the moving average more than 30% from Saturday's 5.29 average.
The county's moving average Monday was more than eight times higher than it was three weeks ago, when it concluded a stretch of 19 straight days below one. The 67 active cases reported Monday in the county were more than 16 times greater than those reported during the first week of June.
Smith said the central public health region, which includes Garland County, has had a rising case count in recent weeks. The rise isn't a function of case clusters associated with an industry, such as the outbreak tied to poultry plants in northwest Arkansas, Smith said.
"We are seeing progress in the northwest region of our state," he said. "We do have some concerns about the central region. Although we haven't had an explosive increase in cases, we're going to have to be very vigilant in the central part of the state, especially going into the Fourth of July weekend.
"We don't have a single event or source that we've identified at this point. A small number of clusters can quickly add up to a significant rise."
Sponsor Content
Comments