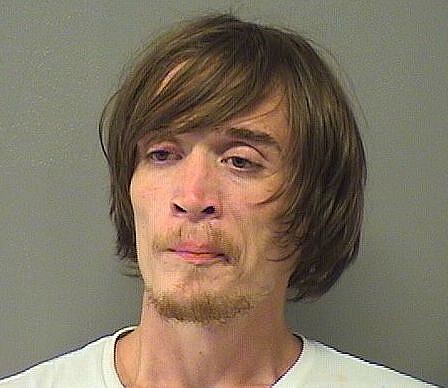 Frank Alexander West - Submitted photo
A felon on parole was arrested Saturday morning after allegedly smashing the windows of three businesses in the Highway 7 north area near Hot Springs Village, including a restaurant, gas station and liquor store.
Frank Alexander West, 26, who lists a Tall Timber Road address, was taken into custody shortly before 9 a.m. and later charged with three felony counts of first-degree criminal mischief, each punishable by up to six years in prison.
West, who also had a parole warrant for his arrest, was being held on zero bond and was set to appear Monday in Garland County District Court.
According to the probable cause affidavit, shortly before 8:30 a.m. Saturday, Garland County sheriff's deputies responded to a call about a trespasser at a residence on Tall Timber Road and upon arrival were told the suspect, later identified as West, had fled the scene.
West's father, the owner of the residence, said West was "not to be on the property" and that he had a warrant for absconding on his parole.
About 20 minutes later, deputies responded to Charlie's Pizza Pub, 127 McNeely Place, regarding multiple broken windows. Deputies noted two large plate glass windows and the front door window were broken.
While investigating that scene, deputies learned windows had also been broken at Top the Mountain Shell, 4401 Highway 7 north, and Village Wine and Spirits, 4350 Highway 7, both in that same area.
Deputies were told by Hot Springs Village police that West was seen in the area of McNeely Circle so deputies responded there, located West and took him into custody on the parole warrant.
Security video was obtained from Top of the Mountain Shell and Village Wine and Spirits. West could reportedly be seen walking through the gas station's property multiple times and then throwing a rock at the front door at one point. Then West picked up another rock and could be seen leaving the property and then returning and throwing the rock, breaking more glass. The total of damages at the gas station was $1,000.
The video from Village Wine and Spirits reportedly shows West breaking the window in the store's drive-thru, a total of $1,000 in damages. Once at the jail, West was interviewed and reportedly admitted to breaking the windows at Charlie's Pizza Pub and Top of the Mountain Shell.
According to court documents, West was convicted of forgery on Jan. 8, 2019, in Faulkner County and sentenced to two years in prison. He was previously convicted on Aug. 7, 2018, in Garland County Circuit Court for second-degree forgery and theft of property and sentenced to five years in prison. He was also previously convicted of theft of property in Garland County on Aug. 31, 2015, and sentenced to three years in prison.
Sponsor Content
Comments