Around 3,500 Entergy Arkansas customers were without service, six structure fires were reported possibly due to lightning, and some major roadways including south Central Avenue and Airport Road were closed due to high water following a round of severe weather Monday.
"All of that, if you can imagine, was condensed within an hour and a half," Bo Robertson, the county's director of emergency management said. "It was going nuts for a little while."
J. Paul Brewster, customer service manager for Entergy Arkansas, said around 3,500 customers were without service at the peak of the severe weather.
That number had been reduced to 1,700, but "we just lost a circuit that feeds a large number of customers around Lake Hamilton," Brewster said around 4:30 p.m. Monday. He said he didn't know the cause of that outage, "but hopefully it will be something we can address in a timely manner."
Depending on the lake circuit, Brewster said Entergy hoped to have around 80% of its customers restored by 11 p.m. Monday, with the remainder on by midafternoon today.
"We have outside contractors working now and will have three more crews here tomorrow to assist. We have found some wire down and a couple broken poles but most outages seem to be lightning-related. We haven't looked at all impacted areas yet but if the trend continues in terms of lightning-related damages this should help decrease restoration times. Due to the protective devices we have on our infrastructure lightning typically blows fuses and other protective devices and limits physical damages. In a lot of lightning-related outages refusing is typically what's required to restore services. Please keep in mind that the impacted infrastructure must be inspected to ensure no additional damages which obviously takes time and resources," Brewster said.
The National Weather Service issued its first flash flood warning around 11:30 a.m. At 12:58 p.m., Doppler radar and automated gauges indicated thunderstorms producing heavy rain across southeastern Garland County. An automated gauge in Hot Springs indicated 3.11 inches of rain had already fallen, with 2.40 inches having fallen in the previous 30 minutes, according to a flash flood warning that was issued by the Weather Service at 12:59 p.m.
At around 7 p.m., the Weather Service posted on Twitter that rainfall totals of up to 4.5 inches were reported in the state as of 6 p.m. Monday, with "significant flash flooding" around the Hot Springs area.
Areas of Spring Street were closed due to high water, along with bridge crossings along Hot Springs Creek in the city limits of Hot Springs.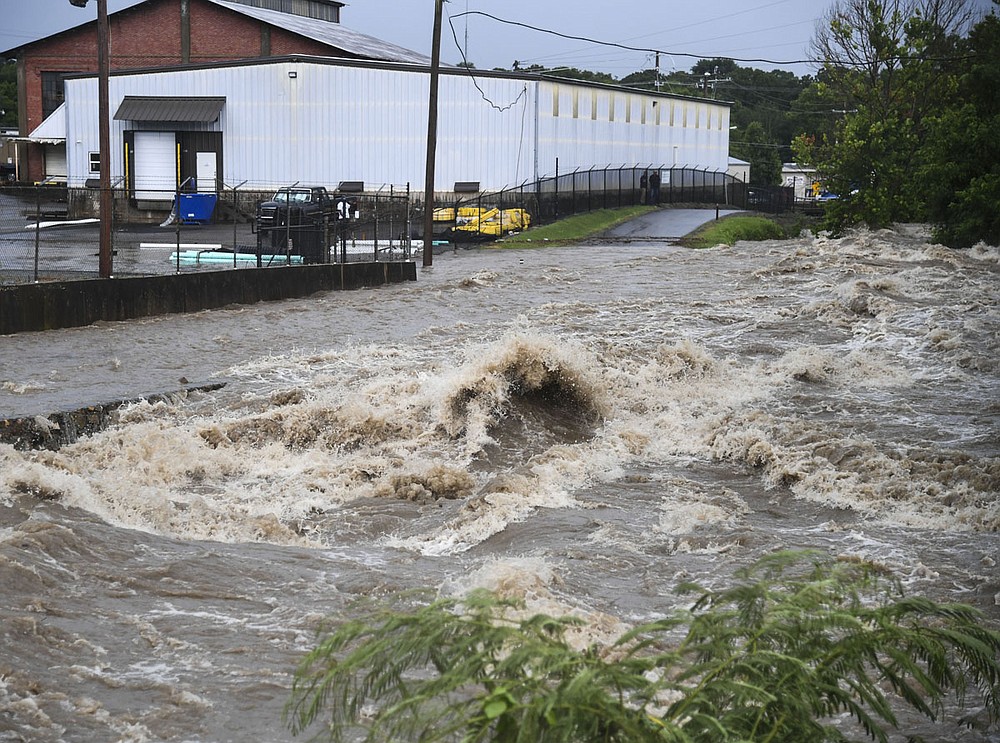 Hot Springs Creek rushes over the Hot Springs Creek Greenway Trail near the Valley Street Skatepark on Monday. - Photo by Grace Brown of The Sentinel-Record
Dispatchers at the Garland County 911 Communications Center received numerous reports of flooding and downed trees Monday afternoon.
Some of the heaviest rainfall in the county occurred in the Mountain Pine area, where Blakely Mountain Road was partially closed at one point. Robertson said at one point it was under 8 inches of water.
Hot Springs police Cpl. Joey Williams said between 12:20 p.m. when the storms initially hit and 3:39 p.m., police responded to 59 calls, including six structure fires. Some of the fires reported included ones on Cypress Street, Owens Point, Twin Points Road and East Lakeland. They also responded to two fire alarms and 10 regular alarms.
There was flooding on Airport Road by Hot Springs Memorial Field, and at Franklin and Central, which was closed until the water receded.
Several major intersections were flooded included Malvern and Grand and Central and Grand as well as flooding in the 600 block of Albert Pike and the Main Street and Greenwood Avenue areas.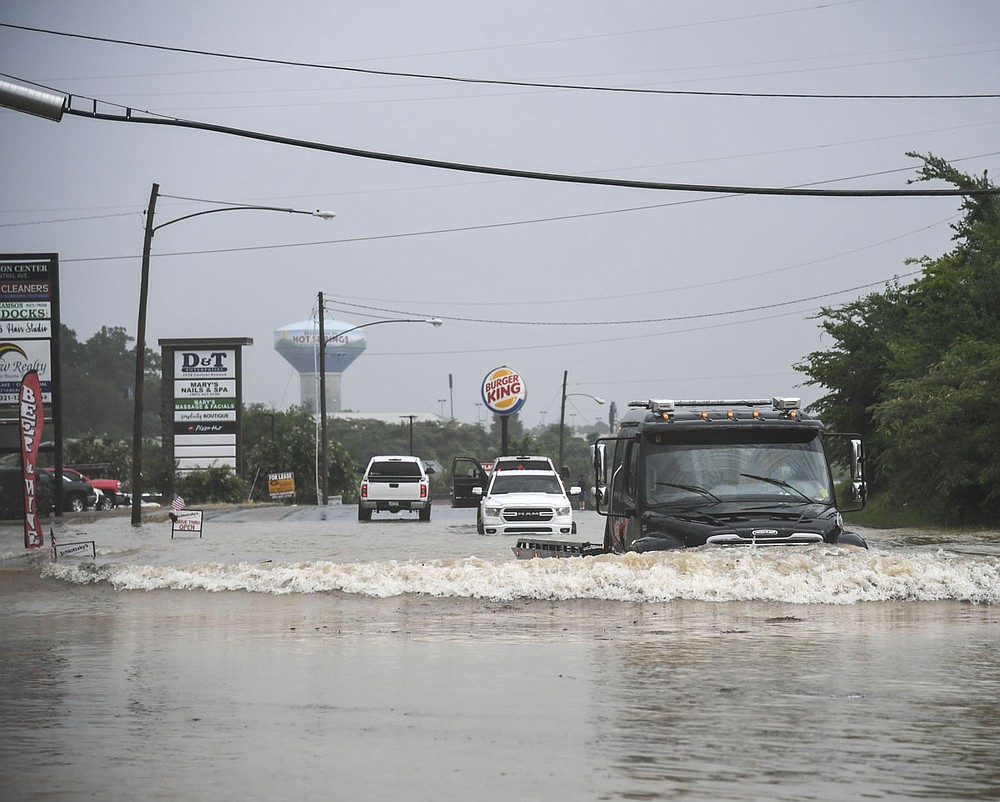 A tow truck drives through a flooded stretch of road in the 3500 block of Central Avenue Monday afternoon. - Photo by Grace Brown of The Sentinel-Record
Flooding was also reported in downtown Hot Springs around the 200 block, near the Arlington Resort Hotel & Spa, Williams said, "but it was mainly in the streets and on the sidewalks. There was no damage to the stores reported."
At Hollywood and Shady Grove Road, Hot Springs Creek "jumped the bank" and "flooded pretty bad," Williams said. The 1300 block of Seventh Street flooded completely and was shut down.
Hot Springs Mountain Tower had a power outage and "they had to rescue some folks from the elevator," Williams said.
At 720 Hobson, the roof collapsed on a structure and caused a gas leak.
There were "lots of power lines down and transformers blown all over," Williams said.
"Surprisingly, there were no injuries reported out of all of this," he said.
According to Robertson, the reports included the following:
• Water was over the low-water bridge at Brady Mountain Road and Brady Mountain Cutoff.
• The 3000 to 4000 block of Park Avenue was flooded in multiple areas with standing and moving water.
• West Glazypeau Road and Calvins Trail were partially flooded.
• Ragweed Valley Road was flooded.
• Large trees were across Cedar Creek Road and New Kirk Circle and Bald Mountain Road and Westinghouse Road.
• The Cutter Morning Star School District's administration building flooded at the 2800 block of Spring Street.
• A tree was in the power line at Cedar Creek Street and Hairpin Place, and severe flooding was reported in the 3200 block of Malvern Avenue.
• A tree was over half of the road at South Moore Road and Marion Anderson Road, and a tree was across both lanes in the 500 block of Fish Hatchery Road.
• A tree was down in the 900 block of Owl Creek Cutoff.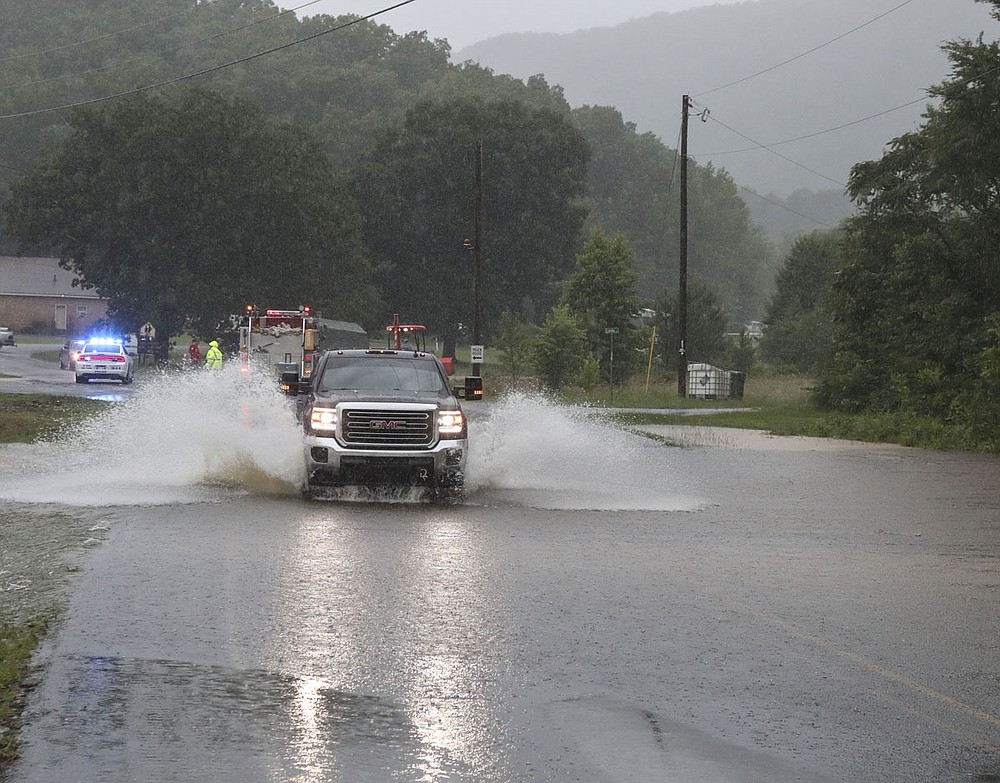 A truck leaves a flooded area of Mountain Pine near the railroad tracks and entrance to the town following heavy rains on Monday. - Photo by Richard Rasmussen of The Sentinel-Record
Entergy Arkansas Inc.'s rain gauges reported multiple inches of rain Monday. The gauge on Big Mazarn Creek, near Highway 227, reported 2.72 inches through 3 p.m. To the south, 1.40 inches was reported through 2 p.m. at the gauge on Little Mazarn Creek.
The gauge at Carpenter Dam reported 2.32 inches through 3 p.m., and to the east, at Remmel Dam, 2.2 inches were reported by the afternoon. The gauge at East Gulpha Creek had reported 1.43 inches by the afternoon.
"We also took several structure file calls within the city as a mutual aid," Robertson said. "That lightning popped off a lot of structure fires."
The Piney Fire Department responded to a residential fire on Myrick Court. The Lake Hamilton Fire Department responded to a structure fire in Lee Barron Loop in the Timbercrest RV and Mobile Home Park, and at Lakeland Point. The 70 West Fire Department responded to a fire at Stearns Point.
Entergy's Hydro Operations began opening spillway gates at both Carpenter and Remmel dams after rainfall "significantly increased" around 11 a.m., according to an email the utility sent out Monday night.
At 2:40 p.m., flows from Remmel Dam exceeded 30,000 cubic feet per second of water, activating Entergy's high-flow notifications. "As the agencies responsible for sending out information to the areas directly affected by increased flows from Remmel Dam, both Hot Spring County 911 and the National Weather Service were alerted in advance of 30,000 cfs so they could have time to prepare their notifications," the email said.
Entergy began to close spillway gates at both dams around 5:30 p.m., the email said, after the flow peaked at 65,650 cfs out of Remmel Dam around 5:40 p.m.
"Our watershed, the area on which any rain that falls that will eventually end up in the lakes and then the Ouachita River, includes areas in Montgomery County as well as a large portion of Garland County -- so even when it is not raining directly on the lakes the rain will make its way here," the email said.
Preliminary rainfall estimates are 4.5 inches at Blakely Mountain Dam between 11 a.m. and 4 p.m. and around 3.5 inches at Carpenter Dam.
"This is a very short time to receive so much rain. Thankfully the rain appears to have passed out of our area. Both lakes are within their respective rule curves (summertime levels) and flows from the dams continue to decrease," it said.
Managing Editor Steven Mross, staff writer David Showers and photographers Grace Brown and Richard Rasmussen contributed to this report.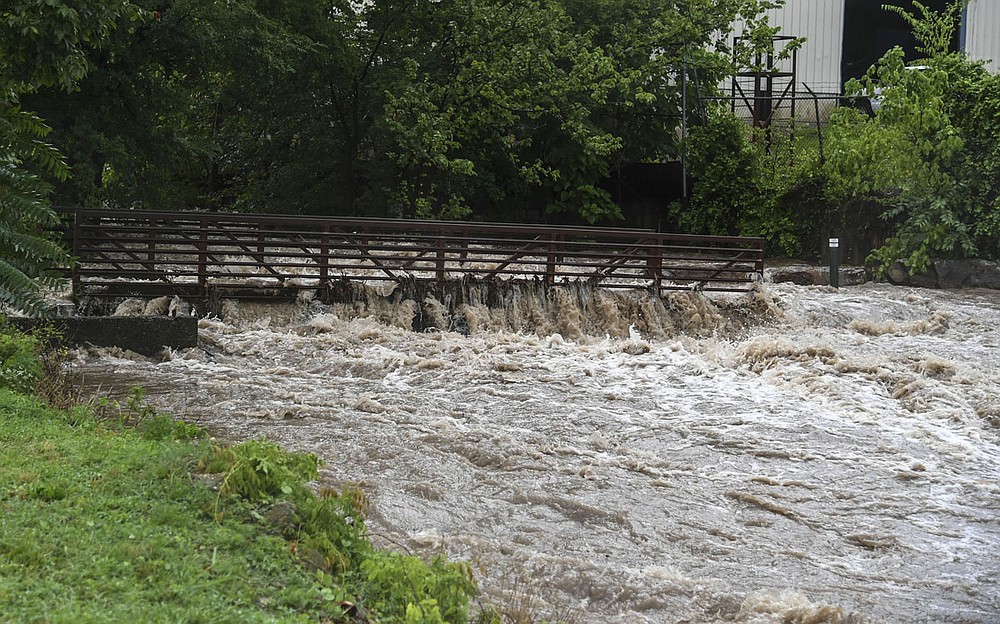 Hot Springs Creek rushes over a bridge behind the Valley Street Skatepark on Monday. - Photo by Grace Brown of The Sentinel-Record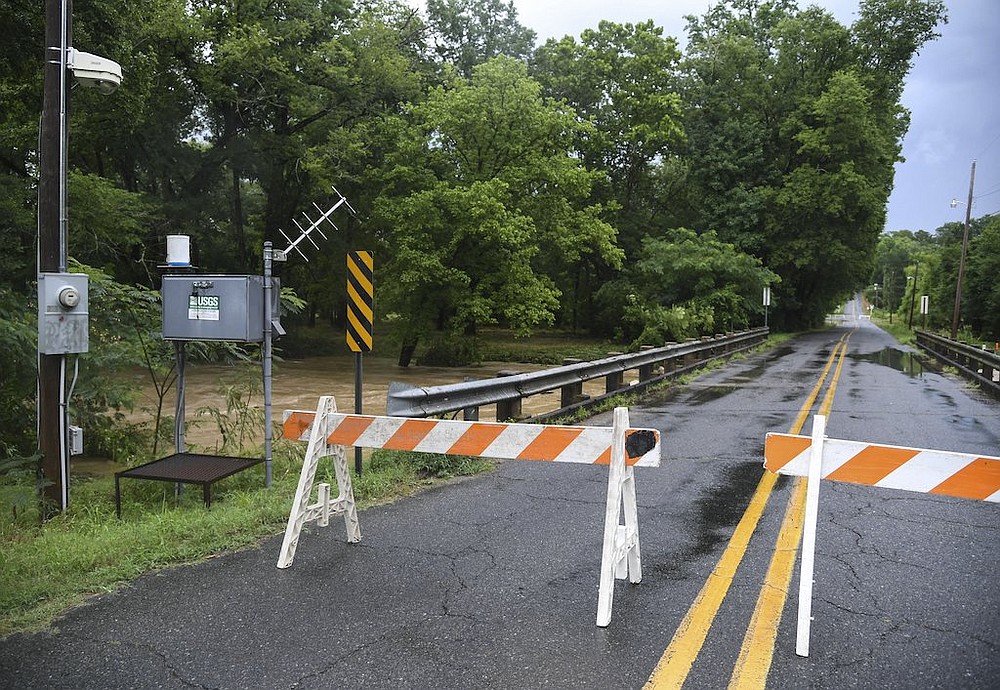 Barricades block a bridge on Ridgeway Street due to high water from Gulpha Creek on Monday, June 29, 2020, after heavy rains. - Photo by Grace Brown of The Sentinel-Record