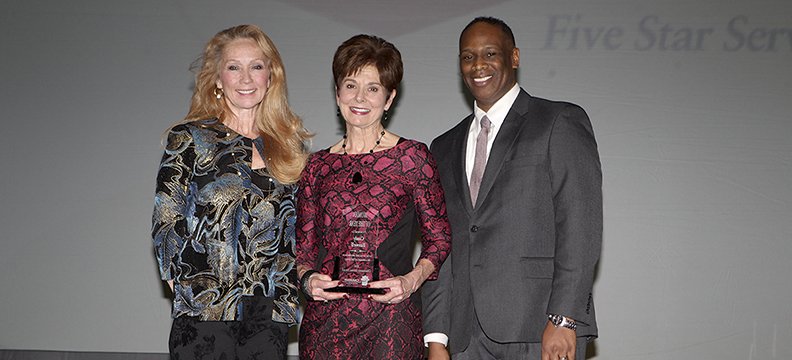 Serethia Crawford, left, and Greater Hot Springs Chamber of Commerce outgoing board president Bryan Smith, right, present Cindy Baswell with the Woman of the Year Award at the Greater Hot Springs Chamber of Commerce annual meeting & awards banquet Thursday, January 22, 2015. -Photo by Richard Rasmussen of The Sentinel-Record
Editor's note: The following article was published prior to the cancellation of this year's World's Shortest St. Patrick's Day Parade due to the coronavirus pandemic.
After dedicating her entire career and the bulk of her free time to helping others and rallying volunteer support, local activist Cindy Baswell now looks forward to simply relaxing and enjoying her retirement -- but not before she becomes queen of the First Ever 17th Annual World's Shortest St. Patrick's Day Parade.
"'What do you think about being a queen?' Literally, that's how the phone call (with Visit Hot Springs Marketing Director Bill Solleder) started. I'm going, 'Well ... I don't know too much about being a queen. I'm probably better known as the Wicked Witch of the West because I'm always giving out orders with the Spa Running Festival and driving everybody crazy,'" Baswell said.
"I just really thought he was kidding ... there are so many other worthy ladies. I'm not usually a front person, I am a behind the scenes person so this is real different for me."
Still, Baswell decided not to renounce her claim to the throne, unlike some other well-known royalty across the pond and began preparing for her role as Hot Springs' St. Patrick's Day Queen.
"I just love showcasing what our city has to offer, and especially our downtown because I'm downtown so much because of running. And of course, you know, being a native it is exciting to see how the area has developed in the last 10 years or so," she said.
Baswell was born and raised in Hot Springs. As a local, she said she has developed an intense love for the community. For more than 30 years, she worked as a banker and only recently retired in November. During her time in banking, Baswell became involved with several charitable organizations in Garland County. Her dedication to the community eventually led her to be named "Woman of the Year" by The Greater Hot Springs Chamber of Commerce in 2014.
"That brought tears to my eyes. To actually win it and be recognized for all of your volunteerism among all of the other ladies to be selected was unbelievable. Yeah, that was pretty special," she said.
As a child, Baswell said she recalls many memories of days on the lake with her family. As a student, she took on several different leadership roles in high school. While attending UALR, Baswell commuted to and from Little Rock. Upon graduating, she began her career under her mentor David Bartlett. Around the same time, she started to get involved in the community.
She immersed herself in several different organizations including United Way, Relay For Life, The American Cancer Society, Fifty for the Future, and the Spa Running Festival. She served in leadership positions in nearly every organization she became involved in, all while working full-time in yet another leadership role at work.
"During my banking career, I've been involved in lots of different organizations and causes and, you know, I love helping people," she said. "In my job, over the last two or three years sort of restricted me. I just sort of had to back away from the involvement and volunteering just because of my job.
"I've been a leader and a helper and an organizer. Like I said, I did the administrator work for Fifty for the Future for 20 years. So I got to connect with a lot of great businesses and professional people in the community. ... Through that, I met a lot of people and a lot of people met me because even though I'm a helper and a leader, I'm sort of a behind the scenes person. That's why being the queen is so different because I don't like being the face, I like being behind the scenes."
Many nights, she would leave work only to find more waiting for her when she arrived home. Eating dinner before 8 p.m. was almost unheard of in her household. Between the day-to-day requirements of her career and the commitments she had made to so many different organizations, Baswell felt the need to refocus her energy. So finally, she decided to step back. However, she could not entirely step away from one event in particular -- the Spa Running Festival.
"That's my little passion," she said.
"You know, even though I carried the title 'race director' I'm still sort of a behind the scenes person because I have so many great people doing the other things. I'm just one keeping the boat rowing."
Baswell noted that many of the people participating in the Spa Running Festival may not even recognize her unless introduced by name despite the fact she has held the position of race director since 2014. She reiterated she prefers keeping a low profile and working behind the scenes to keep everything running smoothly.
Under her direction, the running festival took off quickly and maintained an accelerated pace. From applying for grants to improve the festival to inviting Olympic runners, Baswell has poured her heart and soul into the event and the Spa Pacers Association. She noted organizing the Spa Running Festival easily takes an entire year to plan out.
In 2019, the Spa Running Festival drew 1,292 visitors from outside of Garland County and 243 from outside Arkansas. The Spa Pacers Association also grew its membership by 55 people last year. All of this progress due, in part, to her hard work and dedication.
Oddly enough, Baswell did not start running until just before her 50th birthday.
"I said I wanted to do something good for myself," she said. "When you get older, you look at life a little differently. My sister had started running and I went over to watched her finish the Little Rock Marathon.
"As I'm watching her, I'm thinking to myself, 'If she can run 26 miles, surely I can go out and run 3 miles.' I came back and the Pacers' clinic for women called 'Women Run Arkansas' had just started in Hot Springs," she said.
Baswell laced up her sneakers and hit the pavement. She says the clinic gave her a phenomenal introduction to running. Instead of "running and running" as hard as she possibly could, she took things gradually. Now, she is a firm believer in the fact that anyone can start running.
"I've always heard people say, 'Oh, I can't run. I can't run. I can't run.' You can. If you have the desire and you do not have any medical restrictions, you can train your body to run," she said.
Her passion for running even led her to participate in the First Ever World's Shortest St. Patrick's Day Parade with the Spa Pacers in 2007. And in 2014, Baswell completed her first full marathon.
"I don't know, it's just become a part of my life. If I couldn't run and couldn't work out, I would not be a happy person," she said.
Now retired, Baswell said she plans to take some much-needed time for herself. Although she remains active with the Spa Pacers, the Spa Running Festival, and must bear the weight of her royal title, she now has enough free time to simply enjoy life at her own pace.
"I'm still very busy, but I've taken control of my time. Before, I would work literally nine to 10 hours a day." Retirement "gives me the flexibility to work on the race during the day and gives me free time in the evenings."
"I've just taken control of my life back versus work controlling my time," she said.
Now, with a few extra hours in the day for herself, she has time for her royal duties. Such as mingling with Dallas Cowboy Cheerleaders at brunch and being crowned by a Hollywood film star.
"I think I'm just very honored and excited. I'm going to make it fun," she said. "I feel like sort of a celebrity but I'm not one. I'm just Cindy Baswell."
Go Magazine on 03/15/2020
Print Headline: A Heart of GOLD A heart for the community leads Baswell down the path of royalty
Sponsor Content
Comments