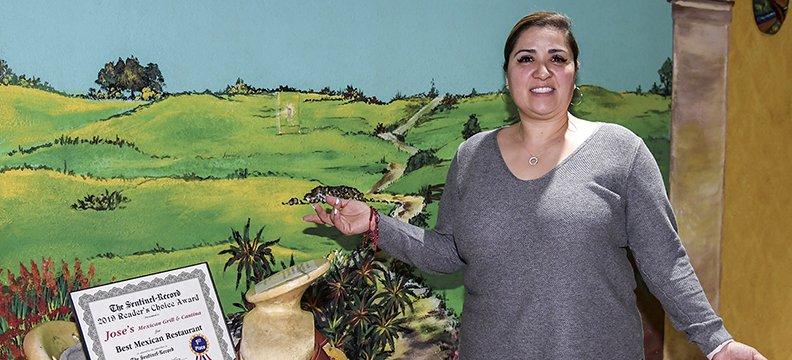 Veronica Soto, co-owner of Jose's Mexican Grill and Cantina has her photo taken inside their Lake Hamilton location on February 19, 2020. -Photo by Grace Brown of The Sentinel-Record
Award-winning restaurant Jose's Mexican Grill and Cantina is a staple in the community but patrons may not realize that owner Veronica Soto has brought meals to their table from time to time over the past 16 years.
"We consider Hot Springs our home," Soto said. "When we go back to Mexico and visit and when we come back, it's like, 'Yes, we're home!' People have treated us so good. Hot Springs supports us so much. It's been good. It's why we are who we are."
A Chihuahua, Mexico, native, Soto's life has been rooted in hospitality with her parents owning a grocery store in her younger years, citing her father as a businessman. As she made the decision to pursue English as a second language, her journey from Chihuahua to Hot Springs set in motion.
"I went to one semester in Mexico to college for hotel management, hospitality," she said. "My thing was -- for that reason, I came to the United States to study English. I needed at least 75% so I can go and find a good, decent job.
"My brother came and started working. They moved first to California and so I went to California (and) went to school for six months before I came to Hot Springs." Soto said she and her husband, Jose, "liked it. This is our home. I'm 48 and I've been here since 1990, so 30 years in Hot Springs."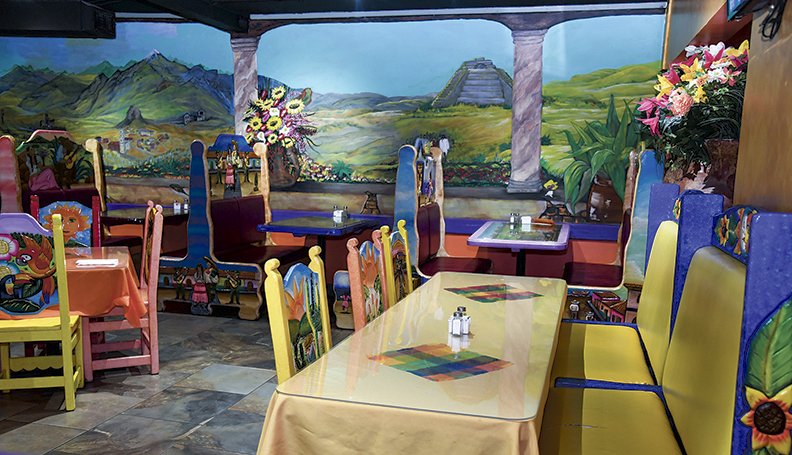 The interior of Jose's Mexican Grill and Cantina on Lake Hamilton is shown on February 19, 2020.-Photo by Grace Brown of The Sentinel-Record
After getting married in 1991, the couple embarked on the path of the restaurant business for several years before they took the plunge. They opened the doors to Jose's at 5361 Central Ave. in 2004.
"My brother has a Mexican restaurant in Hope," she said. "He's the one who started the Mexican food, the Mexican restaurant. We all use the same recipes. In Texarkana, Hope, and Atlanta, Texas. They're all called Amigo Juan and we have the two Jose's. My mom mixes all the recipes. She comes here every two to three months and packages all the recipes so the food will be consistent."
Soto described how a normal day for her begins at 6 a.m. and lasts until 9 p.m. or 10 p.m.
"I get my kids ready and take them to school," she said, "and then after, I go to the cleaners, Sam's or Walmart, then go back home and come here about 10 a.m. I make sure everything is done and ready to go and our lunch is busy from 11:30 to 1:30 or so. Then I'll go back in the office and do payroll or paperwork. About 2:30, I go to school to pick up the kids and make sure they eat and if they have activities, we'll take them. And then after that, I'll come back sometimes for a dinner rush and then home to do laundry and whatever needs to get done."
She went on to add how interactive she is within the restaurant.
"I do everything that I can," Soto said. "Taking food out, even in the kitchen if I need to do something, I'll do it. I like the teamwork. I'm here 90% of the time, open to close. If you don't see me, then I might be in the back loading trays up or I might be doing payroll. It doesn't mean I'm not here. ... At the Malvern Avenue location, if somebody calls in, I'll be there. So if I need to come and cash people out ... I'm not afraid of working."
With their second location opening at 2215 Malvern Ave. in 2010, Soto said she has been able to balance her time between the restaurant and her family.
"We have Jose Jr., Anna Marie, and the twins Isabella and Benjamin. It's not the same as when we worked for somebody before," she said. "We couldn't take our kids there, but that's what we can do now. When we decided to open a business and that was a prize that you could have your kids here. It was like why not?
"I didn't get to enjoy my kids -- Anna Marie and Jose -- as much as what we're doing with the twins ... (The twins) are 13 now and we've been here for 16 years. Their first four years, they were here all of the time. That's a benefit. When they were little, we'd bring them here and everybody would hold them until they were ready to go to school. And we had a house in the back so I could walk and get there, do something for them and come back. But being a mom and an owner, it's hard."
She also mentioned that all of her children lend a hand to the family business.
"I want to teach them how to be one of the workers, not one of the owner's kids," she noted. "So Anna worked with us -- Jose (Jr.) works with us now -- but she worked through high school on weekends and she was a hostess, cleaning tables, and waited on tables sometimes. They do have to do it one time. It's gonna be not too far away from now that (the twins) will have to start helping out.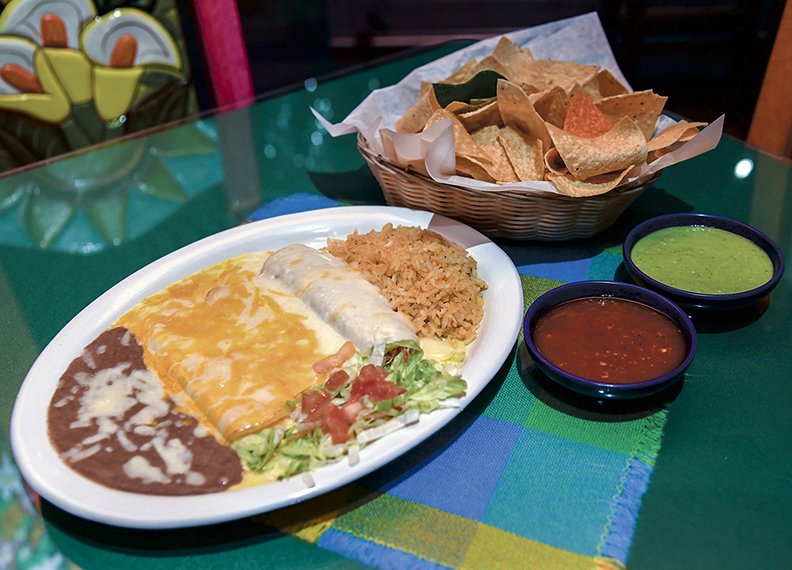 Food fesh from the kitchen of Jose's Mexican Grill and Cantina on Lake Hamilton is shown on February 19, 2020.-Photo by Grace Brown of The Sentinel-Record
"They say, 'Can I have this? Can I have that?' They ask for everything or sometimes, they even say, 'You spend too much time at the restaurant.' I have to say, everything comes from the restaurant. Everything you do, everything you're able to wear, to spend. All of that. So now it's like we have to teach them how to work. It's about that time and they know it."
Soto said that a handful of the stress that comes with being a small-business owner is alleviated at times as the tone at Jose's is family oriented.
"You learn as time goes by. ... When we started the business, we knew how to work -- food management and all that. That's what we did, but once you have your employees, you have to be a leader. You have to learn a lot of things. How to talk to them. I like for them to like their job. I always tell them, 'If you don't like your job, it's just going to be so hard to do it. You're just not gonna do it right. If you like your job, you're gonna do it right.' We don't have a lot of turnover. We have a lot of people that have been here for many years. The same faces forever. ... Everybody does a little bit and we try to train them as family. Thanks to (the employees), that's what we are."
With reflection on past years, Soto is grateful and recognizes how far she and her family have come since the day they decided to usher in an eatery that has continued to thrive.
"Not many people know me as owner," she said. "I'm always running. I'm always doing something. People will see me cleaning tables and they don't know who I am, but I feel good. ... From where we're standing right now, everything that you've worked for is going to be paid for. Everybody can do it. I'm completely blessed. I'm happy where we are and it's because the work we've put into it."
Go Magazine on 03/15/2020
Print Headline: All in the family
Sponsor Content
Comments