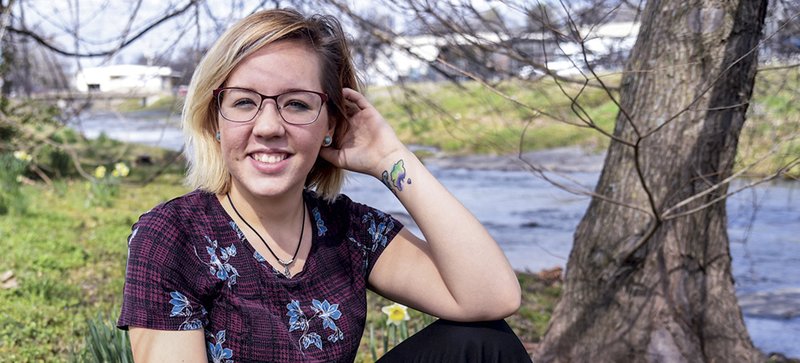 Local Massage Therapist Catherine Flocken has her photo taken along the Hot Springs Creek Greenway Trail on February 25, 2020. -Photo by Grace Brown of The Sentinel-Record
In an attempt to blow off steam while carrying out a dedicated role of her day-to-day career routine, self-employed massage therapist and local poet Catherine Flocken has discovered a way to tie together the activities she loves most: the art of massage, reciting poetry, and last, but not least, the practice of taekwondo in martial arts.
After enlisting in the military at age 17, the 23-year-old Hot Springs native spent four years defending her country by serving in the Air Force.
With the end of her military duties, Flocken had no specific career plans in mind to pursue until the young entrepreneur stumbled upon a friend's blank college application for Radiance School of Massage in Hot Springs.
"It's a great place," she noted. "I honestly didn't have a clue what I was going to do, (then) I saw the application for massage therapy at a friend's house ... they ended up not filling out the application and I filled it out instead. It's the best decision that I've made."
While the struggles of making a living can be trying for anyone venturing out into the business world on their own, Flocken recognized the challenge. She also points out that her line of work proves otherwise, as there is a high demand for services such as these in the growing city of Hot Springs.
A split schedule between running her own individual practice and two business locations at Younger Salon and at the downtown district's Quapaw Baths & Spa, subjected Flocken to vast forms of massage styles and techniques used by a myriad of experienced massage therapists in the area.
"Being an entrepreneur has been really tough, (but) massage therapy is sort of one of the best careers out there if you live in Hot Springs and you like working in spas," she said. "It's been a challenge in that there are so many different spas in Hot Springs, but I feel like the diversity of people here has allowed me to grow in my own individual practice ... there are so many opportunities to learn from others."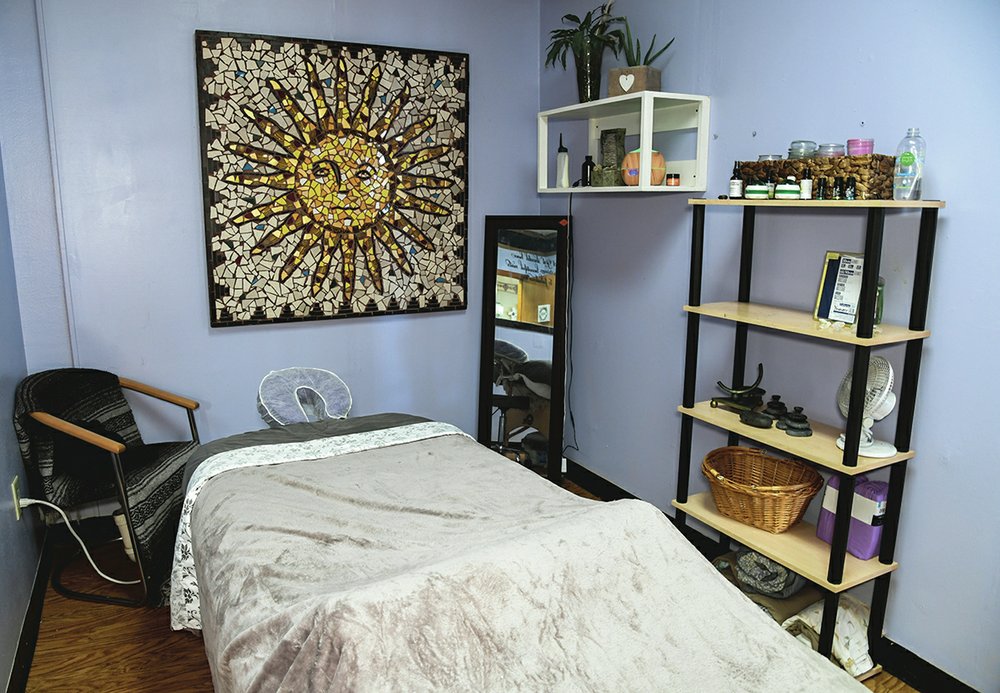 Local Massage Therapist Catherine Flocken's work space at at Younger Salon, 810 Central Ave. Suite G, is shown on February 25, 2020. -Photo by Grace Brown of The Sentinel-Record
Along with the accumulation of knowledge obtained throughout her first 12 months as a first-time business owner, Flocken saw a need to step back and redirect her energy toward recomposing her strategy while applying the lessons learned before reopening her practice in the spring.
"I opened my business last year and I was very successful throughout the year," she said. "Although in the wintertime, I had to sort of (temporarily) shut down ... (and) reanalyze and reframe my business model. It was just the right time to take inventory on all the lessons that I'd learned so far. ... I will be opening my practice (at Younger Salon) back up in March."
For some, the act of receiving a massage produces "soothing" perceptions and generates a reaction of relaxation and calmness.
For Flocken, ensuring the effectiveness of each massage session requires her to hold focus and maintain the task at hand while also allowing her a time to reflect on another passion she holds dear: writing poetry.
"The thing about massage therapy is you have to spend a lot of time just thinking ... a lot of people would call it meditating. ... The words just sort of pour together inside of me and whenever I write them down, I don't really know where they come from but it seems like they just find their way together," she said.
Her ardor for versification began at a young age and has continued to be an outlet of expression that's impacted her life greatly. For years, Flocken was drawn to what has now become a staple of the city's performing poetry scene.
"I enjoy poetry," she added. "I was actually influenced by Wednesday night poetry whenever I was 7 or 8 years old (and) I started going. Poetry's just always been a part of my life since then. I don't do it professionally, I just do it for fun; it's a form of expression and having Wednesday Night Poetry every week at Kollective Coffee+Tea has helped me to maintain that hobby. ... It's a good time (and) everybody's welcome."
After showcasing her talent of stringing melodic words together in rhyme for the first time as a "feature" (main act) in January of this year, Flocken sees no end in sight when it comes to furthering her future expressing her creativity from a poetic perspective.
"My brother featured when he was 10. He was so brave and ever since then I've been very inspired by him, so when I had the opportunity to feature in January I was so excited," she said.
"I've been performing there for as long as I've been going and (that) was just my first time to feature. Some people play music, a lot of people read poetry; it's very dynamic and diverse."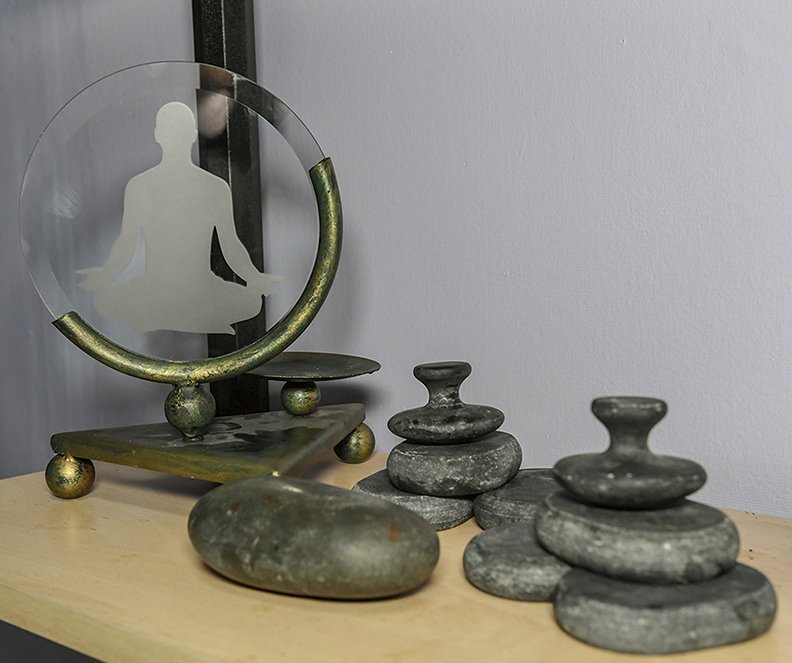 Trinkets inside local Massage Therapist Catherine Flocken's work space at at Younger Salon, 810 Central Ave. Suite G, are shown on February 25, 2020. -Photo by Grace Brown of The Sentinel-Record
Catherine eagerly expressed another outlet she has benefited from in multiple aspects of her life, taekwondo. Yet, this passion takes more of a focus on physical training and endurance of the mind and body.
After taking up adult taekwondo lessons, the young entrepreneur experienced a positive reaction and expressed the lasting effects to "help with everything else."
"The overall mindfulness of my body and what it can do has helped me tremendously in massage therapy. I didn't even realize it could possibly help me in that way, but it's been great ... I'm like, 'Millennials take martial arts -- it's great!', it's awesome. If you never got to do martial arts as a kid, you should seriously consider it as an adult."
Like the diversity of the activities she enjoys, Flocken pointed out that there is a number of specific modalities of massage she "likes to practice" and takes pride in utilizing and applying to her techniques.
"Swedish massage is traditional (and) lots of people use it, (but) I personally have studied Lomi Lomi which is a Hawaiian style of massage, and it's a really beautiful style ... If you get the chance to experience it, it's amazing," she said.
"It's a bit more body movement. It's, I would say, sort of more of a three-dimensional type massage rather than just lying there. It may not be everybody's cup of tea because it is a lot more movement and a lot more oil, but it's a beautiful style that I recommend everybody have it at some point in their life. I also do cranial sacral therapy which is more targeted around the neck and scalp area," she added.
With a love for unique hobbies acquired over time, Flocken also recognizes her career to be inspirational and curing. She explained the personal, professional and physical health gains that may accompany practicing and receiving a suitable and effective type of massage therapy in the midst of a stress-free atmosphere.
"You have this unique opportunity to help people in such an intimate way (with) that hands-on experience," she said. "Massage therapy is ultimately one of the most directly healing things that you can do for yourself and for another person. I think all of that tied around all that good energy (is why) people are coming to you because they know that you can help them and that that environment encourages positive energy."
Go Magazine on 03/15/2020
Print Headline: Self-made massage therapist and rising poet expresses creative spin on success
Sponsor Content
Comments