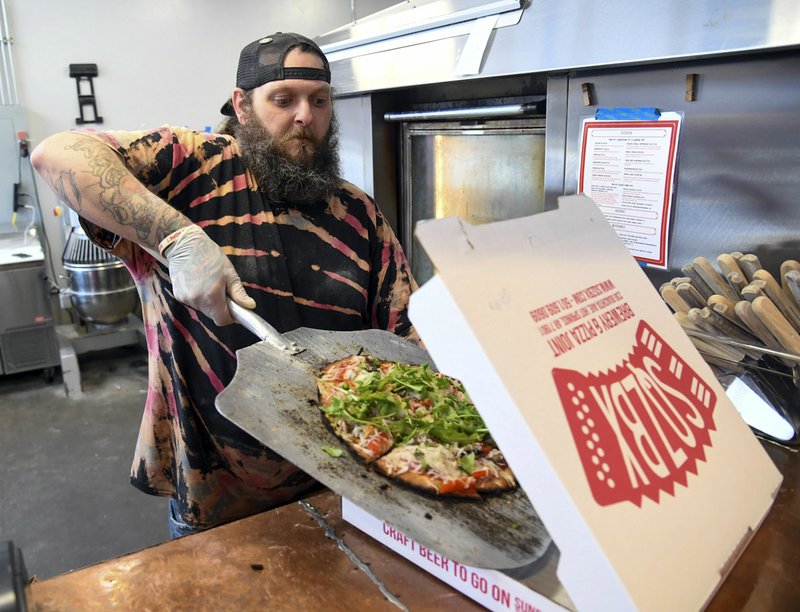 Jonathan Childers, a cook at SQZBX Brewery and Pizza Joint, 236 Ouachita Ave., boxes up a takeout order Tuesday. The restaurant has closed its dining room amid the coronavirus pandemic but is continuing to operate on a carry-out only basis. - Photo by Grace Brown of The Sentinel-Record
Arkansas will tap Community Development Block Grant funds and the state's Quick Action Closing Fund to support small business and nonprofit employers and employees, as well as child care voucher providers that are struggling during the COVID-19 pandemic, Gov. Asa Hutchinson's office says.
Hutchinson has made a formal request for a disaster declaration for small businesses, which will open up loans of up to $2 million in working capital, said a news release issued late Wednesday night.
The state will allocate $12 million in block grant money and up to $4 million from the quick-action fund to provide bridge loans to help mid-size companies and nonprofits remain open during the COVID-19 pandemic.
The state will also increase reimbursement for child care voucher providers who care for children who receive federal child care assistance and that remain open through March 27, the release said.
"The Department of Human Services will suspend the renewal process for child care vouchers for 30 days," it said. "DHS will expedite the process and temporarily relax limits on capacity for providers. More than 800 child care providers have closed."
The Supplemental Nutrition Assistance Program will suspend the work requirement through the end of April. DHS also will expedite decisions about SNAP eligibility for those who lose income because of COVID-19, it said.
According to a news release from The Greater Hot Springs Chamber of Commerce, for small businesses and nonprofits economically affected there is currently a loan program available and a grant option underway for employers; for employees, there is an "expedited unemployment" benefits option.
For employers, there is the Quick Action Loan Program option already available.
The Governor's Quick Action Closing Fund has allocated $4 million to provide "bridge loans and or loan guarantees of up to $250,000 to make payroll," the release said. "The state will prioritize small to medium-sized companies that are in the supply chain of essential goods and services (including health care, food manufacturing, and logistics)."
Those who qualify and need assistance should let the chamber know as soon as possible through arkansasedc.com/covid19, as this program will be "very competitive."
Also for employers, the Community Development Block Grant is underway.
CDBG assistance of $12 million "will be made available for COVID-19 relief and recovery," the release said. "This money will be used to provide economic assistance in the form of loans to companies impacted by COVID-19 and grants to clinics, hospitals and other nonprofits who are working hard to provide care in rural Arkansas and to vulnerable populations such as the homeless."
The Arkansas Economic Development Commission is currently undertaking regulatory steps required by the federal government to implement this assistance, it said.
The chamber will announce when this information is finalized at arkansasedc.com/covid19.
For employees, "expedited unemployment" benefits are available.
"The Governor has directed the Arkansas Department of Commerce to expedite unemployment benefits to assist Arkansans whose employment status may be impacted by COVID-19," the release said. "Under current Arkansas law, individuals who claim unemployment insurance must wait one week, which is not counted as a week of unemployment. The Governor has directed the Arkansas Department of Commerce to waive the waiting period. This directive will allow the department to pay claims more quickly."
The release states that Hutchinson has also directed the Department of Commerce to waive current work search requirements for 30 days, allowing the unemployed to receive benefits without seeking other employment. This exception applies only to those employed by businesses that are temporarily closed with plans to reopen.
According to the release, Hutchinson has also directed the Department of Commerce to allow the unemployed to apply for benefits online or by telephone rather than in person in a further effort to minimize the risk of spreading COVID-19. The application can be found at ezarc.adws.arkansas.gov.
Local on 03/20/2020
Print Headline: Relief available for businesses, nonprofits
Sponsor Content
Comments