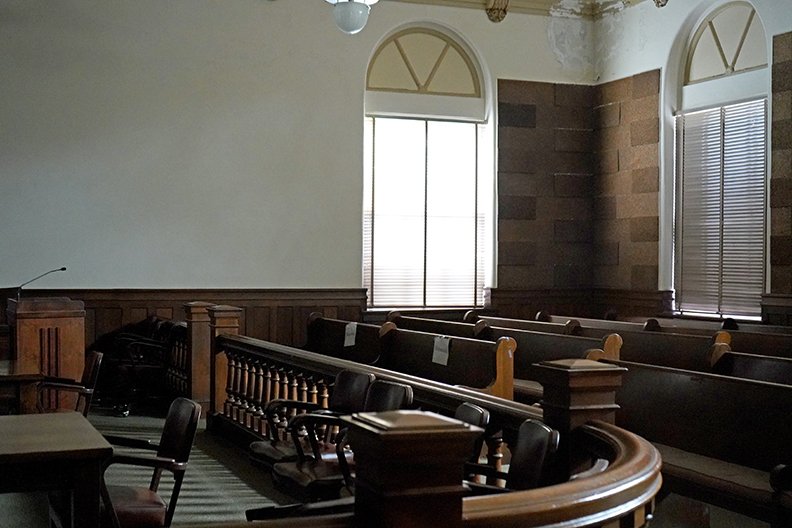 The courtroom of Garland County Circuit Court Division 1 Judge John Homer Wright sits empty Friday afternoon. Wright said essential court functions will continue despite the office being closed in light of coronavirus concerns, but cases have had to be rescheduled. - Photo by Cassidy Kendall of The Sentinel-Record
Officials for both Garland County District Court and Garland County Circuit Court Division 1 say that while essential functions will continue to operate despite the COVID-19 pandemic, all cases scheduled through April 17 have been continued, effective immediately.
"Unless the county judge closes the courthouse, the district court clerk's office will remain open from 8 a.m. to 4:30 p.m. Monday through Friday to answer calls and assist in re-scheduling your cases," a news release from district court said.
"Persons making monthly payments will still be able to make their regular scheduled payment in person. In order to avoid long lines and the risk of exposure to COVID-19 virus, we strongly encourage you to make payments online at https://pay.arcourts.gov," the release said. Payments by cashier's check or money order can be mailed to the Garland County Courts Building, 607 Ouachita Ave., Room 150, Hot Springs, 71901.
The jail docket for those persons arrested on new charges will continue to be held on Monday, Wednesday and Friday via video conference, but the courtroom will only be open to essential court personnel, the release said.
The rescheduling of cases set for March in district court are as follows: March 17 to May 19; March 18 to May 20; March 19 to May 21; March 20 to May 15; March 23 to April 20; March 24 to April 21; March 25 to April 22; March 26 to April 23; March 27 to April 24; March 30 to April 27; March 31 to April 28; April 1 to June 3; April 2 to June 4; April 3 to June 5; April 6 to May 11; April 7 to May 12; April 8 to June 10; April 9 to June 4; April 10 to May 8; April 13 to May 18; April 14 to May 19; April 15 to June 17; and April 17 to May 15.
"Please consult the schedule before calling the court clerk's office as the clerk's office is handling a high number of calls during this time," the release said.
Court dates and case information are available at https://caseinfo.arcourts.gov.
In Division 1 circuit court, criminal cases that were scheduled for Monday will be continued to April 20 at 8 a.m.; those set for March 30 will be continued to April 27; those for April 6 will be continued to May 4; and those for April 13 continued to May 11.
An exception is made for defendants in custody whose cases will be addressed via video conference if possible, Judge John Homer Wright said in a news release, noting it will depend on "if this can be conducted without violating any of the protocols in place on that day."
Domestic abuse cases currently scheduled for March 31 at 1:30 p.m. will be continued to April 28 at 1:30 p.m. Child support cases currently scheduled for March 31 at 2 p.m. will be continued to April 28 at 2 p.m.
All cases scheduled for Tuesday, March 31, (docket call day) will be rescheduled to Tuesday, May 26.
"All remaining cases currently scheduled through April 17 shall be rescheduled as expeditiously as possible," Wright said. "The court will contact attorneys to reschedule the cases as promptly as possible."
Local on 03/25/2020
Print Headline: Circuit, district courts release new case schedules
Sponsor Content
Comments