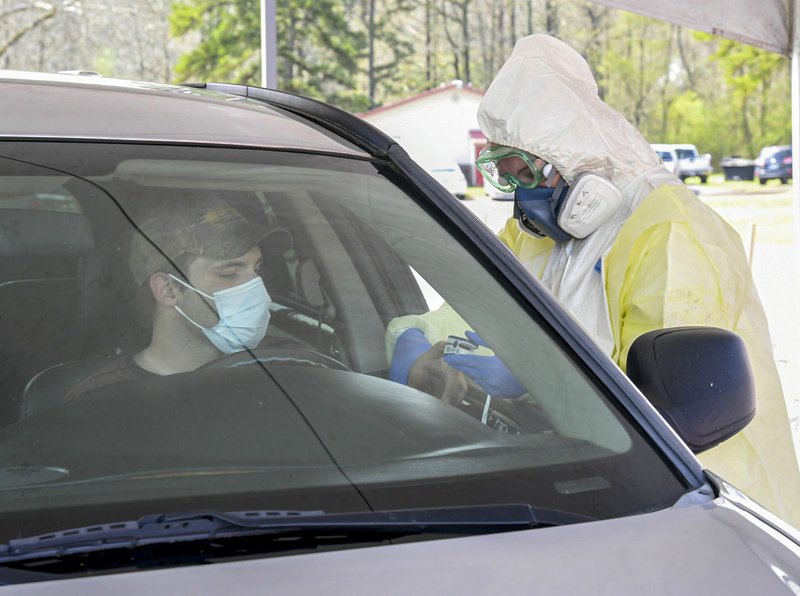 Jacob Baker, left, has his blood oxygen saturation and pulse checked by Nurse Practitioner Alisha Ashley outside of Fountain Lake Family Medicine, 4517 Park Ave., on Tuesday. - Photo by Grace Brown of The Sentinel-Record
The race to find personal protective equipment, or PPE, has the federal government, states, localities and hospitals competing for limited supplies, but Hot Springs and Garland County officials said they're working together to source masks, suits and gloves that protect health care workers and first responders on the front lines of the fight against COVID-19.
Local distribution has outpaced state efforts to supply hospitals and clinics, Garland County Department of Emergency Management Director Bo Robertson said.
"I'm confident Garland County, with the help of City Manager Bill Burrough, has moved more PPE locally than the state has," he said, noting he picked up the county's Strategic National Stockpile PPE allotment from the state Department of Emergency Management in Little Rock last weekend.
"We definitely needed it," Robertson said of the SNS allotment. "I was told we got 6% of what the state received. It was gloves, respirators, gowns. About 99% went to LifeNet. They're the first line of defense out here in the first responder community."
Garland County had 11 positive cases as of Tuesday night, with 28 people testing negative for COVID-19. Information on individual cases is unavailable, the Arkansas Department of Health said.
"Our investigation and contact tracings are ongoing, and it's possible that cases in Garland County could be connected to travel and/or to community spread," Danyelle McNeill, public information officer for the agency leading the state response, said in an email. "Community spread is defined as cases that cannot be traced to something definite like travel and therefore possibly contracted via another person.
"We aren't able to speak to individual cases due to privacy issues."
The city and county have also been finding supplies on the open market, Burrough and County Judge Darryl Mahoney said. Burrough said he's worked with local distributor Sigma Supply of North America to procure PPE, netting 850 medical-grade face masks, Tyvek suits, plastic aprons, 40 no-touch thermometers and thousands of 6-inch nasopharyngeal swabs for specimen collection.
"I don't think they had any 6-inch swabs in stock, so they reached out to all their suppliers and said they needed 10,000, 6-inch swabs," Burrough said. "They had them shipped to us. ... If there's an option or possibility or relationship we can use to get supplies, we're taking advantage of that."
Mahoney said he has more than 4,000 of the sought-after N95 surgical masks on order from Washington state manufacturer Mallory Co., but a delivery date is uncertain.
"I placed the order last week, but what I'm running into is they can't give me a delivery date," he said. "The hospitals and evaluation centers are OK on stock. We've managed through city and county efforts, and everybody working together, to keep our stock in better shape than anywhere in the state."
Mahoney said he's seen N95 masks priced at 90 cents a piece a few weeks ago selling for $8, a sign of the imbalance in supply and demand.
"We've not paid a premium, but judging by some of the pricing it's starting to be an issue," he said.
PPE procurement was at the center of the discussion at Monday's meeting of the task force organizing the local response to the pandemic, Burrough and Mahoney said, explaining that their sourcing efforts are guided by what health care workers at the meetings tell them is needed. The full breadth of the task force's discussions are unknown. The weekly meetings are closed to the public and media.
"The task force meetings are not open to the public," Garland County Attorney John Howard said in an email reply. "The task force has no decision-making authority, is not a governing body pursuant to state law and is not subject to the open meetings requirement of the (Freedom of Information Act)."
Evaluation centers established across the county proceeded from task force discussions. County residents describing symptoms associated with the coronavirus to phone bank operators working the city-county hotline, 501-760-4307, are directed to the centers for further evaluation.
The centers are used for screening, helping hospitals and emergency rooms manage patient flow, and don't have testing capabilities.
Nurses and nursing students and instructors at National Park College are answering the phones daily from 8 a.m. to 5 p.m.
"I can't say enough good things about the National Park College nursing program," Robertson said. "(NPC President) John Hogan and (Dean of Nursing) Janice Ivers, I can't speak highly enough about their help with (the hotline). They're fielding quite a few calls. I just left there and five or six people were answering calls. It's very constant."
Local on 03/25/2020
Print Headline: City, county procure PPE supplies
Sponsor Content
Comments