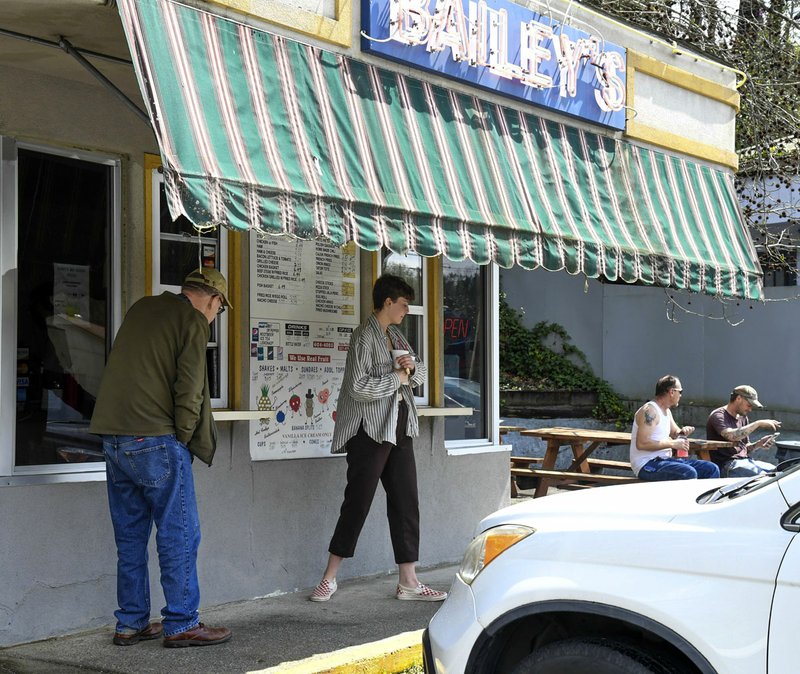 Harley Wootton, left, waits for Haylee Wolf to retrieve her order before approaching the window at Bailey's Dairy Treat, 510 Park Ave., to get his order Tuesday. The Great American Takeout was held nationwide Tuesday, promoting takeout and drive-through dining to save restaurants struggling in the wake of the COVID-19 pandemic. - Photo by Grace Brown of The Sentinel-Record.
The COVID-19 pandemic has people everywhere feeling a sense of uncertainty and stress and, in general, human beings don't cope well with those feelings, Dr. Peter Guresky, National Park Medical Center chief of staff and psychiatrist, said Monday.
"With the onset of social distancing as a key way to help combat the spread of the virus, people everywhere are out of their normal routines," Guresky said in an email. "Not working, having the kids at home or being a kid at home instead of at school are all major disruptions to one's normal schedule and may cause stress."
He noted there is also financial stress and uncertainty this pandemic is causing for many people.
"Any time there is a level of uncertainty and high stress, some people may become depressed or even angry," he said. "If you watch the news, the current state of events is completely focused on COVID."
So how should one cope?
"Try to keep a positive attitude," he said. "Structure helps a lot of people -- both children and adults. If you have kids at home, keep their daily routine as close to normal as possible by maintaining their bedtime, meal times, etc. Don't fall into a pattern of not having a plan or structure for the day."
Guresky said that, for people in stressful situations, feeling like they are active and doing something productive is an important aspect of dealing with the stress.
"So coming up with a schedule for the day or for the week and planning specific things that you can work toward and achieve will help to combat the potential for depression," he said.
There are resources available to those who are struggling, Guresky added.
"Community behavioral health centers, private therapists and school-based counseling are all potential resources, and many are utilizing telehealth methods to reach those struggling by phone, Skype or other similar platforms which may also be covered by insurance," he said. "If your employer has an employee assistance program, oftentimes counseling and therapy are a complimentary part of such programs, so reach out to your employer to see if such a program is available to you."
According to the Centers for Disease Control and Prevention, people who may respond more strongly to the stress of a crisis include older people and people with chronic diseases who are at higher risk for COVID-19; children and teens; people helping with the response to COVID-19, like doctors and other health care providers, or first responders; and those with mental health conditions including problems with substance use.
Stress factors during an infectious disease outbreak, according to the CDC, can include fear and worry about personal health and the health of loved ones, changes in sleep or eating patterns, difficulty sleeping or concentrating, worsening of chronic health problems and increased use of alcohol, tobacco, or other drugs.
The CDC recommends the following to cope with the situation:
• Take breaks from watching, reading, or listening to news stories, including social media. "Hearing about the pandemic repeatedly can be upsetting."
• "Take care of your body." Take deep breaths, stretch, or meditate. Try to eat healthy, well-balanced meals, exercise regularly, get plenty of sleep, and avoid alcohol and drugs.
• Make time to unwind. "Try to do some other activities you enjoy."
• Connect with others. "Talk with people you trust about your concerns and how you are feeling."
Guresky said social distancing is important because it helps prevent transmission of COVID-19.
"So to whatever degree is practical, not interacting with others, especially groups of other people, and keeping a 6-foot distance between yourself and others will help prevent the spread of the virus," he said.
If someone is struggling with social distancing and the stress it causes, Guresky said, try to find ways to interact with people that don't increase the chances of contracting the virus -- family activities such as games, puzzles, projects to "keep you busy and productive," phone calls and FaceTime.
"Again, keep a positive attitude and outlook," he said. "The way things are right now is not the way things will be from now on. This will pass and we will get past it."
Local on 03/25/2020
Print Headline: COVID-19 takes toll on mental health
Sponsor Content
Comments