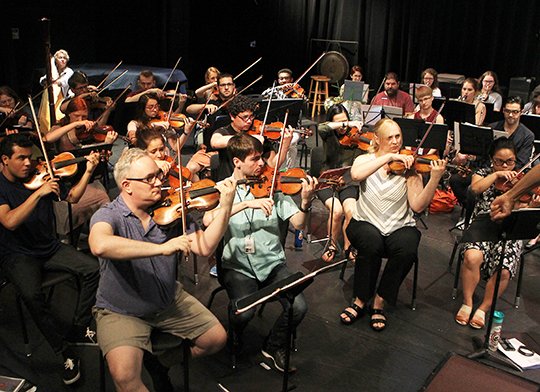 The Sentinel-Record/Richard Rasmussen REHEARSAL: Members of the Hot Springs Music Festival Symphony Orchestra rehearse on Monday at Oaklawn Magnet School. The 22nd season of the music festival opened Sunday with its traditional Brass Fanfare at the Arlington Resort Hotel & Spa, followed by a Mentor Showcase.
The Hot Springs Music Festival has been postponed for the first time in its history until next year because of COVID-19, a decision its executive director, Lynn Payette, said was a difficult one to make, but the right one.
The 25th annual festival, scheduled for May 31 to June 13, has been postponed until May 30 to June 12, 2021.
"This is the first time it has been postponed and, we hope, the last," Payette said. "The Hot Springs Music Festival is one of the earliest festivals during the summer season and, ultimately, we had to make our decision based on the facts before us."
She said one of the main reasons for postponing is that two of the festival's mentor faculty members informed them they could not participate in June, due to travel restrictions put in place because of the coronavirus pandemic.
"Upon learning that, and realizing it would be next to impossible to find qualified replacements on such short notice, that was the deciding factor," she said.
Payette said another concern was the lower number of applicants due to the fact many were reluctant to travel any distance, or their parents would not permit it.
"Many of our talented student musicians (and our mentor faculty) travel by air and just today, I was hearing there may well be further travel restrictions soon," she said. "We did not want anyone to make expensive travel plans and risk not being able to get a refund."
Other concerns, Payette said, were the spread of COVID-19 and the fact local schools are out until mid-April, which means the Oaklawn Visual and Performing Arts Magnet School auditorium, the festival's primary rehearsal and performance venue, would not be available when the festival was scheduled to begin.
"The COVID-19 virus was just starting to appear in Arkansas and the worry was it would peak just before, or even during, the festival itself," she said. "We did not know how long the mandate to avoid large crowds would be in effect."
In an attempt to connect with the festival's "dedicated patrons, supporters and the Hot Springs community in the days ahead," Payette said, they hope to arrange for festival mentors to provide video recordings of them performing a short piece that can be posted on social media and on the Hot Springs Music Festival website.
She said once it is safe to hold public events again, they will also present a number of chamber concerts to the community.
"The Hot Springs Music Festival brings together exceptionally talented student musicians from across the country and often, from around the world, and pairs them with gifted mentor teachers, and together they have daily open rehearsals and present nightly concerts," Payette said.
She said the festival has a reputation of excellence and is considered one of the "premier teaching festivals" in the world.
"As Hot Springs does not have a full-time symphony orchestra available, for two weeks, the Hot Springs Music Festival provides three full orchestra concerts during the two weeks, and chamber music concerts on the other nights, performing music of many styles and time periods," she said.
Those who participate in the festival, Payette said, act like a family.
"Our mentor faculty is very stable and they all look forward to gathering in Hot Springs each year," she said. "We also have many student musicians who return for several seasons, as they appreciate the quality of teaching, the level of performance, and enjoy interacting with people in the community."
The festival brings about 500 people to Hot Springs each summer, Payette said.
"It is the opportunity to hear world-class music here in Hot Springs."
Festival updates will be posted on its website, hotmusic.org, on its social media and in The Sentinel-Record, Payette said.
Local on 03/25/2020
Print Headline: Music Festival postponed after virus disrupts travel plans
Sponsor Content
Comments