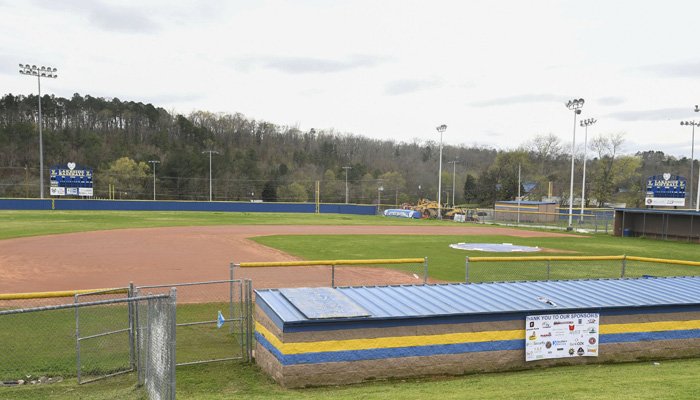 High school athletes are unable to play or practice during the "dead period" mandated by the Arkansas Activities Association, including using the baseball field at Lakeside High School. - Photo by Grace Brown of The Sentinel-Record
EDITOR'S NOTE: This is part of a continuing series of articles on how Garland County senior baseball players are reacting to the mandatory "dead period" implemented by the Arkansas Activities Association.
Lakeside's baseball team got off to a 4-2 start this season before the COVID-19 pandemic led the Arkansas Activities Association to institute a "dead period" as schools across the state were shuttered through April 17.
With six seniors on its roster, Lakeside was prepping for a strong season before the program was benched earlier this month.
Senior Brady Prince felt the discouragement that the stoppage of the season brought, but he also knew that in order to be ready in case the season continued next month he would not be able to take time off from familiar daily work outs and regular practices.
"It's putting us in a position where we've been looking and working up to this senior year for all these months since August," he said. "We were waking up at six in the morning to workout every day until now -- then now it's being taken away from us, and we've only played like six games. We can't go to the facility and practice; we can't do all the stuff that we were planning to do, and it's gonna hurt us in the summer when we go play and in college because we're taking all this time off. ... We're not getting reps that we should be getting."
Senior Gage Golden was also disappointed in how abruptly the season came to a halt, but he also noted that there was good reason for the measures to be taken.
"I feel like it's a good thing but a bad thing, as well," he said. "The dead period is helping kill the virus. It also sucks for us seniors because we're not being able to play a sport that we all love to play together ... as friends and basically brothers for life, not being able to play with them the one year that actually counts ... it's just really sad to think it's basically already over.
"Luckily we're all working out, getting our stuff done, getting our school work done, and we'll be able to bounce back and play ball."
Senior Ethan Bates, who signed in November to play for Arkansas, has set the bar for future Lakeside baseball players while taking a key role in helping lead the Rams to multiple victories -- both on and off the mound.
"It's a bummer because it's our senior year," he said. "We've been looking forward to it for the past four years we've been in baseball then [we] got to play five games and then it's basically all over. Honestly I just really feel so sorry for the people who aren't gonna get to play after high school. ... This was my last year playing with those guys, and we've all been playing together since we were like 12, 13 -- somewhere in there. That was our last chance to play on the field together; that was our last year together."
One of Bates' teammates who was hoping to garner some attention from college coaches is Jordan Villas -- a chance he may not get.
"There's really nothing we can do about it," he said. "I wish they'd still let us play. ... I'm not signed. ... That's one thing I've been thinking about this whole time, 'Am I gonna get a chance to get looked at before the season ends?'"
Like his teammates, Villas is taking the steps necessary to stay healthy and honing his skills while keeping up with his school assignments.
"I've just been doing little workouts at home," he confirmed. "I haven't done much yet because I've been doing my school work, [but] I think we'll be fine because I guarantee that over half the team is still putting in work when they can, however they can."
Signing to play baseball for Crowder College in November, Prince maintains the routine that he has become accustomed to as the change of routine may "throw off" his game-readiness going into summer league and the next level of play.
"When you take a lot of time off, you don't get to see live pitching like you normally see during the season, and all those reps help build up to what you do in the summer and in college. ... [This] is definitely going to affect it in the long run," he added.
If the season continues after returning to school next month, Prince predicts that if he and his teammates can overcome the obstacles before them while striving to prepare for the best possible outcome, the Rams will dive back in and compete.
"I will expect us to come out guns a blazing and show every team who we are and that the coronavirus isn't going to stop us from getting better over the break -- that we are here to play," he said with confidence. "I think if everyone can keep up with their bodies and skills then we should be fine going into those games, if it is re-opened."
"As long as everyone's putting in the time like they're supposed to and being able to work as hard as they possibly can," Golden agreed. "Knowing them, from the beginning of the year, they're one of the hardest working teams in the state, and I believe that we could win state; it just takes time."
Golden, who recently committed to play for National Park, is sticking to a workout routine that keeps him moving while also remaining confident that his team will resume the season successfully, despite the lack of a consistent practice schedule.
"My brother and I, we get out on the road and throw everyday," he added. "We'll do an upper body workout and then we'll play some basketball ... just putting in time."
While noting confidence in his team to jump back in if and when the season resumes, Bates considers the reality that time off and rest could be an advantage.
"I feel like we'll be fine," he explained. "I know that most of the guys are still going to be doing stuff on their own even if they can't get to the school, but I feel like it's gonna give us a much-needed, like, I guess, a break, and we'll get back into it hot and heavy if we're able to finish out the season.
"I've been doing stuff at home like throwing. ... I've got a cage that I go and hit in, and I've got some weights here, so I can at least lift a little bit."
The promise of a future at Arkansas allows the rising Razorback some comfort on a decided path.
"If I wasn't signed, I'd be panicking right now," he admitted. "That's the way of getting people to see them [and] to get to college. ... I'll get a rest, and if we get to play the rest of high school, I guess we'll come out and be better. ... It just eases me to know that I've got a place to go in the fall."
Sports on 03/26/2020
Print Headline: Senior Rams continue work during 'dead period'
Sponsor Content
Comments