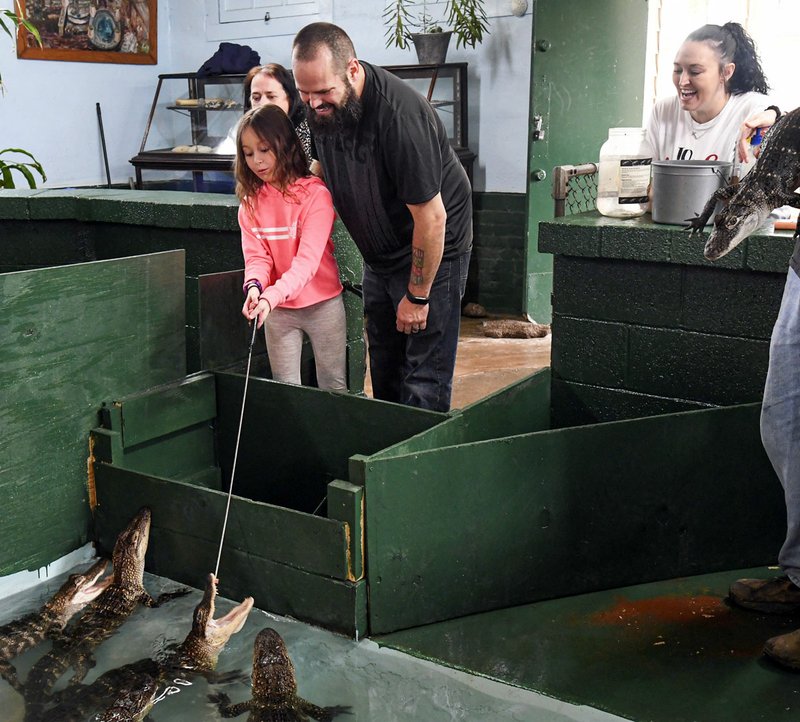 Emma Caudill, 9, of Hot Springs, feeds an alligator a small piece of hot dog as her father, Donny, watches over her shoulder at the Alligator Farm and Petting Zoo, 847 Whittington Ave., on Tuesday. - Photo by Grace Brown of The Sentinel-Record
Over the past week, many businesses and tourist attractions have closed their doors due to the coronavirus pandemic, but one of the city's oldest attractions, the Arkansas Alligator Farm and Petting Zoo, remains open to the public.
Suzy Bridges, wife of co-owner/manager Jamie Bridges, said they decided to keep operating since most of the zoo is in an open-air facility that allows for a safe distance of 6 feet between guests.
"We're not having large groups of people," Bridges said, noting there is a "lot of distancing between" the visitors.
Bridges said they are also constantly cleaning and disinfecting the zoo, but that is "not anything new." As it is a zoo with alligators and other animals, Bridges said the facility is constantly cleaned every day, regardless of the coronavirus.
The zoo, Bridges said, currently has "a good stock" of cleaning supplies.
Another reason they have decided to stay open is that there isn't a lot for people to do in Hot Springs right now because of COVID-19 and "people are going stir crazy," Bridges said.
Over the last week, most of the zoo's visitors have been from out of town, she said, noting a number of them have been people who had planned on spending spring break in Hot Springs. "Some people booked a stay for spring break," but were unable to cancel their reservations, she said.
"Other than walking," Bridges said the zoo offers one of the few activities for these tourists to do.
Due to the nature of the attraction, Bridges said someone has to be at the zoo every day, "because we have animals" that have to be fed, watered and have their pens cleaned.
The employees, she said, are another reason they have remained open.
"We want them to get paychecks," she said. The zoo has three full-time employees and two part-time employees.
While the zoo will remain open as long as the state allows them to, Bridges said they might have to go back to their winter schedule, noting that on Monday, "traffic was slower."
"We'll give it a week to see where we are," Bridges said. "We'll decide end of this week." The winter schedule would mean the zoo would be open on Friday, Saturday and Sunday only.
Bridges said they will post any changes to the schedule on their website and social media accounts.
Local on 03/25/2020
Print Headline: Virus takes bite out of Alligator Farm's business
Sponsor Content
Comments