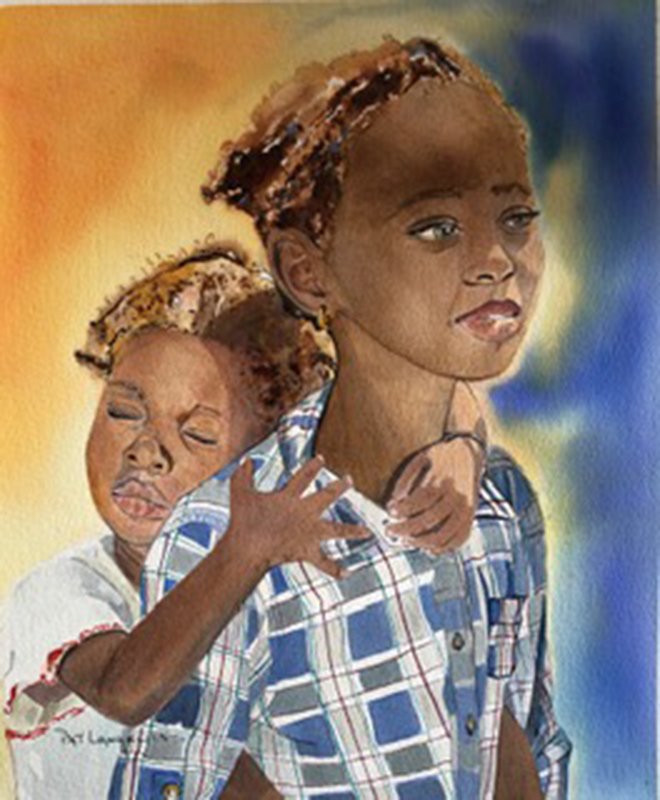 "She's Not Heavy," by Pat Langewis - Submitted photo - Photo by Submitted photo
Artists' Workshop Gallery, 610-A Central Ave., will reopen June 4.
The gallery will initially reopen with limited hours of noon to 5 p.m. Thursdays through Sundays, to follow the state's Phase 1 safety guidelines for the COVID-19 pandemic, a news release said.
Pati Trippel and Pat Langewis are the featured artists for the month of June.
Trippel is an "award-winning artist," accomplished in a variety of mediums -- watercolor, acrylics, pastels, acrylic dyed tissue collage, art quilting, polymer clay and colored pencil, the release said.
"Raised in Southern California, with access to the ocean, mountains and desert, she loves 'being immersed in the beauty and tranquillity of the natural world.' Her paintings express the joy, wonder, splendor and peace of nature's inspiration," the release said.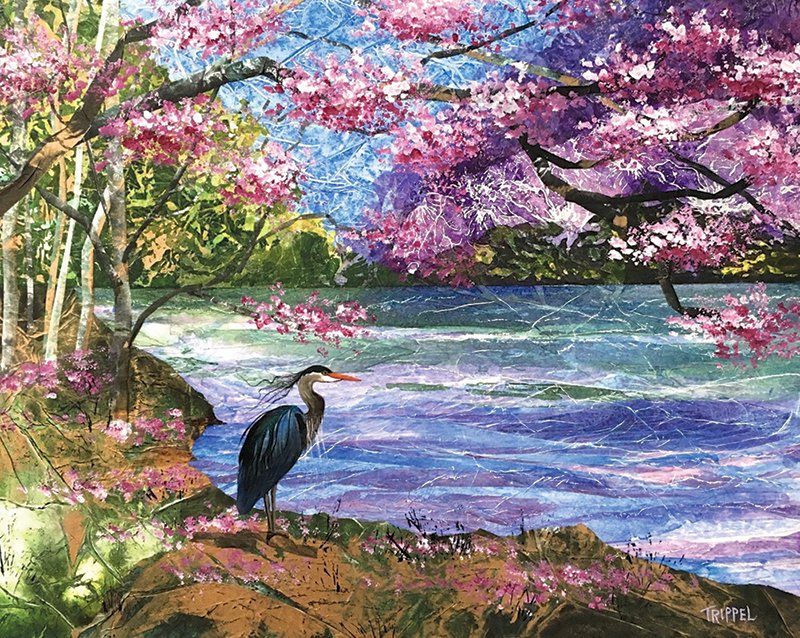 "The Great Wet Blue Heron," by Pati Trippel - Submitted photo
Trippel will feature her acrylic dyed tissue collage, as well as her recent pastels and art quilts. Her Citrus Peel and Beaded Jewelry and three-dimensional work in polymer clay will also be included. More of her work is on display at http://www.patitrippel.com. An active community volunteer, Trippel is president of Artists' Workshop Gallery.
Langewis has earned Signature membership in watercolor societies in four states. She has been recognized for her art by winning several national awards and was awarded grants for continued study in both silk and watercolor.
Her painting "The La Palma Woodworker" was included in a 2020 exhibition in Barcelona, Spain, at the Barcelona Academy of Art, a news release said. "The Montenegro Fisherman" was selected for the Mid-Southern Watercolor 2020 Exhibit in Little Rock.
"In recent years, Pat has immensely enjoyed teaching watercolor on cruise lines, traveling the world and capturing 'faces.' Some of these portraits will be on display during the month of June, as well as her collection of hand-painted wearable art, Silk by Patricia," it said.
Featured Miniatures Artists for June are Tom Seaman and Linda Shearer.
"Artists' Workshop Gallery invites you to join them as they reopen and to enjoy the beautiful artwork of the featured artists and their other talented artists," the release said.
Entertainment on 05/22/2020
Print Headline: Artists' Workshop Gallery to reopen June 4
Sponsor Content
Comments