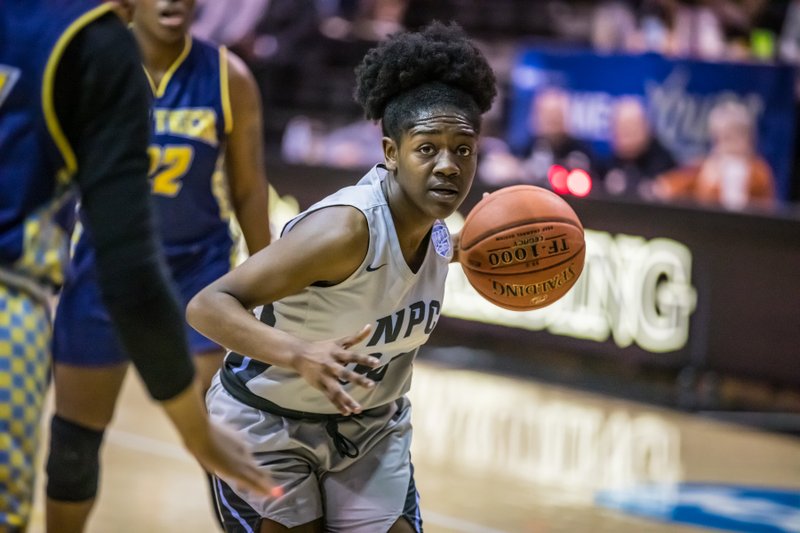 National Park freshman Imani Honey was recently named an NJCAA All-American third team selection. Honey, a Mountain Pine native, is a graduate of Hot Springs. - Photo courtesy Aaron Brewer
National Park College freshman Imani Honey was selected to the NJCAA Division II All-American third team for women's basketball following her inaugural season with the Nighthawks.
The Mountain Pine native averaged 18.5 points per game to lead the Nighthawks (11-10) while shooting 37.5% from 3-point range.
The 5-8 point guard led the region with 9.9 rebounds per game while averaging at least 5 assists per contest -- a team high for the Nighthawks this year that helped contribute to her selection as NJCAA Division II All-Region MVP as well as earning All-Region first team honors.
NPC head coach Marvin Moody, who led the Nighthawks to their first NJCAA Division II Region II tournament semifinal in March, commends Honey for helping catapult the program to an exciting season and making history, as well as what could be a bright future for women's basketball at National Park.
"I've coached her for several years," he noted. "We played AAU ball together for -- I mean, since she was in junior high. But of course she got the big offer to go to Harding. No one (was) gonna hold her back from that, but she decided to come back and play for me, and I was ecstatic because I knew what she would bring. She came in and made a great impact which I knew she would. She's a hard worker, (and) she made us 10 times better. ... She could've left this year and went on to a bigger school, (but) she wanted to stay and play for the Nighthawks again, so it's great having her. Her family's a great support, and I'm ecstatic."
Honey first found out about making the All-American team when she saw a post on Twitter, and she received confirmation from Moody moments later.
"I was really kind of shocked," said Honey. "For a moment it was hard to believe because All-American (is) out of a lot of people. It's just amazing to be even noticed from small-town Hot Springs and National Park. Nobody really knows about National Park like that, so for even National Park to be noticed -- I couldn't believe it. Honestly, until it was posted and people kept sharing it and congratulating me, it took a moment for me to finally accept that it was for real."
Moody said that he was thrilled to learn that one of his long-time, hometown players had been awarded such high honors.
"I've been following the All-American team for the past three years, and I hadn't seen another young lady from Arkansas on there, so it's really a big accomplishment to even join that group of 15 girls," he explained. "That's major. Not surprising to me because she is a winner -- at every level she's won. She's just a dynamic player, and I'm lucky to have her."
NPC athletic director Jason Hudnell said that the department plans to recognize Honey and other student-athletes who excelled in their respective programs and received high honors in some fashion to allow others to see their accomplishments for years to come.
"We've got some things planned to recognize her," Hudnell said. "Her accomplishments will be noted; I'm sure you'll be able to see it in the gym somewhere. We plan to do some things to honor our athletes that have been named both All-Region and then specifically for this, All-American. ... Even as people come into The Kettle years from now, they're gonna see the accomplishment that our hometown girl had."
The newly named All-American athlete said that Moody was a "big reason" for her transfer from Harding to NPC because over the years, he has "always been there for me, trying to help me figure out the steps."
"I just felt comfortable to be able to play for him, and it was also coach Hudnell," Honey added with a laugh. "He would see me around and be like, 'So when you gonna come fill out the paperwork? When can we get you over here?' So I just felt really comfortable, and I knew they would help do what was best for me (and) get me where I need to go future-wise, too. It just felt like the right thing to do. Sometimes you don't really know what to do; it just felt like the right thing, and it was. I'm really glad that I came."
Honey expressed thankfulness to her team members for their support and dedication to the team's success throughout the season, especially the night the Nighthawks hosted Arlington Baptist, which was the No. 1 team in the National Christian College Athletic Association at the time.
"I do just want for my teammates to know that I am very thankful for them, and it wouldn't have been possible without them," she said. "I felt like one turnaround for us was when we played Arlington Baptist. They've won like the last 4-5 years in a row as national champions. We were down by quite a bit, and we ended up coming back and winning. That was just remarkable for us, and that's when we realized we wanted to do so much this season.
"It didn't go how we planned it to, but I feel like that was the game that really made us realize, 'We can accomplish a lot.' ... I'm just blessed and honored to even have the opportunity to be at National Park and then to be one of the firsts, just to make other people see that it's possible. You don't have to go to a school with thousands of people and $20,000-plus a year to accomplish what you want to accomplish."
Despite Honey's surprise at being named to the All-American third team, Hudnell's reaction was the exact opposite.
"I don't know that I was as shocked as what Imani said that she was," he explained. "I had been in some AD meetings, I knew that she was our Region Player of the Year. She was named the most valuable player for Region 2. ... (It) felt like she had a really strong case, and I honestly expected her to be named an All-American. We are incredibly proud of her efforts and what she did this past season, how she helped lead our basketball team and especially proud that our first All-American was someone from right here in Hot Springs. To me, that just gives it another extra-special touch."
Moody said that Honey has successfully set herself up for interest from Division I schools in the future, and Hudnell anticipates the young guard will always have the full support of the Hot Springs community while making her own mark on the basketball program at National Park.
"What Imani's been able to do is put a face on our program. People recognize National Park women's basketball, and when they think that, Imani Honey is one of the names and faces that they absolutely recognize," said Hudnell. "She's got an incredible game, great personality and an infectious smile, and because of that, she's got all those unique qualities that it's easy to get behind. It's very easy for people to support her and if you've been to one of our games in The Kettle then you know that 'Money,' as we call her, has her own cheering section."
Sports on 05/22/2020
Print Headline: Honey earns All-American honors in first year at NPC
Sponsor Content
Comments