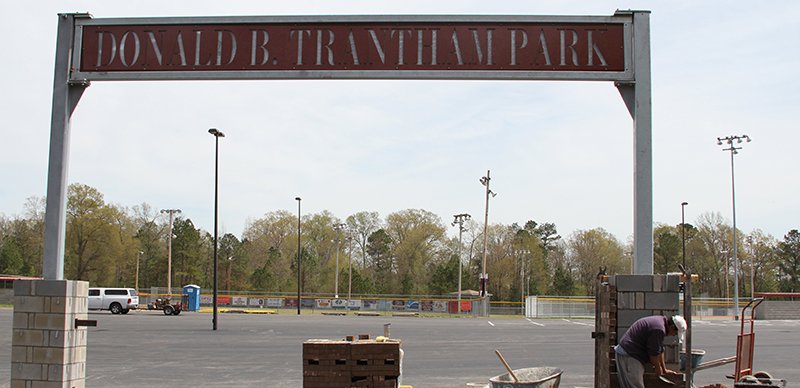 Santiago Deluna, with Barber Construction, works Friday, April 5, 2019, on the sign over the newly renamed Donald B. Trantham Park's new entrance prior to the start of the 2019 season. - File photo by Tanner Newton of The Sentinel-Record
Despite the announcement by Gov. Asa Hutchinson Thursday afternoon regarding team sports restarting on June 1, the Lake Hamilton Optimist Club will not attempt to salvage its spring baseball, softball and t-ball program.
Jacob Harlan, the director of the youth sports program for the non-profit organization in Pearcy, said that despite the fact that the governor said that youth baseball programs can restart next month, the program was canceled due to the COVID-19 pandemic.
"Our season usually ends around June 1," he said. "We usually start pretty early around March, so instead of just postponing, we went ahead and canceled. ... We went ahead and canceled our season because we weren't sure what was going to happen, and we didn't want to keep holding people back and holding people back since we weren't sure what the future held.
"There's a couple of reasons for that, one being we've got kids going on vacation with families, kids going out of state. Some of them go to traveling baseball teams. As of right now, we don't have any plans. We just found out things are going to open back up."
Last year, registration for the organization's youth football program ran from May 1 to July 17 while volleyball registration ran from July 1 to Aug. 9. Football and volleyball are included in the sports that were not approved to resume practice and competition.
"Our next thing will probably be football and volleyball which usually starts practicing in August," Harlan explained. "...Those weren't in the stuff that the governor cleared today, so we're not sure if we're going to open up registration for that or not or wait. We're still kind of without some answers right now."
With no plans at the moment for summer sports, Harlan said it could change if they make the decision to put together a summer league.
"We're a non-profit organization, and baseball was one of the things that kind of helped make it through the year for us financially," he said. "We may try to come up with some short summer league, but with us just finding out today that things are going to be allowed -- nothing is set in stone yet. There's going to have to be a lot of conversations before it really starts being discussed. This pandemic has changed things a lot. It's an unfortunate situation, but we look forward to hopefully getting back together to normalcy pretty soon so we can get the sports going."
Sports on 05/22/2020
Print Headline: Optimist Club youth baseball, softball seasons canceled
Sponsor Content
Comments