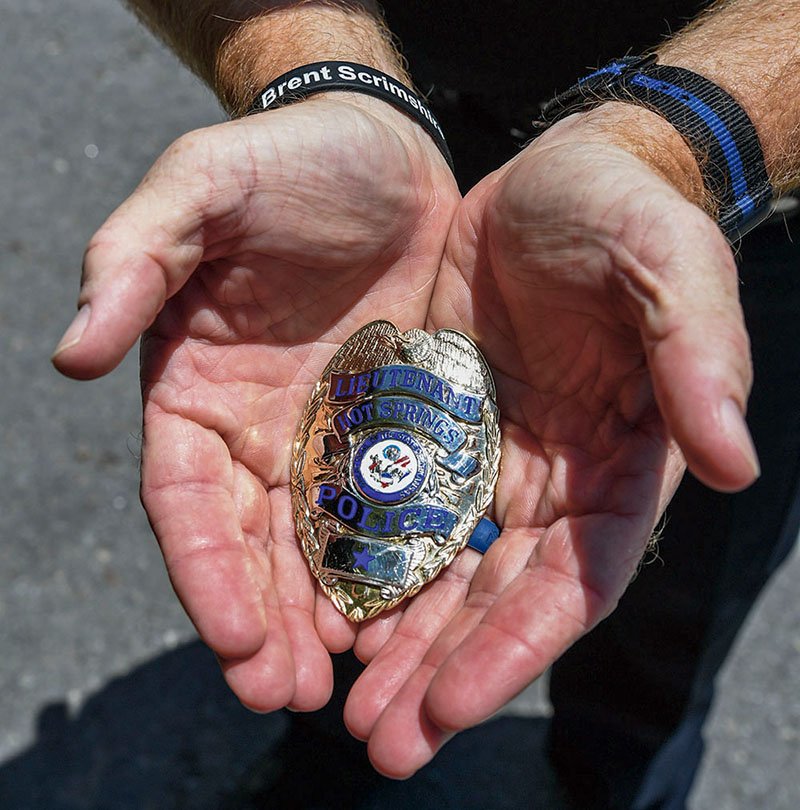 Cpl. Joey Williams with the Hot Springs Police Department displays an officer's badge outside of the police department on Tuesday. Williams is wearing a bracelet in honor of Officer 1st Class Brent William Scrimshire, who was killed in the line of duty in March. - Photo by Grace Brown of The Sentinel-Record
City Manager Bill Burrough announced the finalists for Hot Springs police chief Thursday, narrowing a field of 30 applicants to three candidates.
Chris Chapmond, the department's former assistant chief and the current chief of the Bluffton, S.C., Police Department made the final three, joining Jeff Crow and Shannon Youngblood. Chapmond served 22 years on the Hot Springs Police Department before going to coastal South Carolina in July 2018.
Crow, of Malvern, is the director of safety and emergency management at Ouachita Baptist University. The former state trooper and administrator of the Arkansas Game and Fish Commission ran unsuccessfully in March for the Republican nomination for the District 13 state Senate seat. He and Chapmond are both former Marines who served in the first Gulf War.
Youngblood, the chief of operations for the Montgomery, Ala., Police Department, was among more than 20 out-of-state candidates who applied for the job.
Burrough said he and the advisory panel he formed plan to interview the finalists in person next week. The panel comprises Civil Service Commission Chairman Sam Stathakis, Hot Springs School District Superintendent Stephanie Nehus, NAACP Chapter 6013 President Linda Franklin and Oaklawn Racing Casino Resort General Manager Wayne Smith.
Burrough said the candidates will tour the department and the city and meet with the Hot Springs Board of Directors.
Texarkana Police Chief Robert Harrison and former Missouri Capitol Police Chief Mark Maples advanced to the shortlist of candidates but weren't selected for in-person interviews.
The new chief will succeed Jason Stachey, who announced his retirement, effective May 29, last month. The city said none of the department's current employees applied for the job.
The job posting that closed May 1 said the ideal candidate should have at least seven years of direct law enforcement experience, with management experience in a department similar in size to the city's department. The candidate should also have at least a bachelor's degree in criminal justice, business administration or a related field.
The city's police department employs 135 people, including 107 uniformed employees.
Local on 05/22/2020
Print Headline: Police chief pool narrowed to three candidates
Sponsor Content
Comments