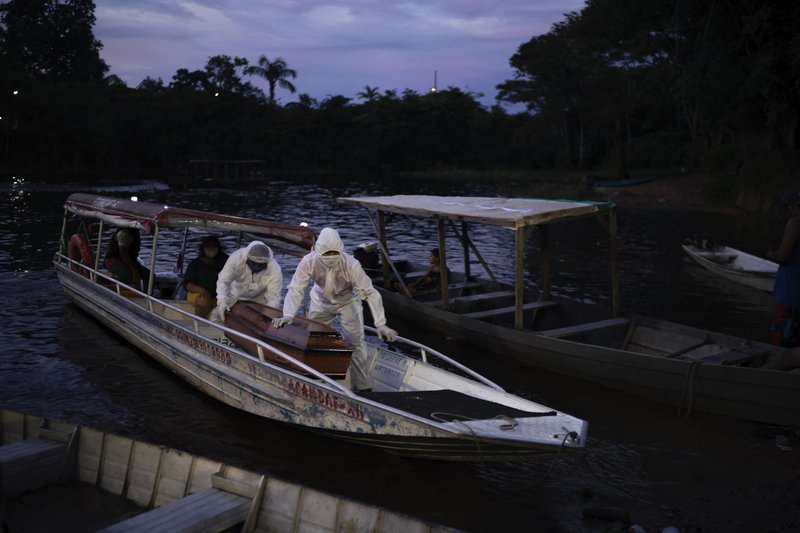 SOS Funeral workers transport by boat a coffin carrying the body of an 86-year-old woman who lived by the Negro River and is a suspected to have died of COVID-19, near Manaus, Brazil, Thursday, May 14, 2020. The virus has spread upriver from Manaus, creeping into remote riverside towns and indigenous territories to infect indigenous tribes. (AP Photo/Felipe Dana)
MANAUS, Brazil -- As the white van approached Perfect Love Street, one by one chatting neighbors fell silent, covered their mouths and noses and scattered.
Men in full body suits carried an empty coffin into the small, blue house where Edgar Silva had spent two feverish days gasping for air before drawing his last breath on May 12.
"It wasn't COVID," Silva's daughter, Eliete das Graças insisted to the funerary workers. She swore her 83-year-old father had died of Alzheimer's disease, not that sickness ravaging the city's hospitals.
But Silva, like the vast majority of those dying at home, was never tested for the new coronavirus. The doctor who signed his death certificate never saw his body before determining the cause: "cardiorespiratory arrest."
His death was not counted as one of Brazil's victims of the pandemic.
------
This story was produced with the support of the Pulitzer Center on Crisis Reporting.
------
Manaus is one of the hardest hit cities in Brazil, which officially has lost more than 23,000 lives to the coronavirus. But in the absence of evidence proving otherwise, relatives like das Graças are quick to deny the possibility that COVID-19 claimed their loved ones, meaning that the toll is likely a vast undercount.
As ambulances zip through Manaus with sirens blaring and backhoes dig rows of new graves, the muggy air in this city by the majestic Amazon River feels thicker than usual with such pervasive denial. Manaus has seen nearly triple the usual number of dead in April and May.
Doctors and psychologists say denial at the grassroots stems from a mixture of misinformation, lack of education, insufficient testing and conflicting messages from the country's leaders.
Chief among skeptics is President Jair Bolsonaro, who has repeatedly called COVID-19 a "little flu," and argued that concern over the virus is overblown.
Asked by a reporter about the surging number of deaths on April 20, Bolsonaro responded, "I'm not a gravedigger, OK?"
He has resisted U.S. and European-style lockdowns to contain the virus' spread, saying such measures aren't worth the economic wreckage. He fired his first health minister for supporting quarantines, accepted the resignation of a second after less than a month on the job, and said that the interim minister, an army general with no background in health or medicine, will remain in charge of the pandemic response "for a long time." In a cabinet meeting last month, a visibly enraged Bolsonaro insulted governors and mayors enforcing stay-at-home measures.
The president's political followers are receptive to his dismissal of the virus, as determined as he is to proceed with life as usual.
On a recent Saturday in Manaus, locals flocked to the bustling riverside market to buy fresh fish, unaware of the need for social distancing, or uninterested. As swamped intensive-care units struggled to accommodate new patients airlifted from the Amazon, the faithful returned to some of the city's evangelical churches. Coffins arriving by riverboat did nothing to dampen the enthusiasm of young people at clandestine dance parties. And in the streets, masks frequently covered chins and foreheads rather than mouths and noses.
For most people, the coronavirus causes mild or moderate symptoms. But for some, especially older adults and people with existing health problems, it can cause severe illness such as pneumonia and lead to death.
International on 05/27/2020
Print Headline: Death and denial in Brazil's capital
Sponsor Content
Comments