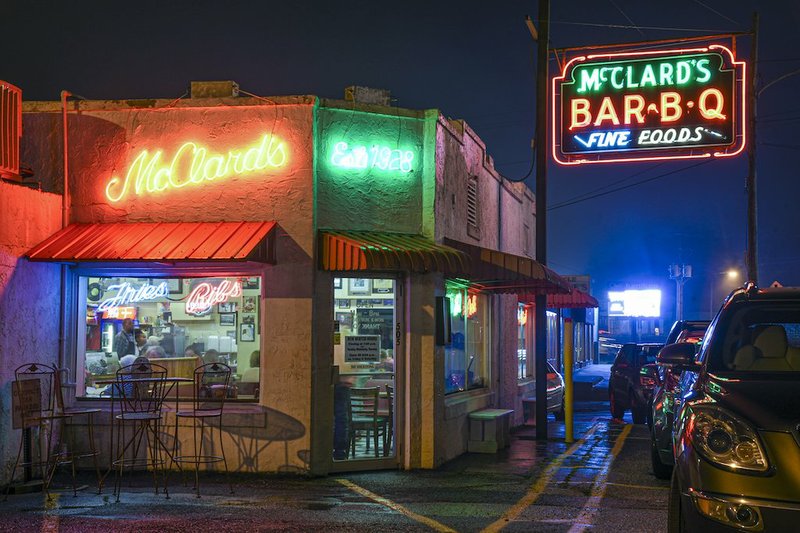 A file photograph of McClard's Bar-B-Q , from Jan. 15, 2020. - Photo by Grace Brown of The Sentinel-Record
The owner of Bone's Chophouse is planning to acquire McClard's Bar-B-Q, a spokesman for Beasley Properties Inc. said Thursday.
Lee Beasley, owner of Bone's, is hoping to complete the acquisition soon.
"Beasley Properties is in the process of finalizing the purchase of the iconic Hot Springs restaurant McClard's Bar-B-Q," Beasley's spokesman said in an email Thursday. "The McClards will be involved going forward with Beasley in this venture. Both parties are excited about the restaurant's future. There will be more information coming later."
Beasley's spokesman said earlier this week that Beasley is committed to having locally owned establishments and restaurants in Hot Springs. He recently acquired J&S Italian Villa in Temperance Square. His spokesman said Wednesday that the restaurant will continue to use former chef and owner Sham Afkhami's recipes.
McClard's has been owned by four generations of the family since opening in 1928. According to a history published in The Sentinel-Record celebrating the restaurant's 90th anniversary in 2018, founders Alex and Gladys McClard's kindness to a stranger was the origin of the legacy subsequent generations have continued.
They owned Westside Tourist Court, which was a few blocks west of the 505 Albert Pike address where the restaurant has been since 1942. In addition to cottages and fuel, the McClards offered patrons barbecued goat.
"Legend has it that Gladys McClard accepted a recipe for 'the world's greatest barbecue sauce' in lieu of payment from a man who couldn't afford to pay for his lodging," the history said. "The McClards tinkered with the sauce a bit and began serving it with their barbecued goat, and the rest is history.
"Now, 90 years later, the restaurant is managed and run by the third and fourth generations of the McClard family, and its award-winning barbecue has been praised by the likes of Aerosmith guitarist Joe Perry and former President Bill Clinton. And it all started with a down-and-out traveler who was short on cash."
McClard's has been closed since March.
Local on 05/28/2020
Print Headline: Restaurateur plans to acquire McClard's
Sponsor Content
Comments