At least 35 people were displaced after a fire early Friday morning in a condominium complex on Highway 7 south at Hamilton Oaks Drive, but no one was injured.
Firefighters and Garland County Sheriff's Department deputies responded to the fire at 12:24 a.m., with deputies helping to evacuate residents and clear the buildings and directing traffic on Central as firefighters worked, Deputy Courtney Kizer said.
Lake Hamilton Fire Chief Doug Davey said when they arrived on the scene "there were already flames through the roof" of the three-story structure so mutual aid was activated, noting his department had 12 firefighters there and Morning Star Fire Department provided an additional seven personnel.
Davey noted Garland County sheriff's deputies had been dealing with an earlier incident so they were able to respond with 10 deputies, including Under Sheriff Jason Lawrence, and LifeNet responded with two ambulances.
"They sent two so in case they needed to transport someone they would still be able to leave one crew on the scene," he said.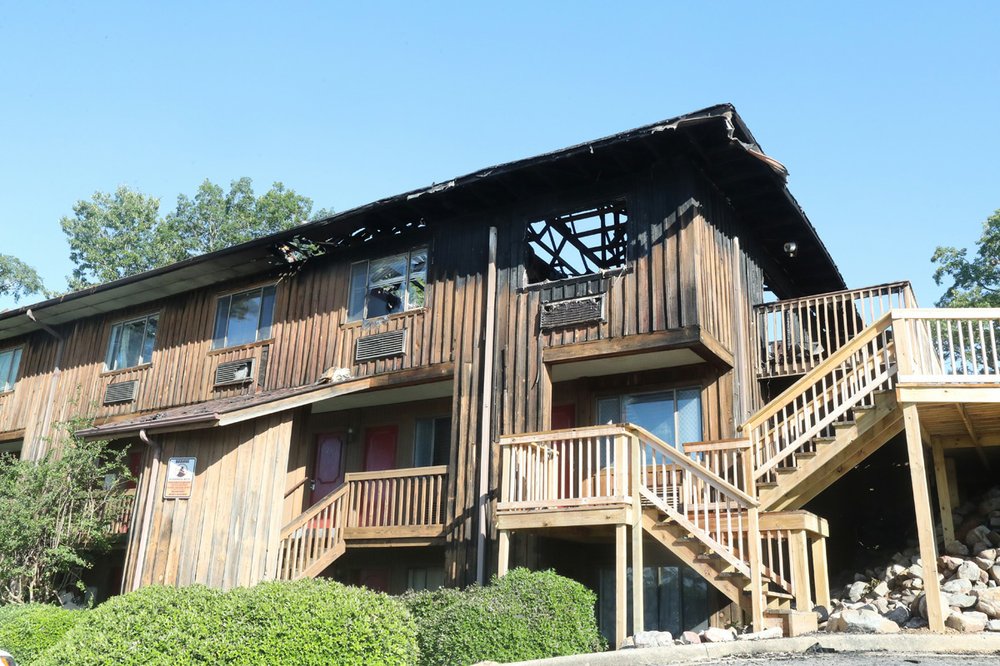 Fire destroyed several units on the top floor of a condominium complex on Highway 7 south at Hamilton Oaks Drive early Friday morning. - Photo by Richard Rasmussen of The Sentinel-Record
The deputies had arrived first and began evacuating the residents and many self-evacuated, Davey said, noting the firefighters "went in behind them to double-check all the units" and make sure everyone was clear.
He said the third floor of the condos, which list a Hamilton Oaks address, were "pretty much gutted" by the fire, but the units on the first and second floors, which list a Central Avenue address, mainly sustained water damage.
Davey said Lake Hamilton and Morning Star each had an aerial ladder truck working on the scene, one in the front and one up top in the back, and including hand lines on the ground they collectively "went through 100,000 gallons of water."
A total of 16 units were destroyed or damaged during the blaze, he said, but noted that a lot of the residents' belongings in the lower units would be salvageable since they mainly sustained water damage.
While firefighters remained on scene for many hours, he said the fire was "pretty much under control" by 2 or 2:30 a.m.
Asked about the cause of the fire, Davey stressed it was still under investigation, but noted they had various ideas including the possibility someone had left something cooking on a stove that they were looking into.
Temporary condo resident Gean Alcala, of Kansas, said he came outside and saw smoke rolling out of the corner apartment.
"I tried to knock on the guy's door, and he was asleep in there," Alcala said. "So then he got up, and what happened was he was trying to fry some potatoes, like french fries, and I think the oil had burned through the pan and it caught fire in the kitchen."
He said the resident of the condo where the fire started was able to escape from the attached side deck.
"We knocked on everybody's door and got everybody out," Alcala said. "Nobody was hurt, fortunately; just a lot of damaged property and the fire got pretty much all the way down."
Alcala was renting a condo on the second floor and said all the damage done to his place was only water damage.
"Luckily there's a lot of great people here in Arkansas who are looking out for us," he said.
Josh Egbert, regional communications manager for the American Red Cross in Arkansas, said the Red Cross did respond to the fire and assisted 35 people who were displaced.
They worked to help them find shelter or a place to stay "while they are going through this," he said, and any other assistance they needed whether it was "someone to talk to" or comfort kits they provided with some of the basic necessities.
He said the COVID-19 pandemic has altered the way they do things, such as not being able to shelter the displaced in one area because "you can't have a large number of people in one room," and limiting "face to face" contact between Red Cross workers and the displaced.
"We do a lot virtually where we can," he said, "while still assisting with all their needs."
Egbert noted they put some of the people up in motels or hotels as needed.
Local on 05/30/2020