Two Lakeside senior athletes signed on to play college sports this fall as Maddie Trusty signed with Florida State University to play beach volleyball next season and Erika Bittinger signed with Henderson State University to pitch for the Reddies softball team.
Trusty will be playing the defender position with the Lady Seminoles this fall.
"Oh, I'm extremely excited. … I was recruited by them for a really long time, and it's just been a long time coming," Trusty said. "And I'm just working really hard, and especially with my injury, I'm just excited to get to come to college and start rehabing. I've just been so excited for so long."
Trusty blew out her knee late in the season, leading the Lady Rams to finish the season, and a playoff run, without one of their top players.
"I'm just really thankful for the opportunity and for everybody that's helped me," she said. "I mean, I can't express how much love and just how good of a feeling it is to know that a lot of people have my back, and it's just been a really good process. I couldn't be more thankful: for God and just everybody in my life."
Trusty is the first player to sign for a Division I beach volleyball program.
"She's the first D-1 beach player from this area," said Lakeside head volleyball coach Rhonda Thigpen. "Now we've had girls sign and go play college, but for her, she's the first D-1. Florida State's a big, established program. I think this is huge for her to get to do this, and she just got (American Volleyball Coaches Association) All-Region for the first time, so that's really great."
Thigpen said that when she coached volleyball at Henderson State, she saw Trusty and has watched her develop her skills over the years.
"I saw her play then, and then I watched her develop as an overall player," she said. "You know, she practiced, she hit, she played defense, so from the time I got here, she just got stronger. I thought she was in the prime of her play right before she got hurt — that's … one of the best high school players I've ever seen in my career. So I think for her to get to go, it's just icing on the cake."
Bittinger said that she is excited to be able to continue to play softball on the collegiate level.
"I'm extremely excited for the opportunity to just, like, being able to play at the next level," she said. "It's a beautiful campus for sure, but it's super close to home, and I'm such a family person. And just being that close to home and still be able to play at the collegiate level is (awesome)."
Lakeside head softball coach Josh Bradley said that he is proud to see Bittinger move on to play in college.
"She has a great work ethic and great dedication to the game and puts in a lot of time," he said. "And so she's very deserving of that, and I know she'll be successful when she gets there."
Bradley said that while the program struggled during her first few years on the team, she had to develop more than just her abilities on the field.
"Her first couple of years, we really struggled as a team," he said. "(We) didn't have a lot of, you know, other players around her to kind of compliment her, and she had to grow through a lot of — I guess you could say, just losing games. You know, she went through a lot of stuff like that where she had to grow as a player and understand that it's not — it is about the wins, but it's also about getting personal wins and being the best you can be on the field.
"And I really saw her grow, you know, as a leader and as a teammate and be better for her team in those types of ways and taking those small types of victories and being OK with those, even though you're going to get beat sometimes. So just seeing her grow that way as a player and a leader — I got to see that for the last three years."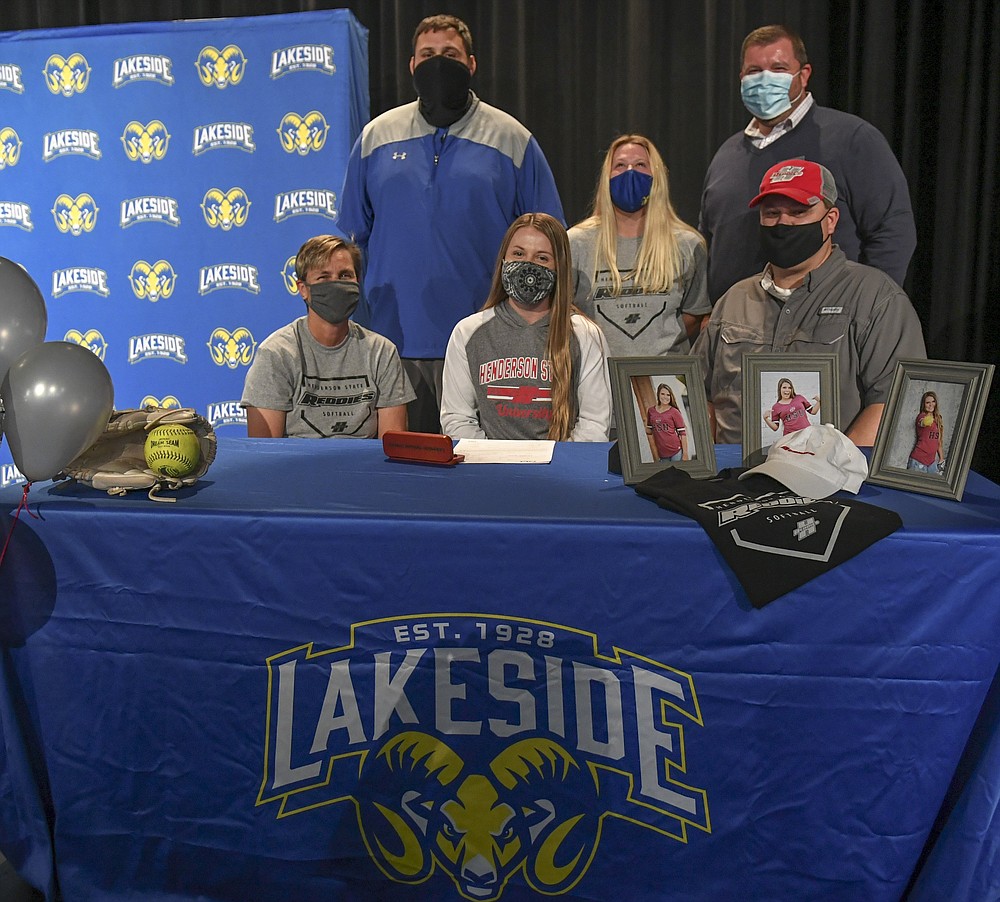 Lakeside senior Erika Bittinger, center, is joined by, from left, her mother Lanea, Lakeside head softball coach Josh Bradley, sister Emylee, principal Darin Landry and father Bobby as she signs a letter of intent to play softball with Henderson State University Wednesday. - Photo by Grace Brown of The Sentinel-Record