Two Lakeside senior baseball athletes inked their their names to letters of intent Friday to continue their athletic careers on the collegiate level.
Peyton Ballard signed to play at Southern Arkansas University, and Andrew Cox signed to play at Ouachita Baptist University.
"I'm very proud of them because of the four-year development they've had," first-year head coach Garrett Bock said. "They've grown in our program, and to be able to do this is very good for our program. What they've done has really maximized and made them more of a leader of our team and our community. ... They're not afraid to tell me what they're feeling, and that's huge as a coach. You want to know exactly how they're feeling, what they're feeling so you can kind of navigate through that with someone you trust."
"This has been a dream since day one," Ballard said. "Just to get to play four more years after high school. It's the dream. Coach Bock and coach (Korey) Thompson -- they're amazing. (Bock) just became head coach, so coach (Leighton) Hardin was here not long ago. He was great, too. It's been fun all four years."
Ballard is planning to pursue a degree in nursing in Magnolia. His position on the field at SAU is still up in the air, but the future Mulerider anticipates time spent infield as he prepares for the next level.
"I've been talking to them for a long time, and we decided to go up there for a visit, and everything that I saw -- I loved it," he explained. "It just kinda clicked. I love the faculty there. I love the coaches. It was just the perfect fit. ... Just gonna be working out like crazy. Getting stronger as much as I can before it all hits."
Bock noted the amount of growth he's seen from Ballard in recent years.
"He was kind of thrown in the fire as a ninth grader," he said. "He battled some adversity, but now he's grown up to be one of the best players that's been in this program. He works extremely hard, and he really cares about his teammates. He's a fantastic teammate."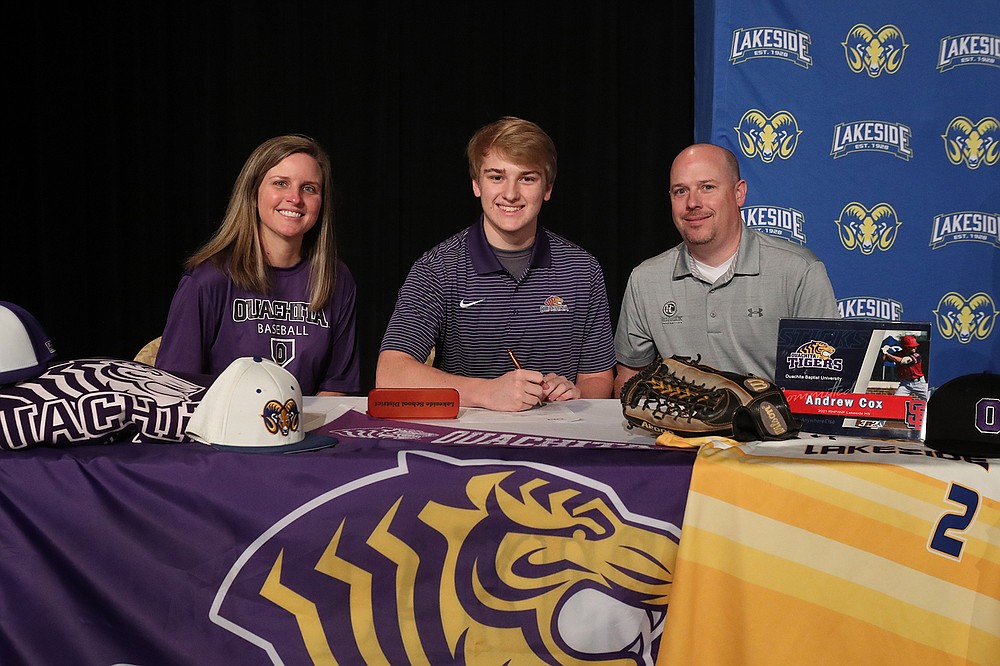 Andrew Cox, center, is joined by his mother Betsy, left, and father Robbie Friday after signing a letter of intent to play baseball at Ouachita Baptist University. - Photo by Richard Rasmussen of The Sentinel-Record
Cox said his time at Lakeside has been nothing short of amazing as former head coach Hardin and Bock have provided a multitude of support.
"I've always wanted to play college baseball pretty much since I was kid," Cox said. "Just being able to (has) been a dream come true. I really appreciate every moment I've had (at Lakeside). Coach Bock and coach Hardin, who recently moved on, they've all supported me and developing me as a player and a person. I feel like they're some of the biggest impacts in my development as a player and getting the ability to play college baseball."
Cox named last year's game against Bryant as his most memorable matchup during his time as a Ram.
"It was the first game of the season, and we had Ethan Bates pitching," he recalled. "He threw a perfect game, and we won 15-0. It was pretty awesome."
Signing as infielder/pitcher, the future Tiger has played outfield in the past and is unsure of where he'll be come next year as he makes the move to Arkadelphia.
"From the moment I visited there, I talked to the coaches, and I loved the coaches from get-go," he said. "It was one of the first colleges I visited, so I didn't want to make any decisions, but I got an offer there whenever I visited. I looked at a couple other schools and none of them felt like the right fit like Ouachita did."
Bock noted the leadership they displayed and how fulfilling it is to see the pair move forward with their careers.
"Those guys are rocks for our program," Bock said. "They teach younger guys, and everyone looks up to those guys. It's been a really good, really fun four years."