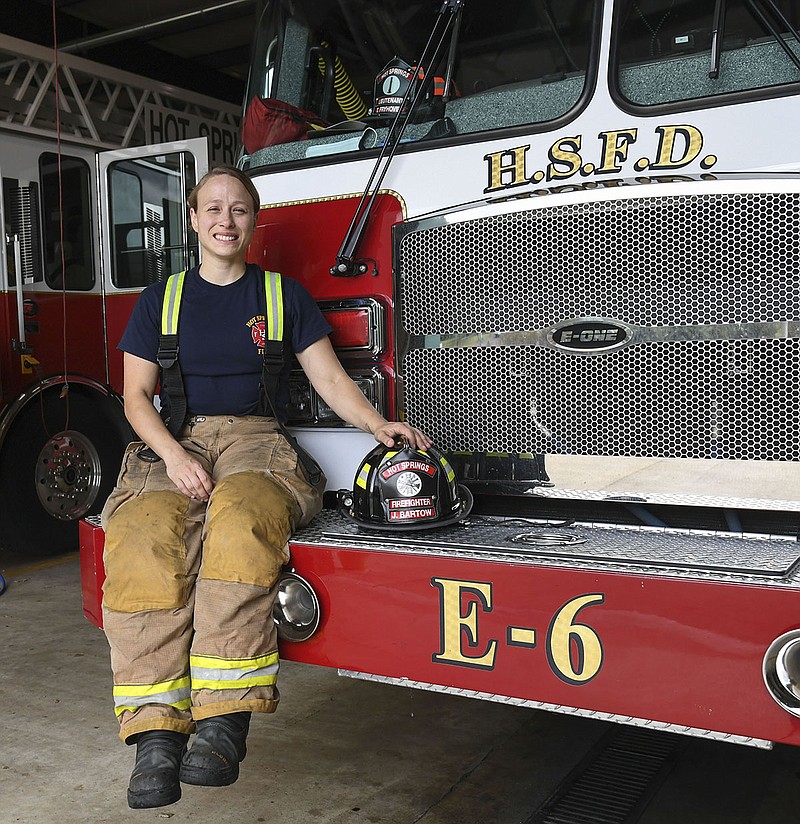 Jacqueline Bartow. - Photo by Grace Brown
The romanticized version of a firefighter often depicts muscular, shirtless men carrying damsels in distress out of burning buildings. While the Hot Springs Fire Department requires all of their firefighters to maintain top physical fitness, the people who wear the turnout gear come in all shapes, sizes and genders.
"When I was little, I actually wanted to be an FBI agent," Jacqueline Bartow said. "I went to college and got my Bachelor of Science in Criminal Justice and then went into the Navy as a master at arms. That is like the Military Police.
" That was where I was headed with my career but I've always felt my calling was in service to other people."
For the past three years, Bartow spent her time learning the ins and outs of becoming a firefighter and constantly stays up to date with her training. As one of only two female firefighters at the department, Bartow said it did not feel like she was busting into a boys' club when she joined up.
"The Hot Springs Fire Department is such a great place to work. Being a male or female doesn't change your job. At the end of the day, we have a job to do and I have to be able to do it just as well as the next person," she said.
Becoming a firefighter truly challenged some of Bartow's biggest fears. In order to complete her two and a half months training in Little Rock, she went through various situations and scenarios to prepare her for real life-or-death situations.
"When I first got hired, I was extremely claustrophobic and I was afraid of heights," Bartow said. "The training provided at the academy was very expensive and it got rid of those fears relatively quickly.
"They're literally training you to keep you alive and save others in the most intense situations. Things like claustrophobia and a fear of heights can't get in the way of that. It is literally saving lives."
At the academy, Bartow says they do get practice putting out fires, but they also have the opportunity to speak with experienced instructors. They are able to hear firsthand accounts of what firefighters can go through and experience on a regular basis.
"Things that you would never even imagine," she said. "They gave us perspectives from the dispatch side, the medical side, the police side ... just so you understand what is going on and can work better with everybody.
"They try to prepare you as best as they can but you're never going to run up on a situation that is like another one."
When responding to fires, Bartow must assess each situation with fresh eyes. She asks herself questions pertaining to the location of the water source, water pressure, whether or not a building is occupied, or at risk of falling in.
"They're training you (at the academy) to think on your feet. ... Every time you get on scene, it is going to be different. They prepare you for as much as you can," she said.
Most of her knowledge comes from the experience she has gained hands-on over the past three years through working with more experienced firefighters. With the way the HSFD operates, there are several different groups that monitor certain situations and Bartow has the opportunity to observe and learn from each. Some of them monitor the structural integrity while others make sure firefighters actively battling a fire get breaks and plenty of hydration.
"The cool thing is, I come on the job as a firefighter," she said. "I'm the lowest rank. There's a driver who is the next rank above me and then my lieutenant, who is above me. Those three people are on an engine and we're usually the first ones on scene.
"Those people have time on me. They have been to fires and seen a lot of different things I haven't seen. I'm still sitting back and observing everything that I can but I also am not the one making the decisions."
Her shift begins at 7 a.m. and Bartow is putting her gear in the fire truck, getting ready to check it. She and the rest of the crew check for everything from full water tanks to hoses being in the correct places.
"We make sure that the pump works, that all our tools are in every compartment, and we kind of go through situations. (For example,) if we have a structure fire, 'What am I going to grab off of this truck? What is my job?' You go through everything and make sure you are going to be prepared if something comes in in five minutes," she said.
Once the engines are all in order, the firefighters go through and clean the station from top to bottom every day. In between calls for fires, they train, respond to calls for building inspections, testing fire hydrants, and even do some school programming, although the pandemic has limited this.
"We will go to the schools dressed in uniform to show the kids that (her gear) may look scary, but to remember it is just a firefighter behind it and not to be scared when we come find them if they are in a fire," she said.
During the evenings, the firefighters will cook a meal and eat dinner together, just like you would see on television. At that point, they wash their engines and wait for more calls to come in until shift ends at 7 a.m.
In her three years at the department, Bartow says those times she gets to help save someone remind her exactly why she chose to become a firefighter.
"Every time we get on scene somewhere and we get to help somebody, whether that is extricating someone from a vehicle or putting out a fire," she said. "The really cool ones are where we get to put out fires before they spread to the rest of someone's house and their whole house isn't damaged.
"When we see on our detector that there is carbon monoxide in the house and we are able to save somebody from passing out and dying from inhalation, it is things like that. Just knowing that you saved someone's life, or knowing I made someone's day better helps me know I am serving the purpose that God has for me here."
During those 12-hour shifts, it is not uncommon for Bartow to find herself awakened to calls of fully engulfed structures. In those situations, she must go from a dead sleep to fully prepared to fight fires and possibly save lives.
When it is time to respond to a fire, Bartow must step into her pullout gear, which can weigh over 45 pounds. Each time she responds to a call, Bartow must remember to have her multi-layer, waterproof turnout pants, boots, a protective hood for her ears and nose, a multi-layer, waterproof turnout jacket, a helmet, gloves, breathing equipment, and any tools she made need.
"It definitely takes some getting used to," she said.
Before Bartow came to the fire department, she spent some time serving in the Navy after college.
"So, I was looking for a job, going through a divorce, and someone who was currently with the Hot Springs Fire Department and in the Navy with me came to my unit and said, 'The HSFD is hiring.' ... "I was like, 'That would be something I would love to do.' Service to others is definitely my calling. God has really led me to fulfill my purpose in life by me getting this job."
However, even in the good times, Bartow has also faced challenges of her own, as her job as a single mother is not quite over at the end of her 12-hour shift at the station.
"I'm originally from Pennsylvania. I moved here and I have four kids who are 8, 7, 5, and 1," Bartow said.
As a firefighter, you're away from your family one-third of your life. So, after being here at the department for three years, I have missed a year of being at home. I have slept an entire year at the fire station."
Although the scheduling took some time to figure out, Bartow worked out a system where she can follow her passion and raise four children.
"I am also divorced, so I'm a single mom. When I'm at the fire station, my three older kids will stay with their dad and my baby usually stays with one of the other firefighter's families or a couple from my church. Between my church and the fire station, they definitely help take care of my baby,"
While the stereotype of sliding down fire poles is not necessarily a staple at the station where Bartow works, one notion rings true, and that is firefighters are family. They eat dinner as a family, they spend time together in both calm and stressful situations, and they always have each other's back.
"It absolutely is a family. ... It's like I have 75 brothers and a sister."
Sponsor Content
Comments