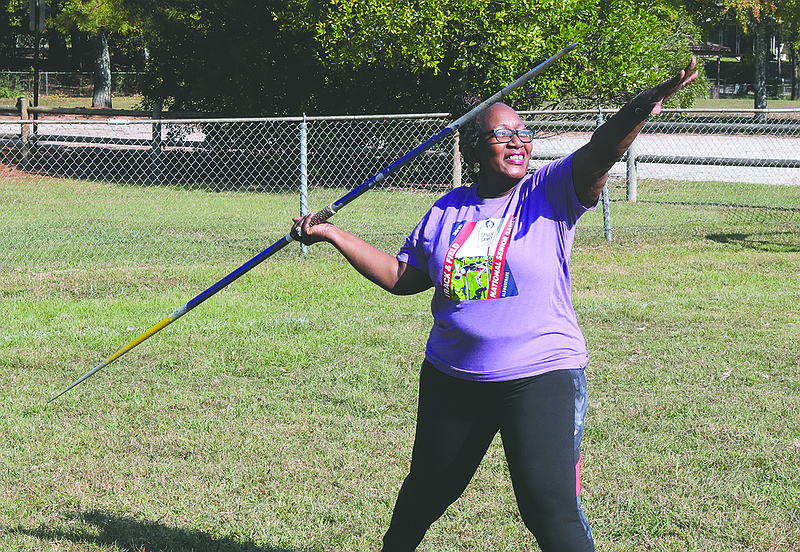 Maxine Dickerson. - Photo by Richard Rasmussen
Local Arkansas Senior Olympian Maxine Dickerson lives her life to her mother's motto "keep living and keep moving," and conducts herself with a purpose to spread that idea to others so they can understand, "If you keep moving and keep being fit, you can really strive -- you can really do anything!"
Born and raised in Shreveport, La., Dickerson moved to Hot Springs about 16 years ago and works as a part-time schoolteacher at St Luke's Episcopal Day School.
In 2015, when she was approached by a local coach asking if she would be interested in learning how to throw the shot put and discus, she applied her "keep living and keep moving motto" and said "sure!"
Although she has always tried to stay active, she had no experience with track and field events at the time she decided to give it a "go" at age 62.
"After work (one day) I went out there and she (the coach) had me observe a student throw the discus and the shot put, and I said 'Wow, I think I can do that,'" Dickerson said. "So she gave me some points and some critique on how to throw it, and I was hooked -- literally I was hooked."
However, her journey of recognizing her full potential as a Senior Olympian was just beginning; she had yet to also discover two more track and field events that she would ultimately fall in love with: The javelin and hammer throw.
Dickerson was at a competition trying out the javelin throw for the first time -- granted, not having great luck with two scratches under her belt and one attempt left -- when a fellow Senior Olympian from Texas gave her some advice on her technique.
"She told me to put it (the javelin) in between my fingers here and grasp it really hard and aim high, and when she told me that I immediately followed the directions that she told me and I threw it," she said. "My last throw was 25 feet and that's when I knew I was hooked.
"I named my javelin after my mom, Helen, so whenever I go and throw it in competition, I talk to Helen.
"But with the hammer, the hammer throw is a new one for me; I just recently learned about it. I looked it up on the website and I started learning about the technique of how to throw it and everything, I had never thrown a hammer throw in my life ... (Now) that one is the most comfortable one in all the (four) that I do; I really love the hammer throw."
By keeping "living and moving," per her motto, Dickerson is striving and progressing in her journey as a Senior Olympian every day.
"I just thank God for the gifts because I love fitness, I always have, and for Him to put all these things in my midst, it kind of makes me feel like I'm here for a purpose to make sure people understand if you keep moving and keep being fit, you can really strive, you can really do anything," she said.
Now, at age 67, Dickerson said it's never too late to start any kind of fitness journey, as long as you consult with your doctor first.
"I read this motto at this gym I was at the other day, and it said 'A thousand miles begins with a single step,'" she said. "So to walk a thousand miles begins with a single step; so I feel like if you are older in age, and if you are not quite as active as someone else, but even trying to do something that can motivate you physically, or even put one foot in front of the other, you're making a move; you're being active.
"It is so important for seniors to stay active because ... you feel better emotionally, physically. It's a very healthy thing for your body and more people will be happier and calmer about their bodies and their selves, and other people they're around."
As for those who may consider joining the Arkansas Senior Olympics as part of their fitness journey, Dickerson said anyone over the age of 40 can join.
"Provided that they're under a doctor's care, and if they would like to get involved in the Senior Olympics, just make sure that their doctor is aware of their body and that their body is able and capable of doing what they would like to do," she said. "It doesn't necessarily have to be field events, it can be track, it can be running, it can be bicycling, it can be a football throw. We have a lot of recreational activity.
"Once you familiarize yourself with the events that you would like to enter in and train, then you can set out in weight training, or any type of training that you would like to get involved with, but just make sure that you get it into a routine.
"Now I go and do my throws maybe two or three times a week. I just started recently going to a fitness place to do weight training, specifically weight train to get more strength, to build more muscle.
"Alternately I work out my arms maybe one day, and then I work out my legs maybe the next day, so I alternate times to work out, and that's a personal thing that athletes have to figure out for their selves if they know their own body."
The mission of the Arkansas Senior Olympics, she said, is to promote fitness, good health and education through "competitive athletic design" for seniors.
Just like her mom, Dickerson said she is a "giver," and being a Senior Olympian has allowed her to give to both herself and to others.
"It's because you care," she said. "You care about yourself, you care about the community, you care about the people around you; your family; and they will see the results of you being fit and happy in life."
Sponsor Content
Comments