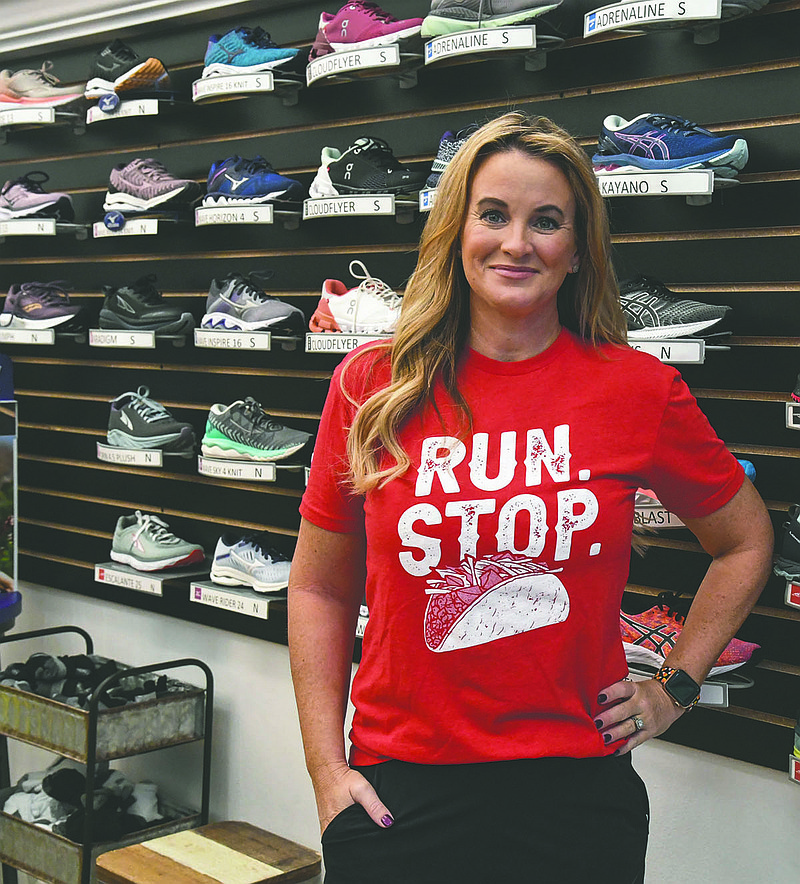 Lori Bowen. - Photo by Grace Brown
When the COVID-19 pandemic slowed down local Lori Bowen's job as a sales director for a medical device company, she took the "down time" to pursue a business opportunity she has had on her mind for years: She opened Hot Springs' one and only specialty running store downtown.
Run Stop, 218 Central Ave., opened Aug. 15, 2020.
"I've had several people ask me why I decided to start a new business in the middle of a global pandemic, but one of the things that we can all do is be outside," Bowen said. "Truly for a business like this, it was the best time to do it because I think ... there are more people outside doing things than ever before."
Whether it's mentally or physically, no one has gone untouched by the crucial times permitted by the pandemic, and Bowen said when it comes to picking up a hobby such as running, it's beneficial to both your body and soul.
"It's so much more than just physical," she said. "I think, you ask 10 different people and you're going to get 10 different answers for why they run -- the benefits.
"It's just overall health for some people; it's weight-loss for so many people; it's just an outlet for stress or frustration; for me, it's girl-time. I love to go on a run with my running partners, and that's just a couple of times a week we can just talk and enjoy each other's company."
As for who can run, as long as they are able, Bowen said if she can run, anyone can.
"When I started running I could not run to the mailbox," she said, laughing. "I always have worked to stay in shape, but I never had the stamina that I would think that most runners need, so for me, it was just starting slow.
"There's several different apps. I used the 'Couch to 5K' app that will start you from, you're running 30-second intervals, and it just steps you up slowly until you can reach some of those larger goals. But that's the biggest thing is just to start at your own pace, don't compare yourself to anyone, do what you can do and build on your own progress."
Bowen has only been running for about 10 years, starting at age 36, but said it has been a passion of hers since the start.
"In the scheme of things when you compare that to people who have been running in this community for 50 years, I feel like such a newbie, but it is a passion, and it's something I love, and it's so neat to be able to share that with other people and to meet other people who feel the same," she said.
"The number of people who have come in (the store) who said the same thing I did: 'I don't understand why no one has done this before.' Of course, we have a huge running community in Hot Springs, and it was just so needed for all of us, so it really has been such a great response.
"I really thought it was going to be more a store for just the local runner, and I had been so surprised -- and I know part of that is because of the location where we are downtown -- but it's been such a great spot for the people who are traveling to Hot Springs; for the tourists."
Since moving from Conway to Hot Springs with her husband, Bowen has also only lived in the community for about 10 years, but said she saw the need for Run Stop when she had to travel to Little Rock anytime she needed specialty running shoes.
"I'm a sales director for a medical device company; I've been in sales about 15 years, and when COVID hit, we got grounded," she said. "I'm usually on an airplane about three or four days a week. I travel the majority of the time and I haven't been on an airplane since March because we're all working from home and the opportunity just kind of presented itself.
"It's something I've wanted to do for years and years, and being at home and being able to monitor the progress on the build-out of the building and getting good staff on board that can handle it when I'm not there, I was just able to do that because I was at home."
So how does someone with just 10 years of personal running experience gain the confidence and inspiration to make her idea for a specialty running store come to life? Bowen utilized the "professionals" around her.
"I've got a good friend that manages a running store in Hoboken, N.J., just right across the river from New York City, and reached out to him and really talked in-depth with him about what I still needed to know and how to learn those things, and he's been a great asset," she said.
"I was on vacation not long ago and went into a local running store there and did the same thing, kind of looked at how they had everything set up, and just asked their staff, 'How did you get the knowledge that you needed?'
"You know, a lot of it, I've directed a lot of my staff you YouTube and we've got a very experienced runner that works for us that printed out literature, so they've done their fair amount of studying and we've got a staff that is really able to work with the customer and get them in the right shoe."
Whether you're a "new" or "experienced" runner, she said an appropriate shoe that accommodates one's "gait" -- or the way you walk -- is crucial to any runner's performance.
"Without having the right type of shoe ... that can cause issues with your knees, your ankles; it can cause shin splints, and it can just cause a lot of pain and a lot of injury," Bowen said. "I think that's why a lot of people that just decide to start running and grab a pair of shoes from just wherever will have a lot of injuries, and a lot of times will give up on running because they don't feel good; they're not getting the benefits out of it.
"A lot of times, with a new runner, it's because they're not in the right shoe. I have a lot of people ask 'What shoe do I need? What shoe do I need to go buy?' and that's just impossible to ... answer without seeing that person walk, without analyzing their foot; because everybody is different and what is a great shoe for one person is not going to be the right shoe for another."
She said Run Stop's specialty shoes don't stop with fitting the lifestyle of a runner, but also hikers, walkers and workers who spend their days standing.
Sponsor Content
Comments