PEARCY -- The response to Lake Hamilton School District's Thanksgiving bulk meal pickup program was so overwhelming Friday that it had to be halted briefly to allow the food staff time to prep more meals, school officials said.
Students were able to drive by the high school cafeteria and receive seven breakfast and seven lunch bulk meals that would last them through the district's weeklong Thanksgiving break next week.
Brian Bridges, the Lake Hamilton School District's communications and public relations coordinator, said the distribution, which is provided at no cost for students 18 years and younger, began at 9 a.m. Friday, and by 11 a.m., over 3,000 meals had been picked up. At that time, the distribution was halted so the food staff could prep more meals.
Lake Hamilton resumed the bulk meal distribution again at 12:30 p.m. until 2:30 p.m. "making sure that everyone that needs them gets them," Bridges said.
"To help families at this challenging time, our offer was to provide seven breakfasts and seven lunches to children under 18 while we are out of school for Thanksgiving break. We were very literally overwhelmed by the response. In just two hours we gave all that we had prepped to families. Our team then pulled together to pack and distribute several thousand more meals," Shawn Higginbotham, Lake Hamilton's superintendent, said.
"I am extremely proud of our staff for coordinating this effort to help meet the basic needs of children at a time when so many families are experiencing difficulties," he said.
"We are glad to be able to help our community in this way at a time of year that we commonly associate with generosity and goodwill. This is one way to uphold some degree of normalcy in a year that has been anything but," Higginbotham said.
"We provided 6,622 meals through the drive-by bulk meal pick up today. It was a true team effort and we appreciate the patience and understanding of everyone who waited in line for their meals today," Bridges said.
"Due to the overwhelming positive response today, we will be doing another bulk meal pick up opportunity for Christmas break at the end of December, only this time, we will do a preregistration link so that we are able to have an accurate count prior to the pickup day," he said.
The preregistration link for Christmas will be shared with all students and staff on the district's website, social media sites and the Wolf Week News in December.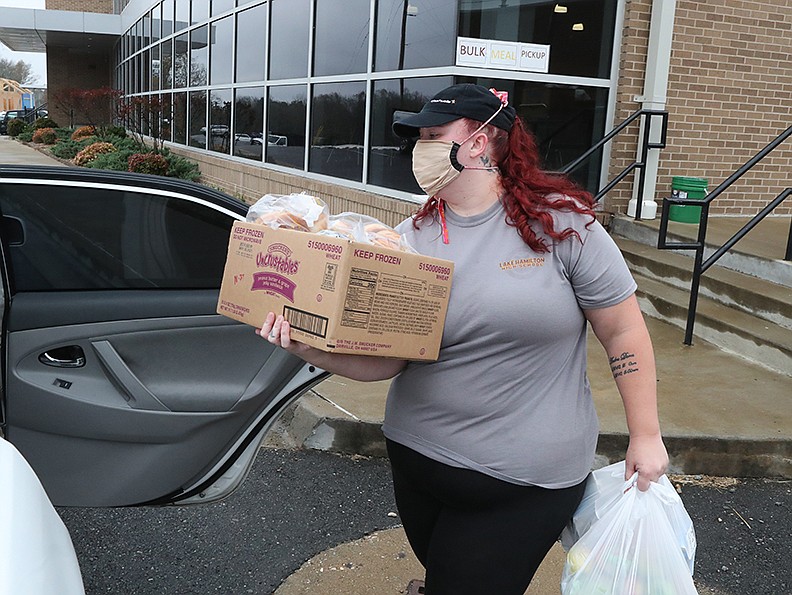 Lake Hamilton School District employee Summer Dorn places a box of breakfasts and lunches into a waiting car on Friday. - Photo by Richard Rasmussen of The Sentinel-Record