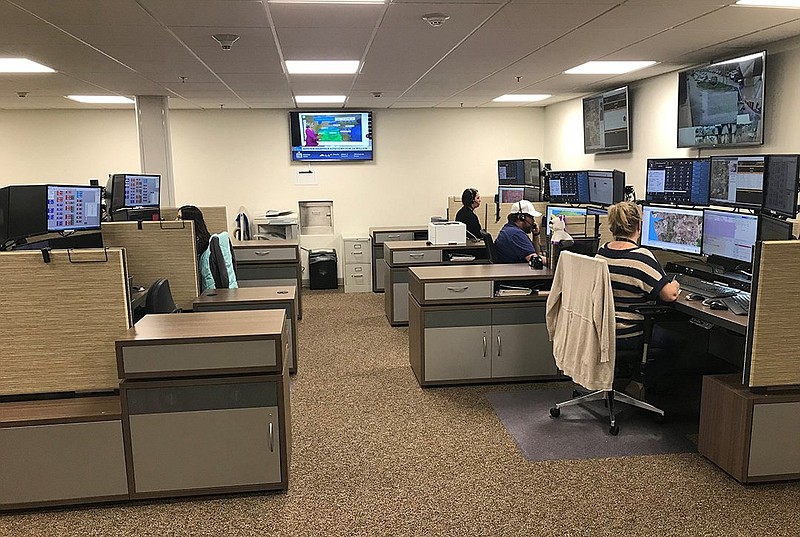 A file photo of employees working inside the Garland County 911 Communication Center. - Submitted photo courtesy of the Garland County 911 Communication Center
Calls for service dispatched by the Garland County 911 Communications Center to first responders have increased since the county began dispatching volunteer fire departments in March 2019, the county's Office of Emergency Management told justices of the peace last month.
Dispatchers have also been busy providing information for agencies, such as school districts in the unincorporated area of the county that commissioned their own police forces and the reconstituted Mountain Pine Police Department, who are not dispatch partners with the county.
The extra call volume has burdened the 15 dispatch positions allowed for in the county's emergency 911 budget, County Judge Darryl Mahoney told the Garland County Quorum Court last month. The county judge's office took over 911 operations from the sheriff's department when the county joined the Arkansas Wireless Information Network, the state-run communications platform used by more than 900 local, state and federal agencies, in 2018. The Office of Emergency Management, which is under the county judge's authority, runs the call center.
"In the not too distant future, we're going to have to negotiate some terms with our volunteer fire departments and probably our school districts to handle their calls through the dispatch center," Mahoney said during the quorum court's 2021 budget session last month. "They're getting swarmed over there right now. We were told that the numbers from the volunteer fire departments would be about 450 calls a month, but it's like 900 calls. They're twice what we were told they were going to be, and so they've been swarmed ever since they took those on."
Mahoney said the fire departments may be asked to help pay for call center operations. Many have formed fire districts, quasi-governmental bodies with taxing authority similar to school districts. That status has improved their rates of collection of annual dues, as the county is now responsible for billing and collecting dues from property owners in the fire districts.
The school district police and Mountain Pine Police can't check license plates and driver's licenses against databases that show if a vehicle is stolen or if the driver has a warrant, requiring them to contact the call center for that information.
The Office of Emergency Management said school police have to call 911 or one of the call center's administration lines because they don't have radios that can communicate with the call center. A VHF radio channel the sheriff's department no longer uses is the Mountain Pine Police's link to dispatchers.
Traffic stops in Mountain Pine have gone up significantly since the city reconstituted its police force in the spring of 2019, according to information OEM provided the quorum court, further adding to the call center's workload.
"I had to call them the week before last and ask them to look at some other options of getting state information other than us, because we absolutely can't keep up between them and all the rest of the agencies," Call Center Director Corky Martin told the quorum court last month. "We're literally having to hold traffic for our dispatch partners, that being the sheriff's office, the fire departments, giving them information they need, because we're running information for Mountain Pine."
Mahoney told the quorum court school police forces will have to contribute financially to the call center before the county enters into dispatch agreements with them.
"The schools are going to fight us on it," he told JPs. "We made it clear that before we dispatch for them they're going to have to assist us to hire another person or two to answer their calls. They've all went to their own police departments, and Mountain Pine somehow or another has 10 policemen. It's overloaded our call center."
According to information OEM provided the quorum court, 911 calls are up 20% in the last year. Other phone calls made to dispatchers have increased 5% over that time, and calls for service and recorded incidents have gone up 10%. The workload has gone up despite traffic stops dropping 5%, a reduction caused by the sheriff's department's March-to-August pause on nonessential traffic stops.
"What we really need more than anything is more dispatchers and call takers," OEM Director Bo Robertson said earlier this week. "Our call volume has skyrocketed this last year and a half. All our volume has significantly increased. What we need more than anything right now is additional bodies to help these guys out.
"They are truly the essential of the essential. They're the first line of any first responders. You don't get to a first responder without going through them. They need help."
The Public Safety Act of 2019 increased revenue the county receives for 911 operations, raising the public safety charge wireless providers collect from customers. The fee increased from 65 cents a month to a $1.30 last October, but the county's call center will still require an $800,000 subsidy from the general fund next year.
Sponsor Content
Comments