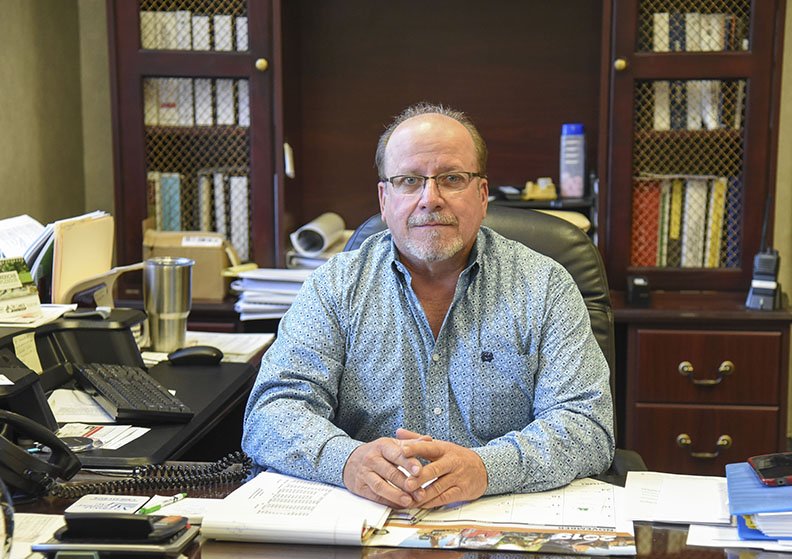 Garland County Judge Darryl Mahoney is shown inside his office on November 5, 2019. - Photo by Grace Brown of The Sentinel-Record
I am reaching out to the residents of Garland County and surrounding communities for some help, leadership and prayer.
I first want to thank you for helping our community manage through some unprecedented times over the past nine months. Our residents have stepped up to assist our local small business owners weather an economic storm brought on by the pandemic and government mandates that reduced the footprint of some of their businesses. I appreciate greatly all of the tough decisions made by our residents, business owners, health care facilities and workers, and local leadership, to keep the virus in check throughout our busy tourist season. Our area has done much better than anticipated economically throughout this pandemic. Additionally, our school administrators have done a fantastic job of trying to provide structure and education for our children and have been very successful.
Now, to my needs -- over the past few weeks, our case numbers of COVID have been on the rise. I need your help to deal with this. I will continue to do all I can to protect our most vulnerable, not just our elderly or health-compromised individuals, but our health care workers, who continually put in longer than normal shifts while being subjected to positive patients throughout the work period; and the single parent who has to quarantine due to exposure while trying to manage a job and a school-age child; and the first responders who have to go to every call knowing they could be exposed to the virus; and those who have to deal with the emotional fallout from the lost lives in our community.
I am asking each of you to step up and do the right thing, whether it is to wear a mask, social distance, wash your hands frequently, or just stay home. Let's all pull together to help those most affected by this virus. I truly understand that everyone is tired of the mask-wearing, the social distancing and the variance from their normal lives, because I'm tired of it, too. The term "COVID fatigue" was coined a couple of months ago to describe the feeling most of us have. While we're all tired of the interruption of our daily routine, think about those who have to work in the health care industry, day in and day out. They see the results of the virus and have to continue to work right through, or our first responders who work in our community and are continually exposed and take that exposure home to their families.
I grew up in this community and I know what sets it apart from other places: the heart of the residents here. I love it here and I care about each of you, and I need you to help me make Garland County an example of how you reach down deep inside and pull out that last little bit of "I got this" and put it to work.
With the holidays upon us, my prayers are that each of us does the very best we can to keep our friends, family, loved ones, and others as safe and illness free as possible, even if it causes an inconvenience for us. I know that I will have a different kind of Thanksgiving this year, but it is worth it to make sure my elderly parents stay well. And I'm still very thankful for all I have been blessed with; I hope you feel the same. Thank you for indulging me and I know I can count on each of you to make this happen.
Happy Thanksgiving to all.
Sponsor Content
Comments