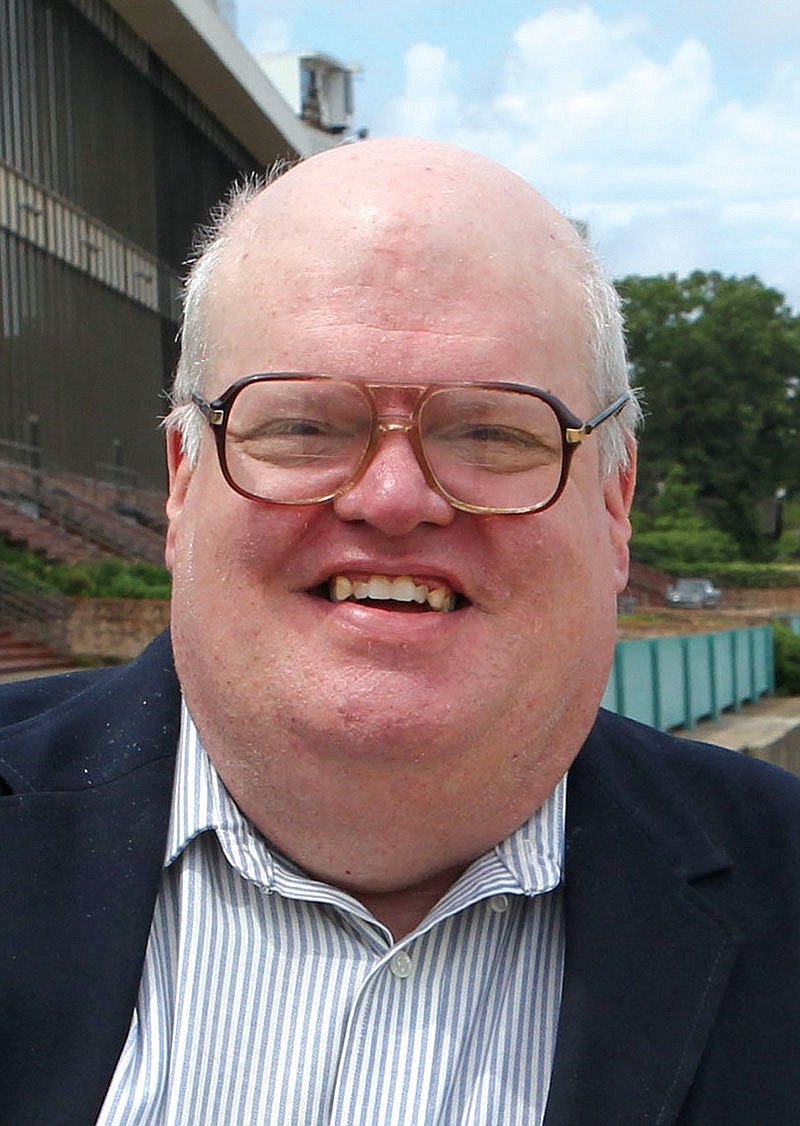 Bob Wisener
Razorback Nation stands ready to claim that outside forces are responsible for an Arkansas football defeat. The Hogs never quite lose a game as have it snatched from their grasp, like a woman's purse on a parking lot.
Sixty years later, you might hear that grand larceny occurred in the south end zone of War Memorial Stadium in a game with Ole Miss. Fans were upset that Tommy Bell, destined for greatness as an NFL official, gave Allen Green two chances to kick a field goal in the dying seconds. Ruling that time was called before Green's first attempt, which was clearly good, Bell signaled good on the kicker's second try, which onlookers claimed went wide. A Glenwood man said he knew the kick was no good because his son, sitting in the end zone, caught the ball. Ole Miss 10, Arkansas 7 stings to this day.
With an early kickoff for the LSU game Saturday, the Nation responded vocally, and none too charitably, after a 27-24 decision kept the Golden Boot in Huey Long's home state and with the politician's favorite team for a fifth consecutive year.
Could the Kingfish be to blame? Was it he that tossed Jalen Catalon out of a second game this year for targeting?
Or should the Southeastern Conference be held accountable for assigning Marc Curles and his officiating crew to Razorback games? Arkansas fans remember Curles from the 2009 Florida game, a howling Razorback defeat. Other grievances from the same official concern the 2015 Tennessee and 2016 Ole Miss games, though Arkansas won both.
In Nolan Richardson's day, the basketball Razorbacks expected the worst in any Southwest Conference game that Mike Tanco was lead official. Nolan famously walked off the court in the 1990 Texas game at Austin, only to celebrate a subsequent Arkansas triumph by his first NCAA Final Four team. Richardson, not one to suffer in silence, erupted after a Southeastern Conference tournament game against Georgia that one Andre Pattillo laid the ball on the floor rather than give it to a UA player after a clock stoppage.
Fans became so outraged Saturday over Curles and his crew that some on Twitter demanded that he never be permitted back in the state of Arkansas.
Phil Elson, the award-winning broadcaster of Razorback baseball, calls it "improperly placed aggression" by the fans. Conspiracy theorists see any football field as a grassy knoll crawling with saboteurs and pickpockets. Time either runs out on the Razorbacks or someone sticks a pointed object in the players' backs and says, "Hand over the game."
Then again, before we blame the latest loss on Jimmy Hoffa or Pennsylvania election officials, some other items should be considered.
The coronavirus, after felling coach Sam Pittman and causing him to miss the Florida game, rendered the Razorbacks noncompetitive in some positions against LSU, which saw its Alabama game postponed because of COVID-19. Tackle Jonathan Marshall was the only starter on the Hogs' defensive line to play. Senior running back Rakeem Boyd also missed the game. Arkansas is not likely to beat anyone if quarterback Feleipe Franks, with 43 yards, is its leading rusher.
It was thought here that Arkansas would enjoy the quarterback advantage against LSU unless Bert Jones or 2019 Heisman Trophy winner Joe Burrow showed up unannounced. Maybe it did and maybe not. Franks passed for 339 yards, more than counterpart T.J. Finley, but in a season generally free of interceptions had his only pick Saturday returned for 36 yards to the 1 yard line, setting up a second-quarter touchdown that raised LSU's lead to 17-7.
As it has most Saturdays this year, Arkansas came out strongly in the second half, regaining the lead, 21-20, on Trelon Smith's 1-yard plunge, capping a 95-yard drive, and put LSU in a touchdown-or-else position when AJ Reed's field goal made it 24-20.
Trying to kill the clock, at which this team struggles, Franks slipped twice on a wet field after gaining 8 yards on first down, and Reid Bauer punted 54 yards. Then came the targeting call on Catalon, Arkansas' surest-striking defender in years but maybe a little too aggressive for today's game. LSU, it should be noted, had a cornerback tossed in the second quarter after the same call.
In any case, Arkansas had 3:59 to score a touchdown or kick a tying field goal after Finley's 13-yard touchdown pass set the eventual scoreboard total. Four completions by Franks helped move the ball to the LSU 27, where Arkansas faced fourth and three. In other times, Ish Ordonez or Steve Little would have nailed the field goal and they would have played some more. Jay Ward had different ideas, tipping Reed's 44-yard field goal and driving Arkansas fans to the boiling point.
As LSU lugged off the Golden Boot, his own creation, ex-Razorback David Bazzel lit into the men in striped shirts. Writing on Twitter, Bazzel said "Boy the @SEC should be EMBARRASSED by this mess...miserable officiating."
Hunter Yurachek, Arkansas' athletic director and a man frankly with greater concerns, said on the same site, "I cannot change the outcome or any of the other missed calls, but I will work with the appropriate SEC Officials to make sure that this 'targeting' call does not cost Jalen Catalon (the first half of) our next game. My student-athletes deserve better."
A sternly worded rebuke from UA might not be enough to change the officiating practices in what the SEC would like to consider the gated community of college football. Arkansas fans thought it couldn't get worse than when a pass-interference penalty went against the Hogs in the 1982 tie with SMU or Jon Brittenum twice was denied a touchdown that might have broken open the 1966 game at Texas Tech. Trust me, it can: It was Lou Holtz who said there are good officials and better officials and the good officials are working someone else's game.
Or maybe it's that Arkansas didn't do enough things right or often enough to beat an LSU team that, despite generally rough sledding this year, is predictably well-coached. Still, Arkansas has come a long way from the Chad Morris era, when the loudest imprecations after the game were directed at the Razorback coach.
Sponsor Content
Comments