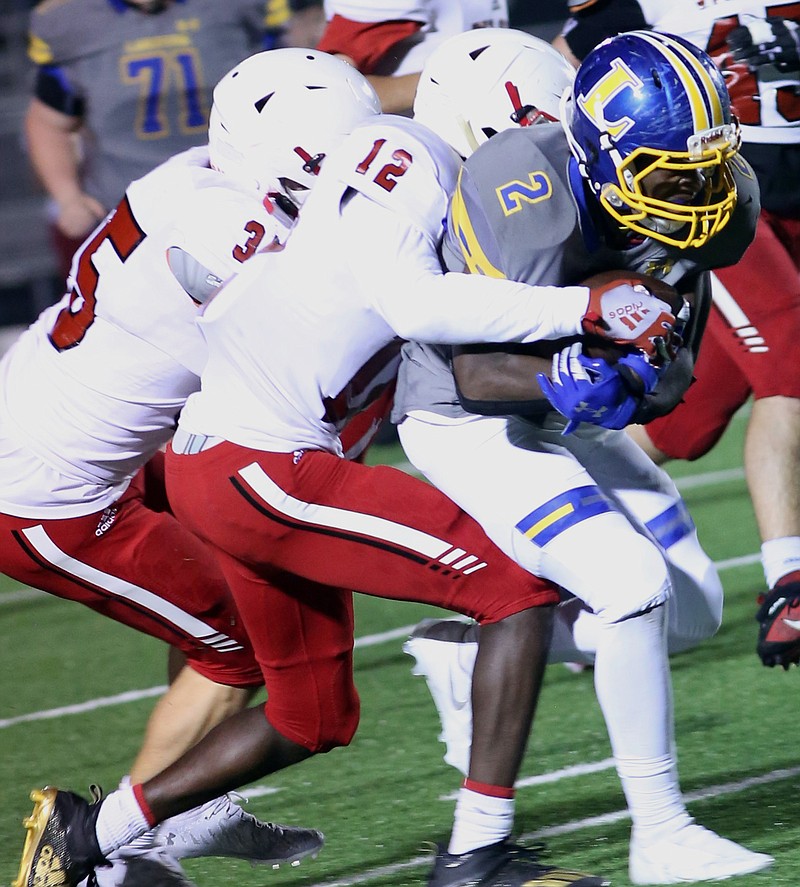 Lakeside junior Chase Cross (2) drives downfield while being taken down from behind by Vilonia's Jarkell Lovelace in Friday's game. The Rams defeated the Eagles, 31-22. - Photo by Corbet Deary of The Sentinel-Record
Vilonia struggled with penalties Friday night as Lakeside took a 31-22 win at Chick Austin Field to advance to the third round of the Class 5A football playoffs.
Lakeside head coach Jared McBride was pleased with the effort he saw from his team.
"Our kids played well," he said. "We had some kids out, guys in new positions and different spots, but our kids played well and made plays offensively and defensively."
With a 24-15 deficit heading into the final quarter, the Eagles pressured Lakeside's defense from their own 30-yard line to the Rams 7. Sophomore Weasley McKissack spotted junior Jamison Hinsley for a score with senior Noah Newman's kick pulling them within 2 with 10 minutes left in the game.
Lakeside occupied a majority of the clock in the fourth quarter, keeping Vilonia from squeezing in another touchdown as senior Will Perrigo hauled it in from the 6 with 32.6 seconds left to go. Junior Andrew Degrasse's kick was good to set the final.
McBridge commended his team's execution on both sides of the ball.
"They do a fantastic job," he said. "Got some turnovers for us and did a really fantastic job of setting us up. We threw the ball better tonight. We had to, but our offensive line blocked well, and (senior quarterback Will Ross) found some open receivers."
Lakeside struggled to find a rhythm to move the ball early as a fumbled snap on a fourth down gave the Eagles the ball at the Rams 7. Lakeside's defense held strong to keep Vilonia out of the end zone, but Newman split the uprights on the field goal attempt for a 3-0 lead with with 2:56 off the clock.
Lakeside junior Brock Garner took the ball to the Rams 21 on the ensuing return, and the Rams inched their way downfield with crucial passes from Ross to junior Chase Cross and Garner allowing Perrigo to rush in from the 1 with 4:02 left in the first quarter for a 7-3 lead.
Two personal fouls against the Eagles worked to Lakeside's advantage as the Rams got within sight of a score, but the Eagles defense held them back, Degrasse kicking a field goal of his own for a 10-3 edge.
The hosts quickly regained possession, Garner intercepting a pass from McKissack, but the Rams were unable to capitalize as junior Favian Alvarez lost control of the ball in the end zone for a touchback.
Minutes later, senior Ty Davis recovered a fumble at the Eagles' 6-yard line opening the door for Ross to find classmate Logan White for a 4-yard passing touchdown with 1:15 left in the first half to make it 17-3.
Momentum on Vilonia's side of the field started to pick up as McKissack hit clasmate Jack Vines on a 41-yard pass to pull within 17-9 at intermission.
Arriving back from the break, a pair of offsides penalties played into Vilonia's favor as junior Seth Kirk ran in for his first score of the night. Vilonia attempted a 2-point conversion to knot the score, but McKissack's pass was no good to leave the Eagles trailing by 2.
A 36-yard pass from Ross to White positioned Lakeside at the Eagles 21, and Cross reeled in a 26-yard throw from Ross with 1:45 left in the third to stretch out to a 9-point buffer.
Ross was 21 for 32 (65.6%) passing for 262 yards. White finished with six receptions for 74 yards, Cross reeled in six catches for 94 yards and Perrigo had five receptions for 49 yards.
Lakeside hosts Little Rock Christian Friday at 7 p.m.
Sponsor Content
Comments