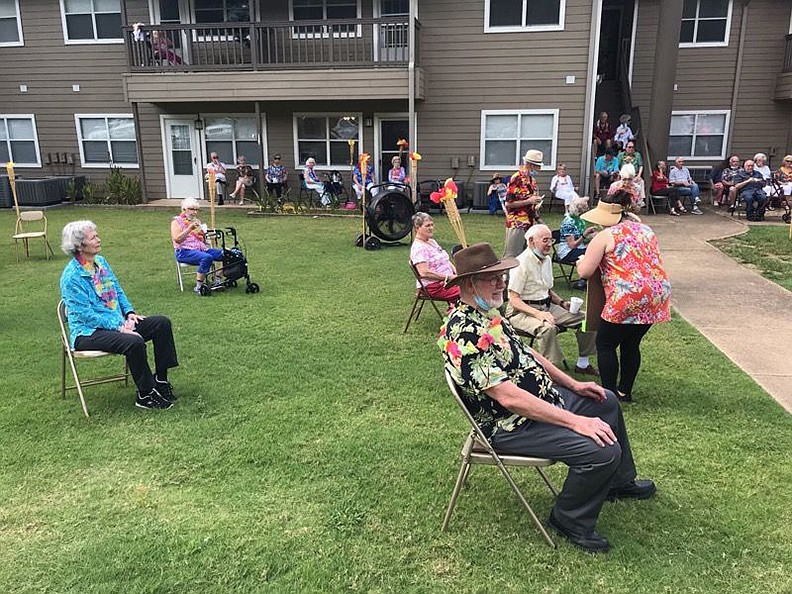 Country Club Village Retirement Community members attend the facility's Annual Community Luau on Aug. 21. The event had a snow cone truck, entertainment from Jacob Flores, finger foods and happy hour drinks. - Submitted photo
Country Club Village Retirement Community, 1925 Malvern Ave., has enrolled in the Centers for Disease Control and Prevention's national COVID-19 vaccine program, which will allow its nearly 200 residents first dibs once the highly anticipated vaccine is released.
"We all know, from what we've heard about COVID, that senior population is more vulnerable, so it's very important for us to be able to help our residents get back to a normal life to be able to visit with their family and their friends and not have the constant worry and fear and to be able to just get back to the way that everybody enjoys living," CCVRC Executive Director Tiffanie Harper said.
[Video not showing up above? Click here to watch » https://www.youtube.com/watch?v=_jw6d3ERN9Q]
"From the ones that I've spoken to, they're all really excited," she said. "I think they think this will be a big stepping stone to be able to kind of lift restrictions and be able to go back to the way that things have always been in the past."
Resident Carol Burgess said she is ready to get vaccinated as soon as the vaccine is available.
"I tell you, I am ready. I want to get rid of this mask and all of this 6-foot distancing and stuff. We're a very social group out here, and we like to gather together, so it's a plus for us," she said. "We've had the flu (vaccine), we've had the shingles shot. I am ready to get this one.
"It means freedom and it means love because I'm anxious to get back with my whole family. I do have some limited family that tested and we do try to share a little time together, but it's very limited and very careful."
While she doesn't know what the "new normal" will look like after the vaccine is released, Burgess said she does know it will allow her to walk her dog, Leo, visit with friends and family, and return to taking trips to the store and to church.
"I just hope that everyone does this, and we can get through it," she said. "But you know, we're Americans. We can do this, I know we can."
According to a CCVRC news release, the CDC has partnered with CVS Pharmacy and Walgreens to provide free of charge, on-site vaccination clinics at senior living communities across the country as soon as a COVID-19 vaccine is approved and becomes available.
The vaccine will be optional to all staff and residents of CCVRC once it is released, Harper said.
"We're hopeful that it's quick, but we don't want it to be too quick," Harper said. "We want to make sure everything is approved and goes through all the proper channels. Once it is and we feel confident the CDC is confident then that's when we will set up our clinic."
Country Club Village Retirement Community Executive Director Tiffanie Harper, right, helps residents with a paper-mache project on Oct. 21. The completed project was a COVID-19 pinata, symbolizing "beating COVID-19." - Submitted photo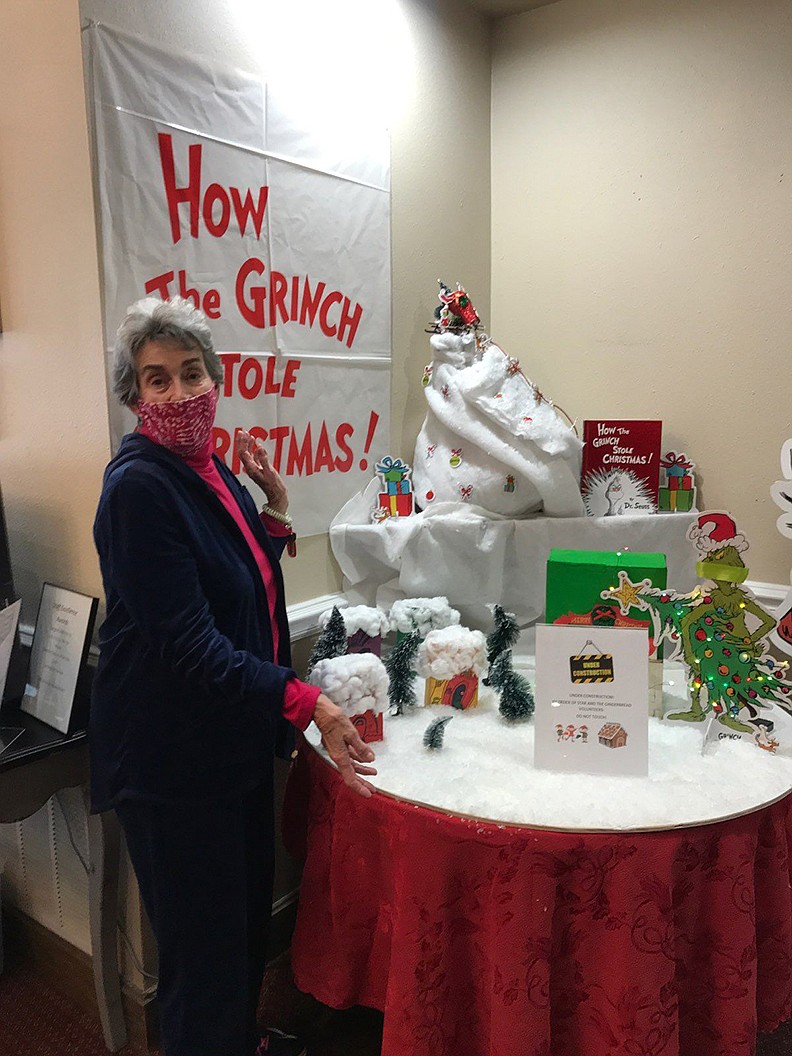 Country Club Village Retirement Community resident Carol Burgess stands in front of a Grinch-themed gingerbread display at the facility on Thursday. - Submitted photo
Sponsor Content
Comments