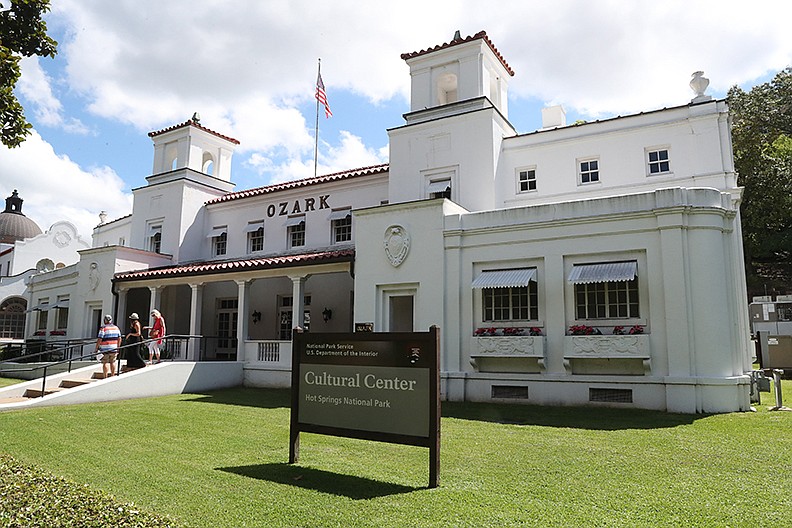 A file photo of the Ozark Bath House, which houses the Hot Springs National Park Cultural Center. - Photo by Richard Rasmussen of The Sentinel-Record
While Hot Springs National Park's Cultural Center remains closed due to COVID-19, its annual Christmas decorations will return this season.
Every holiday season, the Ozark Bath House, which houses the Cultural Center, displays Christmas trees decorated with ornaments created by students and artists. There will be two trees this year located in the lobby windows of the building.
Around 100 ornaments will be on display, each painted by the students of Lake Hamilton High School art teacher Rana Ward, who said this is the seventh year her students have participated in the project.
Ward said she cuts small wooden disks for her students to use in designing their handmade ornaments.
The students are required to submit winter-themed designs to Ward. Once their designs are approved, the students have around two weeks to make their ornament.
In the past, the Ozark has hosted handmade ornaments from numerous schools, but this year only the Lake Hamilton students will participate. Ward said due to the pandemic, she didn't expect the students to get to make ornaments this year.
"I didn't think we'd have that, given this year, so I was excited," she said. She had emailed Roxanne Butterfield, president of the Friends of Hot Springs National Park, which operates the Cultural Center, to see if it would do the trees again.
"The other day I was at the Ozark for another reason and I saw quite a few people come up to the windows," Butterfield said. "I feel bad that people come up and there's not much to see."
Butterfield said the Friends "pondered for a short while," before deciding to put trees up in the windows with each tree decorated with around 50 ornaments.
The first Friday of each month, downtown Hot Springs hosts Gallery Walk, and Ward said it is special for the students to get to have their artwork on display during the event.
Gallery Walk is promoted by the Hot Springs Area Cultural Alliance. Mary Zunick, the Cultural Alliance's executive director, expressed her support for the student artwork being displayed at the same time as Gallery Walk.
"Anything that can be done to encourage children's art, or the love of art, is what the goal is," she said. "To express themselves through art and be able to exhibit that artwork is a good thing."
Zunick said the timing of the exhibit is good because at the "past several Gallery Walks, we've had more and more people out" and "having another group coming out for Gallery Walk" is a positive.
"Hopefully (the students') families will go see their artwork and go see the other galleries," Zunick said, noting she hopes Gallery Walk patrons will stop at the Ozark to see the ornaments.
Hannah Bennett, a junior, said this is the second time she has made an ornament for the Ozark; this year, her ornament features reindeer next to trees.
"I like it, it's one of my favorites," Bennett said. "It's always fun to have your work displayed."
Bennett said it took her a little over a week to paint, noting her sister previously participated in the program. When asked about participating in Gallery Walk, Bennett said, "I think it's pretty cool."
Fiona Hunter, a junior, also participating for the second year, said her ornament features Christmas folklore character Krampus.
Hunter said that it took her a little over a week to paint hers and she picked Krampus because "I'm really into horror movies (and my) art has been more macabre." She said she "wanted to do something a little bit different," adding that last year she painted one featuring Gremlins.
On getting to see her work displayed in public, Hunter said, "It's really cool, it doesn't happen a whole lot."
"We're always so proud of our students," Brian Bridges, Lake Hamilton School District's communications and public relations coordinator, said, noting the school "definitely is grateful" they can provide their students the ability to "find their niche and follow their passions."
Bridges said the work the students and Ward do is of high quality. "To have their work displayed to the public, that's icing on the cake," he said.
"During the pandemic, it's been hard because we're not able to let people on campus for art shows and concerts, so anytime we have a chance to showcase our students, I'm grateful," he said.
Ward said she intends to put the ornaments on display in the Ozark on Nov. 29, and they will remain there until after Christmas.
Butterfield said she hopes they can include all the other schools again in 2021, noting, "We look forward to all the schools participating next year."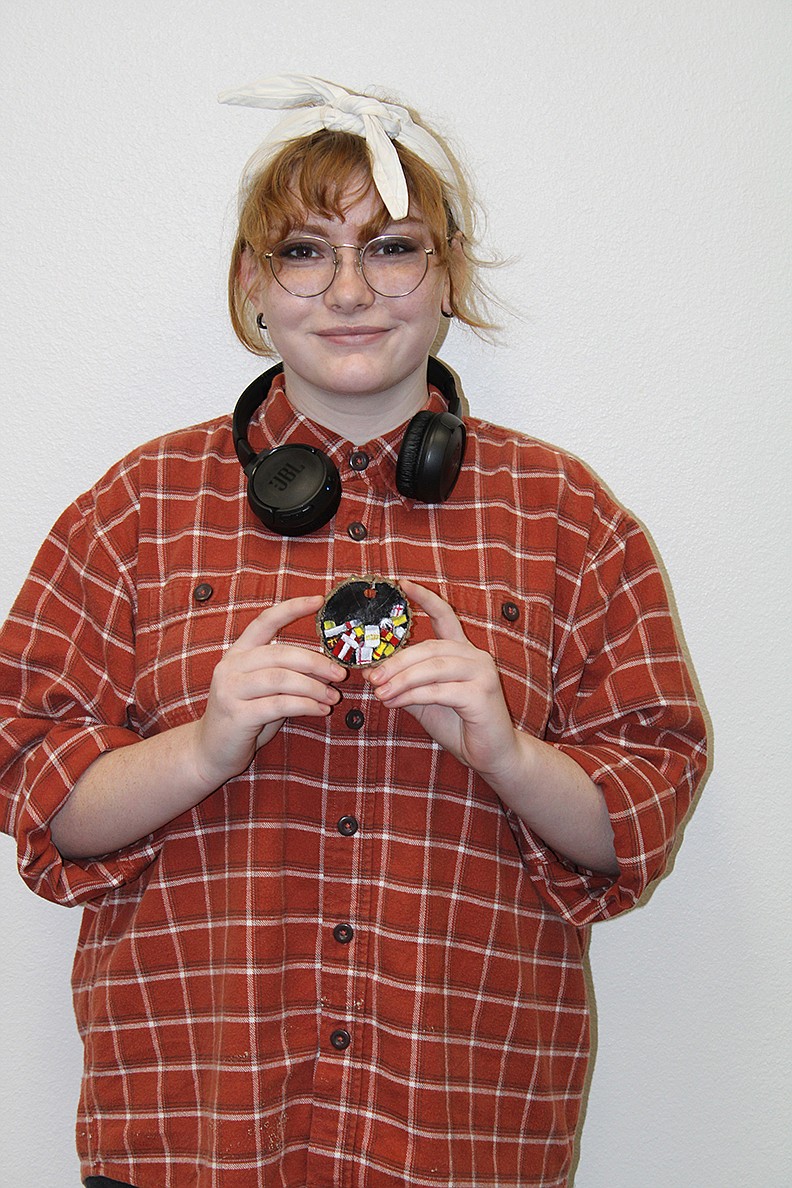 Fiona Hunter, a junior at Lake Hamilton High School, displays her Krampus themed Christmas ornament she painted for Rana Ward's art class. The art projects will be on display in Hot Springs National Park for the holiday season. - Photo by Tanner Newton of The Sentinel-Record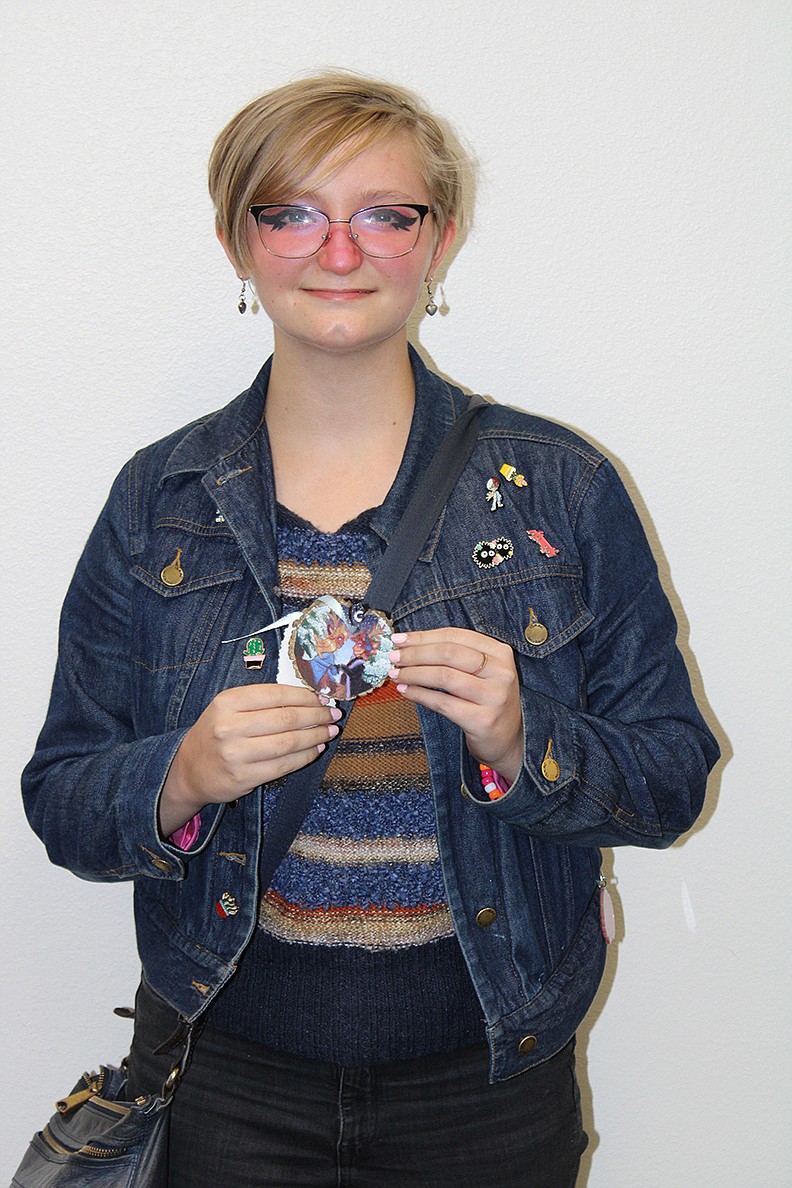 Hannah Bennett, a junior at Lake Hamilton High School, holds a Christmas ornament she painted for Rana Ward's art class. The ornament will join about 99 others that will hang in the Ozark Bath House this holiday season. - Photo by Tanner Newton of The Sentinel-Record
Sponsor Content
Comments