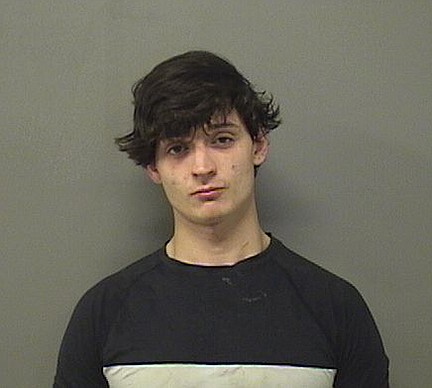 Dillon Ray Ellis - Submitted photo
A habitual offender who was out on parole and being sought on multiple felony warrants when he was arrested Friday after a brief manhunt pleaded not guilty to all the charges Monday in Garland County District Court.
Dillon Ray Ellis, 24, who remained in custody Wednesday in lieu of $17,500 bond, appeared via video in district court and pleaded not guilty to felony counts of residential burglary, punishable by up to 20 years in prison, theft by receiving, first-degree terroristic threatening, felony fleeing, and second-degree criminal mischief, each punishable by up to six years, and misdemeanor counts of first-degree assault, first-degree criminal mischief and fleeing on foot.
A felony review hearing to determine if the felony charges will be bound over to Garland County Circuit Court is now set for Jan. 5. Judge Joe Graham also issued a court order barring Ellis from contact with the victim in the burglary, assault, threatening and first-degree criminal mischief incident or her residence.
According to the probable cause affidavit on the latter incident, a woman who resides in the 6800 block of Highway 7 north told Garland County sheriff's investigators Ellis came to her trailer shortly before 7:30 p.m. on Sept. 1.
She noted Ellis had been staying at another trailer on the property, but he began beating and shaking her trailer door. When she went to open the door, he pushed it open and forced his way in. She said he then grabbed her by the neck and began choking her and "pushing in on her throat."
She said Ellis then threw her on the floor and began yelling about his car keys. Then he allegedly ransacked the trailer and before finally leaving he told her if she called "the law" he would "burn her and her trailer down."
Once outside, Ellis also reportedly broke out the passenger side rear window of the victim's minivan. A warrant was later issued for Ellis' arrest.
According to the affidavit on the theft by receiving and felony fleeing charges, on Sept. 3, shortly after 10:30 a.m., sheriff's Cpl. Felix Hunter spotted a black Dodge Durango on Westinghouse Drive he recognized as one reported stolen out of Hot Spring County. It was being driven by a white male with a white female in the front passenger seat.
Hunter activated his lights to make a traffic stop, but the vehicle began to flee and a pursuit began. Hunter reportedly pursued the Durango through several neighborhoods "at a high rate of speed" during which the driver failed to stop at multiple stop signs and traffic lights.
When the vehicle got to Elmwood Drive, it failed to navigate a corner. The driver began to back up and ran over a fire hydrant and a mailbox near where some people were working. The vehicle then fled to Stanage Terrace, crossing Malvern Avenue at a high rate of speed and "nearly hitting an eighteen-wheeler on Malvern" that had to make an evasive maneuver to avoid a collision.
The vehicle continued on Stanage until it drove off a hill and became stuck. The driver and passenger jumped out and fled on foot and a search for the suspects began. After a thorough search, neither suspect could be found and deputies finally left the area, the affidavit states.
Around 1:30 p.m., the sheriff's office got a call from a witness who stated a young female was walking in the area where the deputies had been searching earlier. Deputies responded and located Autumn Yvonne Bennett, 18, of Hot Springs, who reportedly made a spontaneous statement she was with Ellis when they wrecked their vehicle.
Bennett was brought in for questioning and after being read her rights she reportedly admitted to being in the vehicle with Ellis and fleeing from deputies. She also admitted to fleeing on foot after the vehicle wrecked. It was confirmed the Durango, valued at $4,500, was the one reported stolen out of Hot Spring County.
Bennett was later charged with theft by receiving and fleeing and a warrant was issued for Ellis. She pleaded not guilty to the charges in district court on Sept. 28 and was set for a review hearing on Oct. 26, but failed to appear so a warrant was issued for her arrest.
On Friday, around 1 p.m., sheriff's Investigator John Crow went to a residence on Christian Way to serve warrants on Ellis after receiving information he was supposedly in that area. He spotted Ellis, who reportedly ran into the woods after seeing Crow. Crow ordered him to stop, but he continued to run through the woods and down a hill.
He ran across Ruella Road and onto the property across the street where he was caught by assisting deputies and taken into custody without further incident.
Ellis was previously convicted on July 1, 2019, on felony counts of possession of a firearm by certain persons, possession of a defaced firearm, criminal use of a prohibited weapon and theft by receiving and was sentenced to six years on each count, to run concurrently, while two additional felony counts of aggravated assault were withdrawn.
He was classified as a habitual offender at his sentencing because he was convicted Jan. 8, 2018, in Pike County of felony counts of fleeing, theft of property and theft by receiving and sentenced to four years in prison with two years suspended and was on parole at the time of his arrest in 2019.
Sponsor Content
Comments