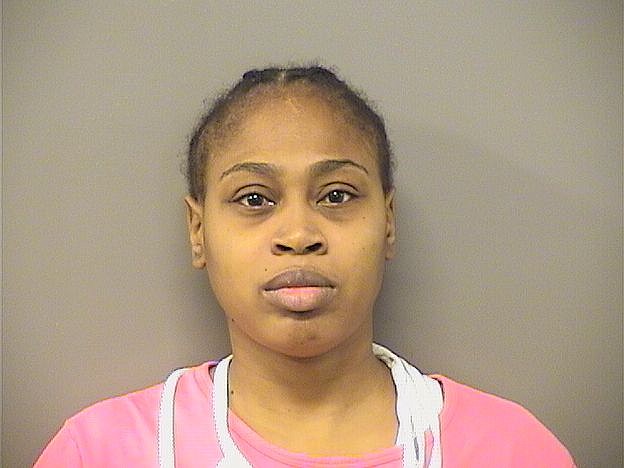 Domeshia Domnice Clark - Submitted photo
A Texas woman arrested last year in connection with injuries sustained by her former boyfriend's 2-year-old son in Hot Springs in 2017 pleaded guilty to a felony battery charge Wednesday and was sentenced to five years in prison.
Domeshia Domnice Clark, 34, who was set to stand trial on March 3, 2021, opted to plead guilty in Garland County Circuit Court to first-degree domestic battery, punishable by up to 20 years in prison, and was sentenced to five years in prison and barred by court order from any future contact with the victim.
Clark was arrested on Feb. 13, 2019, after being extradited to Hot Springs from Dallas, and was released the next day on a $15,000 bond. She pleaded not guilty to the charge on May 13, 2019, but then failed to appear for a hearing in the case on Sept. 30, 2019, and a zero bond warrant was issued for her arrest. It was later determined she was in jail in Texas on unrelated charges, but she was eventually extradited to Hot Springs. The failure to appear charges were withdrawn Wednesday.
"Our office places a high premium on protecting the most vulnerable in our society," Garland County Deputy Prosecutor Casey Richmond told The Sentinel-Record after Wednesday's hearing.
"The child previously was subjected to several dangerous home environments resulting in a near-death experience. We were able to secure a serious felony conviction while ensuring the child was placed in a safe, loving environment where he continues to improve," she said.
Richmond said the child is living with his grandmother who is "taking good care of him" and he is "making huge improvements. He is doing much better."
She said he has gone from "almost nonverbal in a wheelchair" to "walking and talking," noting, "his grandmother called us and said he still uses his walker, but she is hopeful his improvement continues so he doesn't have to."
Richmond commended the "diligent efforts of Arkansas Children's Hospital and Jennifer Tonseth with the Garland County Sheriff's Office on seeing this case through to the end."
According to the probable cause affidavit, on Dec. 18, 2017, the sheriff's department received a report regarding an unresponsive 2-year-old boy with a body temperature of 84 degrees and multiple bruises or marks to his abdomen brought to National Park Medical Center by LifeNet from a residence on Barnwood Place.
The victim had required cardiopulmonary resuscitation at the scene before being brought to NPMC and, shortly after his arrival, he was transported by helicopter to Arkansas Children's Hospital in Little Rock.
That same day, the victim's father was interviewed by sheriff's Cpl. Kenny Ford and Investigator Kathy Finnegan with the Arkansas State Police Crimes Against Children Division and stated he lived at the Barnwood Place residence with his girlfriend, identified as Clark, her daughters and his 2-year-old son, who had been staying with them for four to five months.
He noted Clark didn't work and stayed home with his son during the day. He said Clark told him she was giving the boy a bath when he slipped and hit his head. She told him she wrapped a towel around him and asked him if he was OK and he told her yes, but then started biting his tongue and stopped breathing.
Clark told him she tried CPR and then called her sister on Facebook Messenger. The father noted they had been in the practice of giving his son a shower and then putting him on the toilet "to teach him that's where to go."
Clark was interviewed that same day and stated the boy was up at noon that day. She said she gave him a shower and he fell and hit the side of his face. She said she sat him on the toilet, but then he "slouched over." She asked him if he was OK, but she felt his body "stiffen up" and he was biting his tongue, so she messaged for help.
She told investigators when the boy "does not get his way, he will fall out." She said he was grabbing onto the faucet part and "tears were falling, but he was not crying." She said she usually would dry him off after a warm shower and put him on the toilet, noting they had been potty training him for about a year.
She stated she messaged "to call an ambulance, call daddy, she didn't know what to do."
On Jan. 17, Tonseth obtained a copy of the Morning Star Fire Department's report of their response to the incident. The report noted that upon arrival, the 2-year-old was not breathing and had no pulse so they immediately started CPR.
The report states "the mother" stated they were in the process of potty training the boy and she gave him "an ice-cold shower" and put him on the toilet at which point he fell off the toilet having what she described as "a seizure."
That same day, Clark was interviewed again and stated she had stayed in the room with the boy while he was showering and saw him fall. She stated she didn't use cold water, but to her it was colder "because she takes hot showers." She said she told the boy not to hold onto the faucet and that he was in the shower for 10 to 15 minutes.
After he fell, she said she turned off the water and the boy walked to the toilet without a problem. She said he was "not a crying type kid" and was "a tough kid." She said he was standing up in the shower before while she bathed him and washed his hair, noting he "had a fresh haircut."
Clark reportedly said the water "felt warm to her," and was not cold and "she thought she was doing right." She said she did not touch him or force him and he walked to the toilet. She allegedly stated she "didn't think about no body temperature and didn't care about no body temperature."
She said she didn't think the boy was breathing after he fell, but she didn't know if he had a heartbeat. She said she sat there and watched the first responders do CPR. She later noted the boy was "brought to them" two months earlier before Halloween.
That same day, the father was interviewed again and stated when he got home the ambulance was already there and they were doing CPR on his son and Clark was crying. He said he asked her what happened and she said she was giving the boy a bath and he slipped. She said she put him on the toilet and he "leaned forward."
The affidavit notes the father "paused" and then said, "It doesn't make sense." He said Clark "feels bad about it."
The medical report on the victim stated his core body temperature was 84 degrees when he arrived at NPMC and he was observed to have "numerous linear, hyper-pigmented marks that followed the curvature of his body on the legs, trunk and arm."
At Children's Hospital, he was reportedly diagnosed with "nonaccidental trauma" which resulted in brain injury, hypothermia, elevated liver and pancreatic enzymes with "metabolic acidosis" consistent with end-organ injury, anemia, non-acute inflicted skin injuries and seizures. It was noted the skin injuries "did not occur at the same time as the event which led to the brain injury."
A warrant was issued for Clark's arrest on Jan. 19, 2019, based on an affidavit that was filed on Sept. 10, 2018, and the case was filed direct to circuit court. At the time the warrant was issued, Clark listed a Tyler, Texas, address, but at the time of her arrest she listed a Dallas address.
Sponsor Content
Comments