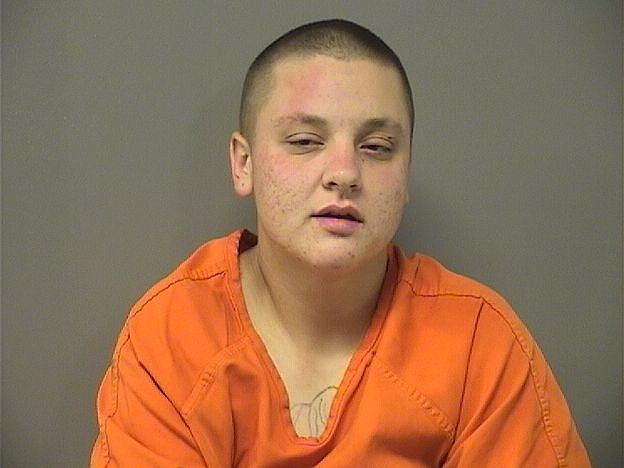 Hayley Renhea Hollingsworth - Submitted photo
A local woman who allegedly fled from a traffic stop by an Arkansas State Police trooper Wednesday night was arrested on multiple charges after the trooper was able to force her off the road.
Hayley Renhea Hollingsworth, 26, who lists a Phadral Point address, was taken into custody at shortly before 8 p.m. and charged with misdemeanor counts of fleeing in a vehicle, driving on a suspended driver's license and reckless driving and was also cited for having fictitious tags, no liability insurance and not wearing a seat belt.
Hollingsworth, who had warrants for her arrest from the city, county and out of Tulsa, Okla., was being held on zero bond and is set to appear today in Garland County District Court.
According to the probable cause affidavit, around 6:30 p.m. Wednesday, Trooper Dylan Robbins was patrolling in the area of Airport and Majestic Lodge roads when he saw a gray spray-painted Range Rover westbound on Airport and a computer check showed the vehicle's tags came back as fictitious.
He drove to catch up to the vehicle and attempted a traffic stop, but the driver, later identified as Hollingsworth, began to speed up so Robbins radioed the dispatcher that he was in a pursuit. He said he attempted a PIT (pursuit intervention technique) maneuver as the Rover moved into the eastbound lane, but was unsuccessful.
The pursuit continued west "at a high rate of speed" and Robbins was finally able to get behind the Rover and successfully complete a PIT maneuver, disabling the vehicle on the side of the road. He ordered Hollingsworth out of the vehicle, but then discovered she couldn't get out because the driver's side door was damaged.
Robbins called for LifeNet and 70 West Fire Department personnel who were able to safely remove her from the vehicle. She was initially transported to CHI St. Vincent Hot Springs to be checked out, but then released and taken into custody.
A computer check revealed the warrants for her arrest and that her driver's license was suspended. According to court records, Hollingsworth was arrested Feb. 7, 2020, on three felony counts of second-degree forgery and theft of property over $1,000. She bonded out the same day and pleaded not guilty to the charges on June 8, but then failed to appear for a subsequent hearing on Aug. 3 so a warrant was issued for her arrest.
Sponsor Content
Comments